2013-14 NBA SEASON PREVIEW CONTENT LIST
Atlantic: Celtics | Nets | Knicks | 76ers | Raptors | Division Preview 1 and 2
Central: Bulls | Cavaliers | Pistons | Pacers | Bucks | Division Preview
Southeast: Hawks | Bobcats | Heat | Magic | Wizards | Division Preview
Pacific: Warriors | Clippers | Lakers | Suns | Kings | Division Preview
Northwest: Nuggets | Timberwolves | Thunder | Trail Blazers | Jazz | Division Preview
Southwest: Mavericks | Rockets | Grizzlies | Pelicans | Spurs | Division Preview
Top 10 by Position: PG | SG | SF | PF | C
Top 10 Lists: Sixth Men | Sophomores | X-Factors | Intensity | Under 25 | Comeback | GMs | Europeans | Overrated | Contenders | Wild Predictions
Fantasy Basketball | NBA Fandom Games | League Preview | Ultimate Season Predictions
Media Day: Lakers | Clippers | Kings | Knicks | Bucks | Suns | Pacers
FANTASY BASKETBALL POSITION TIERS
POINT GUARDS | SHOOTING GUARDS | SMALL FORWARDS | POWER FORWARDS | CENTERS
ARTICLES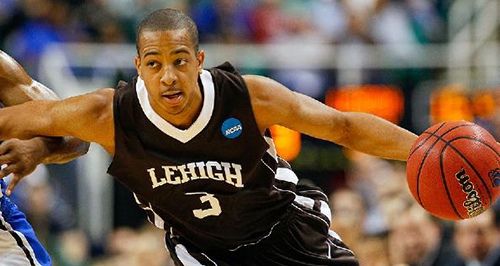 A fantasy sleeper is loosely defined by me with the help of the Internet as a player that achieves sudden unexpected success after initially attracting little attention, typically one that proves popular without much promotion or expenditure.
Sounds about right to me.
The problem we run into in fantasy circles is the term gets thrown around so much, that most so-called sleepers are overrated (Anthony Randolph every year) by draft day. While I can't change the whole fantasy game, I will do my part in helping bring back the meaning of what a true sleeper is. To be clear, unless you play in deeper leagues (14-plus teams) most of these guys will not be drafted. That's what makes them sleepers! However, the one trait they all share is the ability to be productive fantasy players if given the minutes due to injury, tanking, or just plain roster shakeup. While these players might not be on your radar yet, you just may find yourself searching them out on a trip to the waiver wire.
Thomas Robinson, PF
Portland Trail Blazers
Robinson was considered one of the most talented players in the 2012 NBA draft and a possible choice as the No. 1 overall pick until eventually sliding to the Sacramento Kings at the five-spot. After a brief stint in Sacramento and a layover in Houston, Robinson now finds himself in Portland backing up LaMarcus Aldridge. Through much of the summer rumors swirled that LaMarcus was done with Portland and had requested a trade. He has since publicly denied asking to be moved but it seems like the writing is on the wall. Combine that with Robinson's outstanding play in Summer League and it sounds like a pretty solid bet that Aldridge will be moved by the trade deadline, opening up playing time for young Thomas. If my well-thought-out prediction happens, expect his baseline stats to be on par with his per-36 numbers of 11.4 PPG, 10.7 RPG, 1.6 APG, 1.4 SPG and 0.9 BPG.
C.J. McCollum, SG/PG
Portland Trail Blazers
Two Trail Blazers in a row, not sure if that's a good thing or not for Portland. What we do know is C.J. can light it up on the offensive end in college and Summer League (21.0 PPG/4.0 RPG/3.4 APG). McCollum will start the season on the bench backing up Wesley Matthews and possibly playing a little bit of point guard if both Damian Lillard and Mo Williams need a blow. There has been talk of C.J. playing alongside Lillard but I just don't see the rookie overtaking the hard-nosed Matthews' spot in the rotation. But with the Blazers most likely not making the playoffs and keeping an eye towards the future, don't be surprised to see his minutes increase as the season wears on and Portland sinks in the standings.
Alex Len, C
Phoenix Suns
At one point leading up to the draft, Len was projected as high as the No. 1 overall pick. That is, before the Cleveland Cavaliers shocked us all and grabbed Anthony Bennett and we saw Len slip to the Suns at the five-spot. Still recovering from surgery on both ankles, Alex may not be ready for the start of training camp, but will be everyone's favorite waiver wire pickup when, not if, the Suns move Marcin Gortat. Most likely we will see Gortat moved to a contender in the weeks leading up to the trade deadline as the Suns try to make a big tanking push towards the end of the season.
Reggie Jackson, PG/SG; and Jeremy Lamb, SG
Oklahoma City Thunder
Both players have been tabbed as possible replacements for the hole left in the Thunder's rotation now that Kevin Martin is with the Minnesota Timberwolves. While Jeremy Lamb has the edge in size and talent, Reggie has the experience, speed and the coaching staff's trust after filling in admirably when Russell Westbrook went down. With Russell out, Reggie picked up the scoring slack, averaging 15.5 points per game while shooting 48.5 percent from the field in eight contests. Jackson looks to be the favorite for the sixth man role, but if the Thunder want to stretch the floor Lamb is the best option. The Thunder's current starting shooting guard, Thabo Sefolosha, is a glue-type player primarily known for his defense, but he found his three-point stroke last season, knocking in 1.3 per game and muddying the water even further. As we stand now, it might be best to leave both on the waiver wire in standard leagues and monitor the situation from afar until one grabs the upper hand.
Norris Cole, PG
Miami Heat
Mario Chalmers may be the Heat starting point guard, but for two straight years we have seen what (Chuck) Norris Cole can do when given the reigns. Cole only saw 19.9 minutes a game last year, but if we take a look at the 10 games in which he played 30 minutes or more, the numbers are quite interesting. How's 15.9 PPG, 4.8 APG, 3.5 RPG and 1.7 SPG while shooting 60 percent from the floor and 41.7 percent on threes sound? With this small sample size, it is hard to say if this is more a case of the Heat leaving him in because of a "hot hand." Then the question is posed, can he replicate it for a full season? Probably not, but there seems to be enough evidence mounting that Miami needs to find a way to get him more minutes on a regular basis. For now, Cole is nothing more than a deeper league flier, but if turned loose by the Heat, make sure to check your waiver wire and see if he is floating out there.
John Henson, PF
Milwaukee Bucks
Jon Henson is the proud owner of some crazy stat games, plain and simple. What he is not owner of is a secure spot in the Bucks rotation. Henson really heated up in the final five games of last season, averaging an insanely fantasy friendly 15 points, 15 rebounds, 2.8 blocks, 1.2 assists, and 1.2 steals in just under 34 minutes per game. Reports have surfaced indicating the Bucks may be entertaining offers for the man directly in front of Henson on the depth chart, Ersan Ilyasova. Bucks GM John Hammond recently stated the need to give John Henson more minutes."We know we have to get John on the floor and we have to find some minutes for him," Hammond said. "It's not easy because we also have Ersan Ilyasova … I think given the opportunity [Henson] will perform and play extremely well and could be another bright future piece for us." When the team's GM wants a player to get more time, it usually means he is going to get it. I know it's all I need to hear to cement John's sleeper status on draft day.
Ed Davis, PF/C
Memphis Grizzlies
Before being traded to the Memphis Grizzlies in the Rudy Gay deal, Ed was carving out a solid fantasy role with the Toronto Raptors. His 9.7 points per game were a career high and he looked to be locked in as their power forward of the future. Upon arriving in Memphis, Ed was thrust into a reserve role backing up frontcourt behemoths Zach Randolph and Marc Gasol. Naturally his minutes were greatly reduced and any hope of a breakout season was over. While we don't hear the term handcuff in fantasy basketball, that's exactly how I look at Ed Davis. If I draft Randolph, better believe I'm grabbing Davis as my last-round flier. Zach Randolph isn't getting any younger and has only averaged 64 (63.8333333 to be exact) games per season in his 12 years in the NBA. Even if Z-Bo doesn't miss any time due to injury, I would be willing to bet Ed gets leaned on more this year to aid in his development and as a means of getting Randolph a little extra rest.
Lance Stephenson, SG/PG
Indiana Pacers
Lance has become one of my favorite players to watch. He was a solid fill-in for the Pacers with Danny Granger injured and the Gerald Green experiment an epic failure. With Granger returning to the starting small forward role and budding superstar Paul George sliding back to shooting guard, Stephenson finds himself back on the bench in a supporting role. How long he stays there is yet to be determined. Danny Granger has a very shaky injury history and while I wish him all the best, there is no sure bet he can stay on the floor. We also have to address his large expiring contract that will look very appealing around the trade deadline to teams looking to clear cap space. If everything goes right for the Pacers, Granger stays healthy and they look to be the direct challenger to the Heat for Eastern Conference supremacy, most likely they will keep Granger around for the stretch run. Which in turn relegates Lance to being bench fodder, and only usable in deep leagues. Sure is a lot of ifs.