2013-14 NBA SEASON PREVIEW CONTENT LIST
Atlantic: Celtics | Nets | Knicks | 76ers | Raptors | Division Preview 1 and 2
Central: Bulls | Cavaliers | Pistons | Pacers | Bucks | Division Preview
Southeast: Hawks | Bobcats | Heat | Magic | Wizards | Division Preview
Pacific: Warriors | Clippers | Lakers | Suns | Kings | Division Preview
Northwest: Nuggets | Timberwolves | Thunder | Trail Blazers | Jazz | Division Preview
Southwest: Mavericks | Rockets | Grizzlies | Pelicans | Spurs | Division Preview
Top 10 by Position: PG | SG | SF | PF | C
Top 10 Lists: Sixth Men | Sophomores | X-Factors | Intensity | Under 25 | Comeback | GMs | Europeans | Overrated | Contenders | Wild Predictions
Fantasy Basketball | NBA Fandom Games | League Preview | Ultimate Season Predictions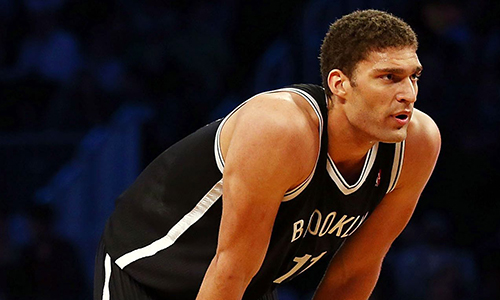 10. DeMarcus Cousins, Sacramento Kings
The fight for the tenth and final spot was ultimately determined by certainty: Larry Sanders is only now beginning to play a pivotal role for his team and has plenty left to prove, whereas Cousins has been a regular starter since the day he arrived. Boogie is an incredible talent and, despite his well-documented attitude struggles, above all else needs to work on his defense; his effort on that end is miserable enough to railroad an otherwise very promising career.
9. Al Jefferson, Charlotte Bobcats
Jefferson clings to his place as younger and more athletically-gifted centers (Anthony Davis, Andre Drummond) are seizing the NBA. Jefferson is presumably at the tail-end of his prime after a remarkably consistent run, but he can be credited for still regularly drawing double teams, a rarity for big men in today's game.
8. Chris Bosh, Miami Hear
With regards to Greg Monroe, Tim Duncan, Pau Gasol, Carlos Boozer, and all the other power forwards who have been wedged out of position by the small ball revolution, Bosh is the unquestioned king of this role, serving as the primary center for consecutive championship teams and successfully battling, not only dramatic size disadvantages, but also unreasonable expectations from fans.
7. Brook Lopez, Brooklyn Nets
With a rare offensive focus in what has become a predominantly-defensive position, Lopez's place on the list is hampered primarily by a stunning inability to pull down rebounds. While low output in one stat alone shouldn't define a player, a starting center's weak rebounding affects his team's entire approach to lineups, and only when Lopez addresses this inadequacy can he move up the list.
6. Al Horford, Atlanta Hawks
Poor Horford has been one of the NBA's best centers since his second season and now has had to watch Danny Ferry deconstruct the roster, transforming the Atlanta Hawks from a dangerous playoff squad to an easy first-round out. Horford is just entering his prime and is undoubtedly one of the NBA's very best two-way centers.
5. Tyson Chandler, New York Knicks
In recent years, Chandler's offensive efficiency has come to match his defensive prowess, making him one of the NBA's best. Chandler at times appeared to be erring a bit close to over-the-hill territory in 2013, but he's earned the benefit of the doubt after capturing NBA Defensive Player of the Year honors in 2012 and steering a championship-level defense in 2011.
4. Roy Hibbert, Indiana Pacers
Hibbert unexpectedly rose this high after anchoring the NBA's best defense last season and damn near leading an upset over the defending champs in the Eastern Conference Finals. The Miami Heat finally solved their Hibbert problem in Game 7, but next time they might not be so lucky.
3. Dwight Howard, Houston Rockets
Howard dominated these lists for most of his career, but after two below-his-standards seasons, only a reactionary could leave Howard at #1, back injury or not. If he returns to even 75 percent of his former capacity he should climb right back up in 2013-14.
2. Joakim Noah, Chicago Bulls
Noah ekes out the silver after clearly demonstrating, in the absence of Derrick Rose, that he has the chops and the leadership to guide a formidable playoff squad.
1. Marc Gasol, Memphis Grizzlies
Gasol's ascendancy to the top spot is not solely due to the apparent slide of long-time titleholder Dwight Howard, but it certainly doesn't hurt. Now the reigning NBA Defensive Player of the Year, Gasol has served as a linchpin in an impressive two-year run by the Grizzlies, and with an advanced skill set and barely 400 games on his NBA odometer, is the center most franchises would choose to build around.