2013-14 NBA SEASON PREVIEW CONTENT LIST
Atlantic: Celtics | Nets | Knicks | 76ers | Raptors | Division Preview 1 and 2
Central: Bulls | Cavaliers | Pistons | Pacers | Bucks | Division Preview
Southeast: Hawks | Bobcats | Heat | Magic | Wizards | Division Preview
Pacific: Warriors | Clippers | Lakers | Suns | Kings | Division Preview
Northwest: Nuggets | Timberwolves | Thunder | Trail Blazers | Jazz | Division Preview
Southwest: Mavericks | Rockets | Grizzlies | Pelicans | Spurs | Division Preview
Top 10 by Position: PG | SG | SF | PF | C
Top 10 Lists: Sixth Men | Sophomores | X-Factors | Intensity | Under 25 | Comeback | GMs | Europeans | Overrated | Contenders | Wild Predictions
Fantasy Basketball | NBA Fandom Games | League Preview | Ultimate Season Predictions
Media Day: Lakers | Clippers | Kings | Knicks | Bucks | Suns | Pacers
FANTASY BASKETBALL POSITION TIERS
POINT GUARDS | SHOOTING GUARDS | SMALL FORWARDS | POWER FORWARDS | CENTERS
ARTICLES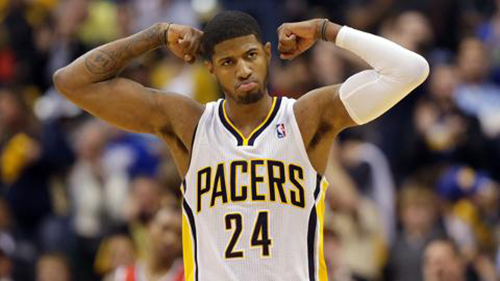 Tier 1 – Top of the food chain
These players are not only better than all other small forwards, they are better than all other players playing in the NBA. They aren't just better than everyone else. They are head and shoulders above everyone else that only they are each other's competition, producing on a level all to themselves.
LeBron James, Miami Heat (1)
Kevin Durant, Oklahoma City Thunder (2)
LeBron James – It is hard to go wrong when you're picking the best player in the NBA today. He does everything. He's a top-five scorer, passes like a point guard, rebounds like power forward and is a regular triple-double threat. He provides drafters with flexibility in fantasy drafts. His assists, steals and threes allow you to go small; while his 56-percent field goal shooting and his rebounding allow you to draft big. If there's any concern about LBJ is his risk of missing towards the end of the season, in order to be rested for the Playoffs. These missed games tend to coincide with Fantasy Playoffs, a critical do-or-die period in the game.
Kevin Durant – He's arguably the best scorer in the game today, and not only is he good at it, he's also very efficient at getting it done. He's the best percentage cornerstone you could ask for. In 2012-13 he averaged 51% FG, 91% FT and 41% from downtown. While he doesn't pass the ball as much as LeBron, he does knock down more treys and block more shots. KD and LBJ are actually interchangeable top one-two draft picks, depending on your category preferences. 

Tier 2 – Beasts from the East
Paul George, Indiana Pacers (9)
Carmelo Anthony, New York Knicks (10)
Paul George – The great thing about Paul George is that he's still on the rise, far from the apex of his fantasy production. Like LeBron and Durant, George is an impressive multiple category contributor. The only things in the way of him elevating to their hyper-elite status are his lower scoring averages of 17.4 PPG and his poor field goal percentage at 42%. That being said, things can only get better as George comes into his own as Indiana's go-to superstar.
Carmelo Anthony – We saw Anthony dominate his opposing defenders last season when he was played by the Knicks at the four. As a result, he nailed more threes and his scoring rose. The drawback was that he got banged up a little too much for comfort when he was contesting for boards in the paint, pretty much the "pound of flesh" he had to pay in exchange for his performance. Melo is a great anchor for your fantasy team's PTS, 3PTM and FT% categories, while adding some solid rebounding all at less than three turnovers per game.
Tier 3 – The last stop before the drop
After these two players the overall value of the small forwards available take a bit of a dip. So if both of these guys are off the board, then it would be wise to focus on filling up some of your team's guard and/or big man needs.
Nicolas Batum, Portland Trail Blazers (20)
Rudy Gay, Toronto Raptors (39)
Nicolas Batum – Despite breaking out last season, Batum still remains underrated. He's a jack-of-all-trades and being able to get him in the late-second to early-third rounds is just golden. His main strength is his three-point shooting which clocks in at 2.3 shots made per game. Now throw his 1.3 SPG, 1.1 BPG and 4.9 APG into the mix and you've got pretty much all your bases covered. He averaged only 14.3 PPG last season, which is considered to be a bit low for early-round standards, but if you consider that he essentially contributes to your team across the board it's hard to overlook his stat line. Icing on the cake is that he's only 24 and still has room to grow.
Rudy Gay – Rudy still has a chance to show up and bring the goods in 2013-14. The only knock on his well-rounded game is his shoddy field goal shooting percentage, which plummeted to 41.6% last season compared to his 45.5% in 2011-12. What he does deliver is at least 18 PPG, 6 RPG, 1.5 SPG, 1 3PPG and a shade over 0.7 BPG every night. If Rudy can get more and better open shots as sophomore Jonas Valanciunas becomes even more of an interior scoring threat, then Gay's value should return to its previous third-round levels.
Tier 4 – Where the underrated guys hang out
Chandler Parsons, Houston Rockets (51)
Kawhi Leonard, San Antonio Spurs (54)
Paul Pierce, Brooklyn Nets (58)
Jeff Green, Boston Celtics (60)
Chandler Parsons – Parsons was one of last season's more pleasant break-out surprises. We all saw how his work ethic and hustle got him rewarded with extra playing time from coach Kevin McHale during Chandler's rookie season, but his across-the-board improvement in his sophomore season was nothing short of spectacular. The only reason he's getting knocked down by a peg or two in most pre-draft rankings is that there are concerns that the arrival of Dwight Howard will translate to less touches of Parsons. He should, however, still be able to maintain solid averages of at least two treys and one steal per game in 2013-14.
Kawhi Leonard – A lot of people jumped on the "Leonard band wagon" in last season's fantasy drafts after putting a lot of weight on coach Popovich being quoted saying "Kawhi will be the face of the Spurs." For the most part, many owners felt somewhat disappointed with what they hoped was their "middle-round steal" during their draft. Leonard didn't really wow us in 2012-13, or did he? Well expectations were raised too high and frankly you had to be a true connoisseur of the rotisserie format to fully appreciate his game. At a humble 11.9 PPG and 6.0 RPG, Leonard quietly became a good source of steals at 1.7 SPG. He didn't have enough converted shot volume from the floor and from the line to really feel the impact of his 49.4 FG% and 82.5 FT%. If you would look at his numbers very closely, he'e a mini-Kevin Durant, a player with great shooting percentages and contributes in several peripheral categories.
After the 2012-13 NBA Playoffs, the cat's out of the bag. Leonard showed maturity and willingness to take on more responsibility on offense. Again, similar to guys like Nic Batum, Leonard will still be ignore for far too long in most drafts. This season, expect Leonard to truly come into his own and take his game to another level.
Paul Pierce – His early rankings have taken a beating this season, brought about his move to join the now talent-filled Brooklyn Nets. On some level, these downgrades have been way overdone. He's still the third best player on that team in fantasy and should wind up being the team's second scoring option behind Brook Lopez.. Yes, his scoring will go down, and yes, he's aging and his overall performance is expected to decline.
There are a few mitigating factors in his new situation that should keep some of his previous value intact. For the first time in his career, he will be playing alongside a true center. This creates spacing opportunities to allow him wide open jumpers. Deron Williams is a capable point guard and Pierce shouldn't really miss those Rondo-assists. If anything, given a drop in scoring considered, Pierce can wind up developing a more rotisserie-format friendly game.
Jeff Green – All eyes are on Green this season as he and Rajon Rondo appear to be the biggest beneficiaries in fantasy of the Pierce-Garnett-Terry exodus on draft night. He will go nuclear. He's solid scorer who is versatile enough to play multiple positions. Doc Rivers loved him. Oh, but Doc's gone. Let's hope the C's new coach feels the same way about Jeff.
His scoring should rise to anywhere between the 16-18 PPG mark and Green's also a member of that elite group of players who can contribute 1+ blocks and 1+ treys a night.
Tier 5 –  Just stay healthy. Please.
Luol Deng, Chicago Bulls (69)
Danny Granger, Indiana Pacers (78)
Maurice Harkless, Orlando Magic (97)
Wilson Chandler, Denver Nuggets (99)
Kyle Korver, Atlanta Hawks (105)
Luol Deng – He dropped off by 10 points from his previous year's ranking. He was not at one hundred percent health for most of 2012-13 and opposing teams' defenses focused on him and Carlos Boozer while Derrick Rose was out of commission. For many seasons now Deng has been regarded as an underrated player in the fantasy circles. He's a capable scorer and generally has a roto-friendly line. The key for Deng at this point is to get back to one hundred percent health so that he can once again play at a much higher level.
Danny Granger – This former multiple-category contributing stud has fallen from grace due to various injuries and seemingly chronic knee problems. As long as you temper your expectations and see that Granger is entering training camp healthy, he could be worth a late-middle round pick. His main benefit will be as a source of treys who occasionally produces extra rebounds, steals and blocks for your team. He's best drafted if your team is ready to punt the FG% category as he's averaging 43.7% field goal shooting for his career.
Maurice Harkless – He had several eye-opening games for the Magic last season. His per 36-minutes numbers hit 11.4 PPG, 6.1 RPG, 0.6 3PPG and 1.6 SPG making him an intriguing upside pick this 2013-14. The hole in Harkless' game is his very poor free-throw shooting. He averaged 57% at 1.7 attempts. Outlook for his improving his counting categories is very positive. We'd love to see him develop a consistent outside shot and knock down his and-ones.
Wilson Chandler – Chandler is expected to be the interim starting small forward of the Denver Nuggets while Danilo Gallinari is recovering from ACL-repair surgery. Gallinari is projected back somewhere between January and February. That's enough of hunk of time and opportunity for Chandler to pile on those numbers. Even if Gallinari retakes his starting job down the line, Wilson should still retain some fantasy relevance. There are only a few options this late in the draft where you can find a player who can flirt with 1-trey, 1-steal and 1-block on a nightly basis; and Wilson Chandler has proven that he's one of those guys. As things stand now, we're very bullish on Chandler for 2013-14.
Kyle Korver – He's often regarded as a three-point shooting specialist and is therefore often bumped down in the rankings. Korver flew under the radar last season and put together a very good fantasy season after signing with the Atlanta Hawks. He hit double-digit scoring averages (10.9 PPG) again since 2007-08. His conversion rate from downtown also jumped to 2.6 3PPG. The last time averaged at least two treys per game was way back in 2005-06. Call it a renaissance season for Korver, call it whatever you want, at 0.9 TOs per game he was just money in roto leagues.
Considering that the Hawks are now turning a new leaf, Korver is in line to carve out some significant time on the floor and subsequently some solid fantasy production.
Tier 6 – The young and the old
Harrison Barnes, Golden State Warriors (112)
Shawn Marion, Dallas Mavericks (119)
Evan Turner, Philadelphia 76ers (120)
Otto Porter, Washington Wizards (133)
Andrei Kirilenko, Brooklyn Nets (134)
Gerald Wallace, Boston Celtics(141)
Harrison Barnes – Even though Barnes showed us a lot of potential in his rookie season, especially in the second half when he was getting into a groove, he takes a big hit this coming season with the addition of Andre Iguodala to the team. Iguodala is expected to start ahead of Harrison at small forward, while Stephen Curry and Klay Thompson take care of the backcourt duties. Barnes will likely be groomed to fill a sixth man's role, creating offense off the bench, for the team. Nonetheless, Barnes will be best left until the late rounds of most drafts and that comes with some heavy speculation working in his favor.
Shawn Marion – Marion is still Dallas' starting small forward, for now. Shawn and his expiring contract could easily be moved by Mark Cuban before the trade deadline, for the right deal of course. While his stat line is now far removed from his heyday as a member of the Phoenix Suns, Marion was able to retain some deep-league appeal, thanks to him being able to average in double-digit scoring (12.1 PPG) and adding 1+ treys and 1+ steals a night. As a late to last pick in standard drafts, he can easily fill the role of either rounding out your team's needs or come off the bench when one of your starters go down.
Evan Turner – Turner's improvement has been slow. Even though he finally averaged 13.3 PPG in 2012-13, his FG% took a hit and hurt his overall value. Now that the 76ers have a rookie point guard at their helm, Turner could be tasked to "babysit" and facilitate some of the offense and putting on his point-forward cap on some nights. Evan's at the edge of being a solid fantasy asset, we're just waiting to finally see him cross that threshold.
Otto Porter – Porter is a great fit for the Wizards. Well that's what experts were saying when he was drafted by the Wiz third overall in the draft. Then again, as they say the proof will be in the pudding. Otto Porter fills Washington's need at small forward and is expected to start on opening night. It shouldn't be too much of a concern that  the bulk of the team's offense will be in the hands of John Wall and Bradley Beal. Porter is supposed to be able to "do a little bit of everything" and provide whatever the team needs. How that translates into fantasy-relevant production is still a question mark. Michael Kidd-Gildchrist was a letdown in 2012-13 and HE was projected to be a potential multi-cat contributor, but ended up disappointing owners instead. All things said, Porter should receive very little competition from fading Trevor Ariza.
Andrei Kirilenko – AK gave up a ton of cash to play for a team he believes to be a championship contender this season. He may have just gotten his wish after signing with the "new and improved" Brooklyn Nets. Kirilenko will comprise the Net's key second unit along with Jason Terry and Andray Blatche. The Nets are so deep this season that it's almost ridiculous to think that AK will be able to duplicate his impressive return to the NBA in 2012-13. The only upside to his reservist role is that it might actually keep him healthy(er) than normal. That, and KG is expected to miss back-to-back games. Andrei may end up being the fill-in starter during those games that KG sits. Kirilenko should still be able to bring low-end 1+ steal and block numbers a night and maybe 8-10 points as well. He should still be worth a very late pick in most standard leagues.
Gerald Wallace – Wallace' production took a huge dive last season and it's difficult to imagine he can regain his luster in a rebuilding Celtics team. Wallace may come off the bench behind Jeff Green or even start at power forward (which is up in the air at this point). Gerald still remains one of the team's veterans and should stay relevant in a minor way. He's a late-round selection as of now and only if your team is looking for steals from the forward position.