2013-14 NBA SEASON PREVIEW CONTENT LIST
Atlantic: Celtics | Nets | Knicks | 76ers | Raptors | Division Preview 1 and 2
Central: Bulls | Cavaliers | Pistons | Pacers | Bucks | Division Preview
Southeast: Hawks | Bobcats | Heat | Magic | Wizards | Division Preview
Pacific: Warriors | Clippers | Lakers | Suns | Kings | Division Preview
Northwest: Nuggets | Timberwolves | Thunder | Trail Blazers | Jazz | Division Preview
Southwest: Mavericks | Rockets | Grizzlies | Pelicans | Spurs | Division Preview
Top 10 by Position: PG | SG | SF | PF | C
Top 10 Lists: Sixth Men | Sophomores | X-Factors | Intensity | Under 25 | Comeback | GMs | Europeans | Overrated | Contenders | Wild Predictions
Fantasy Basketball | NBA Fandom Games | League Preview | Ultimate Season Predictions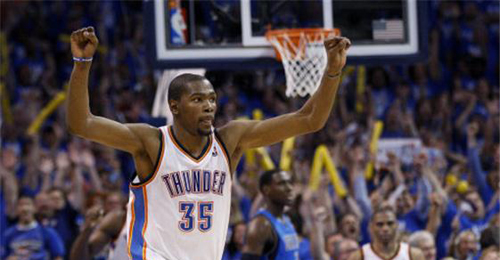 MVP
Arlo Kenwood: IF Kevin Love can remain healthy, he will have his best season yet. Paired with Nikola Pekovic, an improving Ricky Rubio, an emerging Alexey Shved and sharp-shooting Kevin Martin, Love should get loads of opportunities inside the paint and around the perimeter. I'm predicting Love goes for 20, 10 and 5. Believe it. He's a very good passer, and now he's got teammates that can think and score. While everybody else will just hand this to Kevin Durant, I think Mr. Love will have the better overall season, and he'll be more instrumental to his team's success.
Nirvan Sorooshian: Two Letters: K. D. Kevin Durant of the Oklahoma City Thunder is the best scorer in the NBA with a ridiculous average of 28.1 points during the 2012-2013 season. Not only is Kevin Durant the definite MVP of the Northwest Division, but he is also a legitimate contender for MVP of the league as he looks to give OKC another shot at a title after a heartbreaking loss in 2012.
Stephen Oby, Jr.: Kevin Durant. Russell Westbrook almost splits the Oklahoma City vote, allowing the award to slide to Kevin Love or LaMarcus Aldridge, but Durant's status as the unquestioned second-best player in the NBA holds off the competition. The 2013 playoff injury to Westbrook made perfectly clear the degree to which the Thunder rely on their mercurial point guard, but Durant remains the team's and the division's foremost talent.
PLAYER MOST LIKELY TO FALL OFF
Kenwood: I want to say Derek Fisher, but he fell off eight years ago, and why kick a man when he's down? I'm going out on a wobbly and slippery limb here, but I believe Russell Westbrook will fall off. After going down last season, he realized how important he is to the team's success. I speculate this gives an overconfident guy way too much confidence. I see him playing selfishly and chucking the ball at the rim whenever he can. I can also see Mr. Westbrook slumping, then spiraling and ultimately bringing the Thunder down with him.
Sorooshian: While Russell Westbrook will most likely come back strong off his knee surgery, it will be interesting to see if the injury causes a lack of production from Westbrook, who counts on his quickness to break defenses down. With that said, the player most likely to fall off in the Northwest division is Andre Miller. An aging Miller will likely have the worst season of his lengthy 14-year career. In the 2012-13 season, Miller had the lowest scoring campaign ever at 9.6 points per game. He will only be counted on to provide some decent minutes for this Nuggets team off the bench, and will be a role player for the rest of his days in Denver, especially with Nate Robinson now on the team.
Oby, Jr.: Kendrick Perkins has already fallen off, right? The one that really sticks out here is Nikola Pekovic: the 27-year-old Montenegrin signed a five-year contract this summer worth an insane $60 million, putting him amongst the ten highest-earning centers in the game. Now a very rich man, Pekovic might be expected to slide a bit, as newly-rich players often do.
BREAKTHROUGH PLAYER
Kenwood: As of this writing, Alexey Shved is tearing it up at the European Championships. So far, his numbers look pretty much the same as Tony Parker's. Just as Kevin Love will thrive with Minnesota's new look/healthy offense, Mr. Shved should penetrate more frequently, and he'll be treated to a plethora of open looks. I'm thinking he goes off for 15 and 6. Mr. Shved's once expensive contract will now seem like an absolute bargain.
Sorooshian: Ricky Rubio of the Minnesota Timberwolves is looking to break through as one of the best true point guards in the league. Already with an impressive assist average of 7.3, Ricky will have an opportunity to serve up more dimes than ever with a healthy Kevin Love back in the Timberwolves lineup. If Ricky Rubio is also able to improve his poor field goal percentage of 36 percent, he will become an even more challenging point guard for defenses to stop. This guy can beat you in so many ways with the creativity he uses to get the ball to teammates for open looks and easy buckets. After all, it's all about the buckets.
Oby, Jr.: The Utah Jazz better hope like hell this category goes to someone on their roster. Derrick Favors is probably the fan favorite, and if a leap is coming, one would expect it this year with Favors stepping into a featured role, but even broken down for limited minutes his numbers point more to the next Dan Gadzuric than the next Karl Malone. Let's give it instead to Gordon Hayward, who has done nothing but improve in his three NBA seasons. A deadly three-point shooter and a gifted playmaker, Hayward will be the unheralded star of the Jazz this coming season.
BEST TEAM
Kenwood: The Oklahoma City Thunder. However, this is the last year that the Thunder roll through the division with ease. Unless something happens to Kevin Durant, these guys have too much talent and too much experience to give up the divisional title. Just the same, beyond Reggie Jackson, these guys have very little depth, and in case of injuries, head coach Scott Brooks will have to carry the team.
Sorooshian: Not only are they the best team in the Northwest division, but the Oklahoma City Thunder are also the clear favorites to win the entire Western conference. This team is a legitimate contender for an NBA championship, as many have already predicted OKC and the Miami Heat to square off in the NBA Finals multiple times in the next few years. With two of the league's most prominent superstars in Durant and Westbrook, Oklahoma City's constant scoring attack is one of the best in the league. Needless to say, these guys are too legit to quit.
Oby, Jr.: The Thunder, by far. The Nuggets have taken a dramatic step back this offseason, the Timberwolves hope to stay healthy enough to take a small step forward, and the Trail Blazers have largely stood pat, so most of the division remains stuck in that first round exit/late lottery territory. The Thunder will take a big step back, too, but even with another 60-win season out of the question (53 or so is probably more like it), they remain the cream of this division's crop.
WORST TEAM
Kenwood: Do you even have to ask? Utah Jazz. I don't think they know what they did last summer.
Sorooshian: With a poor record of 31-51, the Minnesota Timberwolves are the worst team in the Northwest Division. That's not to say they can't improve mightily with stars in Ricky Rubio and Kevin Love, but in a tough Western Conference, this team doesn't have much of a shot of being a legit contender as of now. It might take a few years, but with some smart acquisitions and a healthy Kevin Love, this team just might leave the rut it's been experiencing for the past few years. However, it will take time, and maybe lots of it.
Oby, Jr.: The Utah Jazz with an asterisk because the team appears to have torpedoed this season in order to free up minutes for their formidable youngsters. The last time the Jazz faced a season like this one was 2003-2004, immediately following the departures of John Stockton and Karl Malone, and that team, despite very low expectations, managed a 42-40 record. But this isn't 2004 and Jerry Sloan isn't on the bench, so somewhere in the neighborhood of 30 victories is probably more like it, with the expectation that next season's projection will be far sunnier.
FINAL THOUGHTS
Kenwood: The Northwest Division will be the most competitive in the league. While the Jazz will permanently move into the league's cellar, the Trail Blazers, the Nuggets and the Timberwolves all have legitimate shots to unseat the Thunder. The Blazers have drafted well and upgraded their frontcourt. Though they lost Andre Iguodola, the Nuggets acquired J.J. Hickson and they still have Danilo Gallinari, Ty Lawson and Kenneth Faried. The Timberwolves have an obscene amount of talent; a starting five of Kevin Love, Nikola Pekovic, Ricky Rubio, Alexey Shved and Kevin Martin seems pretty formidable. But ultimately, The Thunder, disappointed about the 2013 postseason, will still wear the pants in this relationship.
Sorooshian: The Northwest division holds one of the best teams the NBA has in the Oklahoma City Thunder, and is a division with tons of potential to be one of the league's toughest. With a Portland team that is quickly on the rise with crazy amounts of talent in Damian Lillard and LaMarcus Aldridge, this division will soon become as competitive a region as there is in the NBA.
Oby, Jr.: This is in fact an excellent division in many ways, despite what the standings might show, and may evolve into the NBA's most competitive in the coming seasons. Oklahoma City's core trio are all in their early 20s and are locked up for several more seasons, the Trail Blazers have good young talent and very deep pockets, the Jazz have never stayed uncompetitive for long, the Nuggets roster is loaded with formidable talent and tradable contracts, and the Timberwolves have one of the NBA's most promising cores in Love and Rubio. Only loads of unfulfilled potential and Flip Saunders' questionable decision-making can prevent this division from soaring in coming seasons.