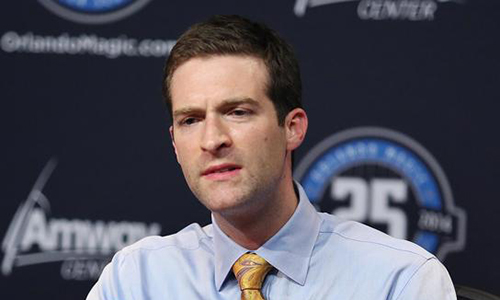 Contrary to popular belief, the Orlando Magic will not be looking to "tank" this upcoming season. The Philadelphia 76ers and Phoenix Suns are just a couple of the teams you can expect to be at the top of the draft, with many other bottom feeders competing to earn the 25% chance at winning the first selection. Do not expect the Magic to take part in this contest. Beginning just his second year at the helm, general manager Rob Hennigan has always preached building a culture in Orlando, and surely, tanking has no part in this.
First and foremost this season, the Magic are concerned with player development. Hennigan along with head coach Jacque Vaughn have worked hard to develop a young core of players, and coming into the second season of this rebuilding effort, the continued development of these players is key. Guys like Nikola Vucevic, Tobias Harris and Moe Harkless showed a lot of promise last season, so look for Vaughn to continue pushing them to continue growing. On top of this, Orlando drafted an exciting prospect in Victor Oladipo who has already shown what he can do in Summer League play. He has quickly become the favorite around the league to win rookie of the year. The last thing an organization wants to do is have a talented and promising young core like that of the Orlando Magic grow accustomed to losing. This can spell disaster, just look at the Sacramento Kings and how things panned out with Tyreke Evans and DeMarcus Cousins. Widely respected for their talents, it is evident that the culture of the organization hindered their growth. What the young core of the Magic need is to build chemistry, and the best way to do this is by winning games together.
Moreover, because of Hennigan's focus on building a culture in Orlando, he has brought in very high character guys. All of these players will be looking to compete night in and night out. Also, looking back at last year, Orlando actually hovered around a .500 record until Glen Davis went down with an injury. Combine that with the eventual injuries of Arron Afflalo and Jameer Nelson, and Orlando found itself completely depleted of any veteran presence on the court, contributing to their league worst record. Do not expect this to happen again. With all of these players back, along with the addition of Oladipo and continued growth of the other young players, look for the Magic to have a surprising season.
The veteran players will play a large role in accumulating wins next season. It has been speculated that Orlando will be looking to move the likes of Baby Davis and Arron Afflalo before the trade deadline. If this is the case, the Magic will need to showcase their talents to boost their trade value. If both players remain on the roster throughout the season, expect them to contribute to a good amount of wins. Both of these guys are high energy competitors that will serve as leaders to the younger guys.
It may be far-fetched at this point in time to project the Magic in the playoffs next year, but winning games and showing the league your potential is not always a bad thing. It has become a trend in the NBA, possibly coined by none other than Bill Simmons that being a middle of the road team is the worst place to finish. Simmons states "In the NBA, you want to be either really good or really bad. You never want to land between those two "reallys" for long." In this case, the Magic have served as the worst team in the league, and should now look to see what the pieces that have been brought to Orlando can do. If Hennigan ever plans on making a play at a big name free agent, he needs to be able to demonstrate how the team will be able to win games and compete. Free agents don't mind signing contracts with small market teams if it means they have a shot at a title.
A final thought is Rob Hennigan's proficiency to find and evaluate talent come draft time. Not only has he shown that he will draft the best overall player remaining at his draft position, he has shown that you do not need a top 5 pick to draft a star. While it is impossible to truly know how much of a role Hennigan played in drafting players in Oklahoma City, one must assume he played a large part in drafting Kevin Durant, Russell Westbrook and James Harden. Now that he is in Orlando, he has shown that selecting Andrew Nicholson with the 18th pick was a great decision, along with the acquisitions of the young talent he has been able to acquire through trade like Vucevic, Harris and Harkless. An interesting note in Hennigan's acquisitions of these players was that he based their value off of what he saw when he scouted them during their respective drafts. This goes to show you that Hennigan did not strike gold through blind luck as a result of the Dwight Howard and J.J. Redick trades, but he in fact goes above and beyond in every move he makes. There is definitely a method to his madness. With the draft being so deep in 2014, I wouldn't be surprised if Hennigan still makes his way out with a future star even if the Magic are selecting in the late lottery. Albeit this prediction is an early one, but it looks like Hennigan already made his way out with the prize of the 2013 draft in Victor Oladipo, or "Orlandipo" as many fans around Orlando are calling him.