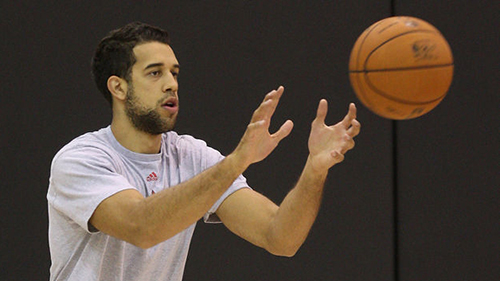 When the 2012-13 NBA season began, it seemed as though Landry Fields would be the starting small forward for the Toronto Raptors, maybe for years to come. That all changed on January 30, 2013, when Rudy Gay was traded to Toronto. Unlucky enough for Fields, a very similar thing took place when he played for the New York Knicks. He was having a pretty solid rookie year and was being looked at as their small forward of the future. However, on February 22, 2011, Carmelo Anthony was traded to New York and thus made Melo "the man" in town while Landry Fields was understandably downgraded to role-player status. A string of bad luck has once again put Landry in that same situation.
A serious elbow injury forced Fields to miss 31 games last season, something Raptors fans don't want to see happen to a guy getting paid $20 million over the next three years. That elbow injury lingered, affecting him early on in the season. There were times he looked as though he forgot how to play basketball, missing layups and blowing fast breaks.
[youtube]http://www.youtube.com/watch?v=49UD72R7jx0[/youtube]
When the news came out of an injury to the elbow on his shooting arm, it explained his horrid play. Raptors fans hope that he can actually come back better and make an impact on the floor, rather than just being a $20 million pylon who occasionally takes a three-pointer that inevitably misses.
Another contributing factor to Landry's bad play last season was the pressure he had living up to that rather large contract. After his elbow surgery he was open about his contract affecting his play. "Earlier on I really did feel that," said Fields. "But going through this whole surgery thing has really been a humbling experience. I kind of promised myself when I came back that I wasn't going to focus on that anymore. I was just going to go out there and play my game. What they gave me and what I've come here to do are on their own accord. All I can do now is control what I can do. I can't really worry about (the contract). That just puts too much added pressure on myself."
Fields did come back near the end of last season and showed signs of improvement not only in his shooting but also in providing great energy off the bench, grabbing double-digit rebounds multiple times. With the small preview he gave fans, I'm still not sure how I feel about Landry going into this upcoming season. Hopefully he brings this "I can't worry about my contract" mentality into next year and plays better than he ever has. He will remain a role player with Rudy Gay still on the team, but that doesn't mean he can't be an effective player off the bench who occasionally knocks down a jump shot. He'll have to live with the burden that many other players like him have to live with—a player who makes more money than he deserves. I can only hope as a fan of the Raptors that he lives up to his contract and helps Toronto live up to their potential: the ninth spot in the Eastern Conference.