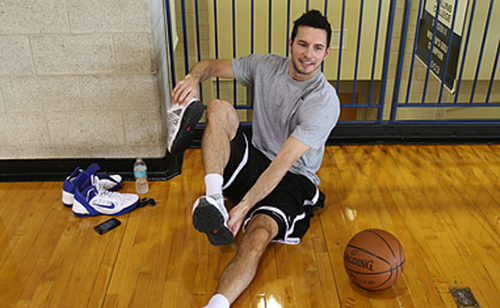 Coach Doc Rivers acquired quite an offensive weapon in J.J. Redick, giving the Los Angeles Clippers a bit more of an edge to go deep into the playoffs and maybe even flirt with a spot in the NBA finals. They have an amazing leader in Chris Paul, the length and rim protection of DeAndre Jordan, and the intensity and spark from Blake Griffin. What Redick brings to this team is a jumper that can catch fire and close games.
For the new Clippers lineup, Rivers has various options to choose from, though a Paul-and-Redick pairing would be ideal. Sure, they lost a good player in Eric Bledsoe, but Redick is a better fit. Since he can move so effectively without the ball, this new backcourt can orchestrate a beautiful mix of passing, shooting and defense while dishing out headaches for opposing teams. On the other hand, Redick could be used in the second unit to help maintain the consistency of the offense.
In the 2012-13 NBA season, Redick put up 14.1 points per game, shooting 43 percent from the field and 37 percent from behind the arc. He also shot 90 percent from the foul line. He definitely has a nice shooting touch, making a living from his spot-up shooting and use of screens. Redick will allow Paul to create spot-up chances for him if the game's on the line, since he performs well in the clutch. He actually gave the Clippers a taste of it last season, as he lifted the Orlando Magic past the Clippers with a go-ahead three-pointer with 42.1 seconds on the clock.
Additionally, having Redick on the floor will give Griffin an excellent option on the perimeter when he's double-teamed. The Duke alum can also provide the Clippers with some ball-handling relief, as he can assist Paul in making plays. Last year, Redick assisted on a career-high 20 percent of his team's field goals while he was on the floor, according to basketball-reference.com. He has all the tools to be the X-factor in the Clippers' offensive structure. Yes, the Clippers didn't have much offensive structure last season, but it seems that things may be different this year with Doc Rivers around.
Redick could be the missing piece that the Clippers needed all along, and if he's capable of doing half of what Ray Allen did for Doc with the Boston Celtics, the Clippers just might have a shot at a ring this season. Instead of chanting "Jesus," as the fans did for Allen, the crowd could chant "Riddick," Vin Diesel's famous film character with night vision, since Redick has a clear shooting vision even in dark times during games.