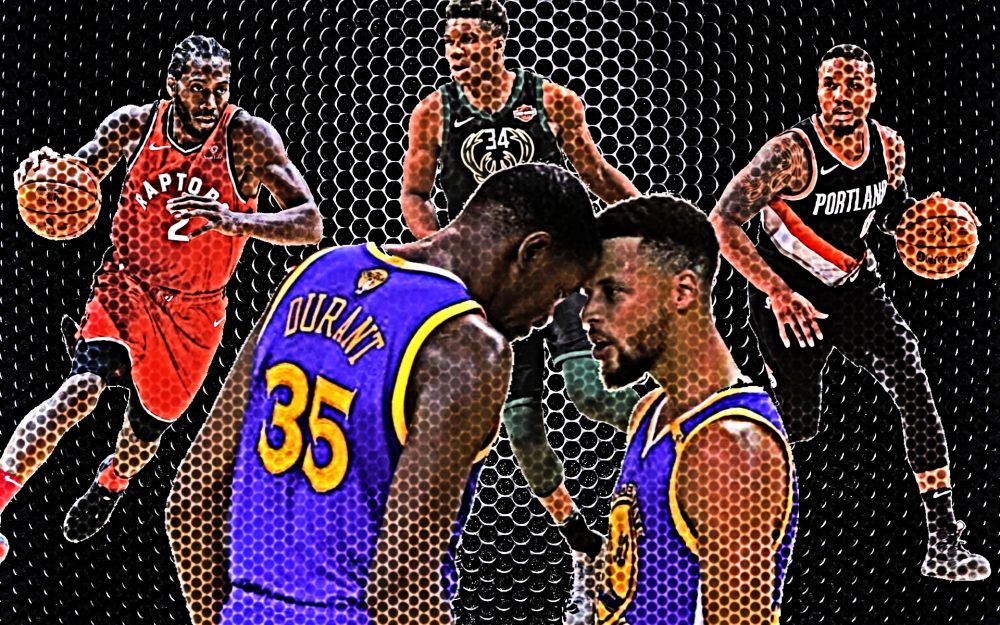 Each year around this time I like doing an exercise called Legacy Watch. What the Legacy Watch is designed to do is examine what individuals (I've tinkered with the formula and decided not to include teams this year) have the most to gain or lose from a legacy standpoint over the final two rounds of the NBA Playoffs. And since I tend to be a bit wordy when it comes to big picture endeavors such as this one, there's no need for any more verbal foreplay … let's get busy!
15. Steve Kerr
Remember, the purpose of the Legacy Watch is to determine who is moving furthest up or furthest down over the next month of the NBA Playoffs. No matter how the next two rounds of the NBA Playoffs play out for Golden State, it's hard to imagine the discussion of Steve Kerr's legacy changing all that much – unless he grants Basketball Fans/Concerned Americans their wish of joining Gregg Popovich on a Presidential Ticket. But here's one interesting Kerr coaching note: If the Warriors hoist the Larry O'Brien Trophy in mid-June, Kerr will join John Kundla and Red Auerbach as the only Head Coaches to win three Titles in four years. He would also join Auerbach and Phil Jackson as the only Head Coaches to three-peat.
There will always be a sect of fans who claim that with this collection of talent, any grade-school basketball coach could've led the Warriors to multiple NBA Championships. Don't listen to those people. Kerr routinely dials up brilliant plays after timeouts, drops press conference gems, and oversees a franchise that has higher expectations than any other in professional sports. He's just as much of a fucking giant as any single player on his Warriors are.
14. Nick Nurse
13. Pascal Siakam
12. Marc Gasol
11. Kyle Lowry
What will end up determining the extent of success Toronto has this postseason is the type of production they get from everybody who isn't named Kawhi Leonard. Perhaps I'm wrong, but I just can't envision the Raptors winning their first NBA Title if Kawhi continues to score a third of their points. Even more difficult to imagine is the Raptors securing eight more wins if the rest of the Raptors Playoff rotation fails to shoot 40 percent from the field, as they did against Philly in Round 2.
The burden to support Kawhi falls on the shoulders of the four individuals mentioned above. First year Head Coach Nick Nurse can't get bent over a barrel and shown the fifty states by Mike Budenholzer. Nurse needs to be the one who is forward-thinking and moving the right chess pieces at the right times. If he manages to do that, he could end up being the fifth Head Coach since the NBA/ABA merger to win an NBA Title in his first season on the bench.
Pascal Siakam, dealing with an iffy calf muscle, needs to resemble the guy we saw in the first six games of Toronto's postseason (24 points, 8 rebounds, 57-42-78 shooting splits) than the guy who struggled in the last six (18 points, 6 rebounds, 38-20-79 shooting splits). If he stabilizes as a reliable, Swiss Army Knife sort of second option to Kawhi, he continues to vault up the list of best young players in the league, and the Holy Shit, This Guy's Story Is Fucking Incredible power rankings.
Toronto's February trade for Marc Gasol was a We're Moving All of Our Chips to the Center of the Table type of move, the second one Masai Ujiri has made since last Summer. When Ujiri traded Kyle Lowry's best friend DeMar DeRozan for Kawhi Leonard, it was a signal that Ujiri recognized the Raptors title window was closed if they were relying so heavily on DeRozan and Lowry, especially since Lowry is 33, past his prime, and is making BIG money until his contract expires in the Summer of 2020. Kawhi is good enough to crack that title window open, and as he proved on Sunday night in Game 7, he's plenty capable of carrying the Raptors down the stretch of big games. Lowry, Gasol and Siakam don't need to be superb … they just need to be reliable.
There's an alternate universe where Kyle Lowry and Marc Gasol have walked side-by-side into Playoff battles before. Lowry and Mike Conley shared Point Guard duties in Memphis for two years before Lowry was eventually shipped to Houston. Ten years later, Lowry and Gasol will get the chance to get over the Conference Finals hump together in Toronto. Lowry's postseason struggles are well-documented, and we've always hoped to see a bit more out of Gasol in the Playoffs. Nobody expects either of these two to turn back the clock and deliver a handful of vintage performances over the next four weeks. But Toronto's Playoff hopes may hinge on what these two can bring to the table.
If Lowry and Gasol do their part, and if they each have a moment or two – such as Kyle Lowry's 21 point 2nd Half in Game 1 against Milwaukee, that the Raptors unfortunately squandered – over the course of these next two rounds en route to a Toronto title, we'll end up looking at their careers MUCH differently than we do right now. They'll be remembered for putting two of the most successful non-glamour franchises on their backs for years, and then successfully steadying the ship and carrying less of a burden on a title team while in the twilight of their respective careers. If you ask me, that's not an awful legacy to leave behind.
10. Draymond Green
9. Klay Thompson
Just like their coach, Draymond and Klay won't rise too high or fall too low no matter how the rest of the postseason plays out. At this point we should all be able to recognize their contributions, understand their value to this Golden State Warriors machine and appreciate the legacies they've crafted for themselves over the last five-plus years. Even an unlikely Iguodala in 2015 sort of scenario where one of these two wins the Finals MVP would only move the needle so far forward.
At the end of the day, Klay and Draymond will end up with legacies similar to guys like Tommy Heinsohn and Sam Jones: Hall of Famers who were vital to the almost unparalleled long-term success of a dynasty, but they aren't Stephen Curry or Kevin Durant, just like Heinsohn and Jones weren't Bill Russell, Bob Cousy or John Havlicek.
8. Mike Budenholzer
It's been written and spoken about plenty over the last calendar year, but it can't be overstated how HUGE the leap was from the Depressing Duo of Jason Kidd and Joe Prunty to Mike Budenholzer, who is an honest to God living, breathing, thinking Head Coach. Various roster maneuvers helped too, and Giannis Antetokounmpo's continued ascension from Greek Freak to Greek God sure didn't hurt matters, but Budenholzer opened things up for the Bucks in a way we always hoped that their Head Coach eventually could.
To some degree, Budenholzer's arrival and impact on Milwaukee resembles that of Steve Kerr's in Oakland before the 2014-15 season. Mark Jackson had been coaching the 2013 Golden State Warriors like they existed in 2003. Steve Kerr came in armed with a free-flowing offense – an offense that wasn't relying on garbage like Jermaine O'Neal post-up's down the stretch of tight games – that perfectly suited his three best players. We saw the difference that Kerr's presence on the bench made. It took five games to realize that the Warriors had raised their ceiling exponentially.
Coach Bud gave the Bucks the green light to launch three's at the 3rd highest rate in the NBA (they finished 25th in 2017-18), a philosophical change that allowed Giannis to Eurostep and bully-ball his way to the one of the most efficient and effective paint scoring seasons in league history. Like Kerr, his imprint was tangible. We know he's changed Milwaukee's ceiling over the next half of a decade, especially if his coaching style plays a role in Giannis deciding to remain a Buck for the long haul.
Bud has now coached two franchises to 60 wins and made the Conference Finals with each of those 60-win teams, joining Pat Riley, Phil Jackson, Rick Adelman, and Mike D'Antoni as the only Coaches in the post-merger NBA to accomplish that feat. With a championship ring, Budenholzer would be in a class with only Riley and Jackson. A lot to gain here.
7. C.J. McCollum
Don't let the Steve Urkel comparison or the Bachelor's degree from Lehigh University fool you … CJ McCollum enters the Conference Finals as one of the hottest players left standing in the NBA Playoffs and one of the most gifted scorers in the world, analytics be damned! We've seen glimpses of this sort of offensive output from McCollum for years, basically ever since he increased his scoring average by 14 points per game in the 15-16 season on the way to a Most Improved Player Award win. The 2019 Playoffs feel like the moment he is putting it all together.
Damian Lillard is Portland's best player and unquestioned leader, and I'm sure every Blazer – McCollum included – would acknowledge this, but it's telling that in the two biggest moments of Portland's season, McCollum was the guy who had the keys to the car.
McCollum was tasked with carrying the Blazers offense throughout the four overtimes against Denver in Game 3. He led both teams with 41 points, was second in minutes played to only Nikola Jokic, and he was the only heavy minutes player on either team who wasn't dragging ass at the end of the game. It looked like he had just finished playing his first pick-up game of the day by the time the fourth OT ended.
And then there was the Game 7 masterpiece he played in Denver. McCollum made the biggest offensive play of the game (the shot over Torrey Craig to push the lead to 3 with 11.4 seconds left) AND the biggest defensive play of the game (the chasedown block Jamal Murray when Denver was threatening to regain momentum with just under 5 minutes left), and he made some history too: CJ's 37 points tie the 21st century record for the most points by a player in a Game 7 road win.
A victory over Golden State in the Western Conference Finals would require Lillard and McCollum to out-perform the Splash Brothers, a tall task, but one that seems within reach considering the recent struggles of Stephen Curry and Klay Thompson. A Blazers run to the Finals would be among the most improbable in NBA history, and McCollum's rise from four-year Patriot League star to legitimately lethal NBA scoring option is arguably even more far-fetched.
6. LeBron James
It's possible that when this five-year run of the Golden State Warriors comes to an end sometime in the next four weeks, the Dubs will have won 19 of 20 Playoff series, and four out of five NBA Titles. The only series and title they did not win was the one that required LeBron James averaging 36 points, 12 rebounds, 10 assists, 3 steals, and 3 blocks per game in three must-win games for the Cleveland Cavaliers. It's forever a part of the Golden State Warriors legacy – whether you love the Warriors or despise them, the defining moment, from an unbiased perspective, of these last five years will be the 2016 NBA Finals – and the legacy of LeBron James.
So, um, go Warriors?
5. Kevin Durant
Allow me to clear something up here before we move on: The legacy that any NBA player leaves behind is ultimately in the hands of the collective fanbase. How they perform on the court, their records and accolades, their rings, their successes and failures … these things are all just part of a much larger story, a story that is told by sports writers/analysts and #NBATwitter. And as would be expected, being likeable plays a large role in how fondly a player will eventually be remembered.
So with that said, it's going to be hard for Kevin Durant to move up from a legacy perspective over the next month, and that's for two reasons:
I. Almost nobody wants KD to claim the "Best Player in the World" Title Belt. The complete list of people who actually want that are Kevin Durant, Wanda Durant, Rich Kleinman, James Dolan, Hardwood and Hollywood's own Tyler Birss, and the 17 burner accounts that KD manages on Twitter. I've made this point before, but at the end of the day, Durant could end up being the least likeable top 10-20 player ever. It's in play.
II. Whether it's fair or unfair, there will be an asterisk next to each of the titles Durant wins in Golden State. As I've said before, counting Rings is foolish practice; there is context to every title every player has ever won. The entire story should be told, and the origin story of Kevin Durant's two (or possibly three) rings is that after blowing a 3-1 series lead to the 73-win Golden State Warriors in the 2016 Western Conference Finals, Kevin Durant joined the 73-win Golden State Warriors after they blew a 3-1 lead in the 2016 NBA Finals. There's no escaping that reality. No historically great player has ever stacked the deck so much in their favor as when Durant left Oklahoma City for Golden State.
That doesn't mean Kevin Durant isn't one of the most talented men to ever step foot on a basketball court. That doesn't mean that his Finals MVP's and Titles weren't deserved. That doesn't mean he won't end up an all-timer. But we can't just ignore the story here. We can't just pretend that Durant didn't walk into the cushiest basketball situation imaginable.
With all of that said, if Kevin Durant returns by the Finals and wins yet another Finals MVP, he'll establish himself as the best player in the NBA and the best player on one of the few teams in NBA history who three-peated. So yes, there's still plenty on the line for KD.
4. Stephen Curry
Three years ago in the Legacy Watch, I wrote the following about Stephen Curry (who occupied the #1 spot on the Legacy Watch that year).
No one has come close to possessing the combination of all-around offensive skills that Steph does; we know this already. The only remaining unknown is whether or not he can break into a stratosphere of super-stardom that only Michael Jordan has before, and whether the hardened 90's NBA fans want to admit it or acknowledge it, Steph is on the cusp. He's a basketball revolution all by himself, and the undisputed face of the league with a higher approval rating than any American athlete since MJ himself or young Tiger Woods. With a juggernaut of a supporting cast in place and a distinguishable individual drive, Curry could spearhead the next great sports dynasty. This is a once in a generation kind of spectacle. Watch and appreciate.
As I was prepping for the 2019 edition of the Legacy Watch I re-read this section and my immediate reaction was, what happened? Somehow, that paragraph seems off. A couple of the things mentioned above remain true: It's true that nobody possesses the combination of all-around offensive skills that Steph does. It's true that Curry was a basketball revolution all by himself. It's true that he has a juggernaut of a supporting cast and a distinguishable individual drive. It's true that Curry spearheaded the next great sports dynasty.
What doesn't hold up is the stuff about being the undisputed face of the league and the higher approval rating than any American athlete since MJ or young Tiger … that's just no longer the case. That illusion was shattered when the 2016 NBA Finals went sideways for Golden State – aka, When LeBron James took the Larry O'Brien Trophy and bashed it over Stephen Curry's head.
Any chance of immediate redemption for Steph went out the door when Kevin Durant signed with Golden State in June 2016. Prior to KD's arrival, the Warriors were fun, exciting, innovative. They had won a title, came damn close to winning a second, and had Durant not jumped onboard, they still would've been the preseason favorite to win the 2016-17 Championship. The KD signing raised their Warriors ceiling, but it changed the way we looked at them. The Warriors became less fun, less exciting, less innovative. They sacrificed a certain amount of mainstream cachet for rings, a sacrifice they should've made 100 times out of 100 by the way.
Nobody made a bigger sacrifice than Curry did, willingly taking a backseat to KD from time to time when he didn't have to take a backseat to anyone at the beginning of this run. But with Durant on the shelf for the time being and the Warriors relying on Curry more than they have in since 2016, few players have more to gain over the next two rounds of the Playoffs than him. Not only is there a clear path for Steph to finally get the Finals MVP he rightfully deserves, there is also one to where he can regain his spot as the face of the NBA.
If the Warriors do hoist the Larry O'Brien Trophy in mid-June and if Kevin Durant is on his way to the Big Apple, that means they will enter the 2019-20 season as three-time defending NBA Champions, likely underrated – despite the fact that they've won 26 of their last 27 games when Curry plays and Durant doesn't – and therefore, playing with a chip on their collective shoulder. Ya know, similar to the one they had when they entered the 2015-16 season after an offseason where everybody was saying they were fluke champions. That bodes well for Stephen Curry, a man who is on the shortlist of guys who have been most responsible for the evolution of basketball in the 21st century.
Apologies to those who prematurely buried Steph two weeks ago when he was amid a slump. But y'all should've seen this coming.
3. Damian Lillard
2. Kawhi Leonard
1. Giannis Antetokounmpo
Lillard has probably been the biggest winner of the Playoffs from a legacy standpoint thus far. He's established himself as (earmuffs to all the Kyrie stans out there) the second-best Point Guard in the NBA, a first-rate culture setter, and one of the most important players of the last decade. He earned himself a glowing comparison to Game of Thrones standout Arya Stark in mine and Dalton Baggett's GOT/NBA crossover. And he hit the most audacious series-clinching shot in recent Playoff history.
In a shocking turn of events, it took less than three weeks for Lillard's dagger against Oklahoma City to be topped:
Kawhi Leonard's historic run this postseason has been well-documented, and it's also proven to be justification for trading away DeMar DeRozan (if there were any Raptors fans who still had concerns) for Leonard, even if it ends up being a one-year rental. My guess: regardless of how the next two rounds play out, Kawhi will look long and hard at remaining a Raptor, not just because they've established a title contender around him, but also because after hitting that game-winner versus Philadelphia, there's a very real chance that Kawhi is the most beloved Canadian sports figure who didn't wear skates. If he leads the Raptors to a Title he surpasses everyone but Wayne Gretzky.
Giannis is number one on this list, ahead of Kawhi Leonard and Damian Lillard, for two reasons:
I. There's no player who is better suited to lead the NBA into the 2020's than Giannis Antetokounmpo, a Greek-Nigerian superstar with a million dollar smile, a two million dollar mean-mug, and a game that everyone loves – save for a few Celtics fans who are still salty about all of his free throws. His ceiling, as a basketball player and cultural icon, is 2016 Steph-level high.
II. These are the guys who have won the Regular Season MVP and Finals MVP in the same season since the league started naming a Finals MVP in 1969.
-Michael Jordan (four times)
-LeBron James (two times)
–Larry Bird (two times)
–Magic Johnson (one time)
–Kareem Abdul-Jabbar (one time)
–Moses Malone (one time)
–Hakeem Olajuwon (one time)
–Tim Duncan (one time)
-Shaquille O'Neal (one time)
It's a club that is made up of nine of the fifteen best players in NBA history. Giannis can join this club within the next month. And yes, he could end up one of the fifteen best players in NBA history too.