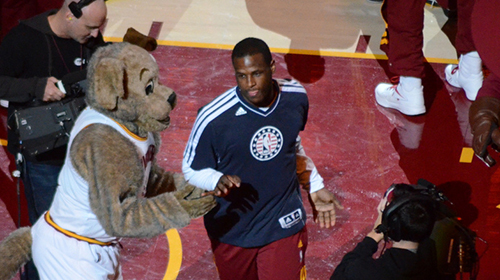 In the 2012 NBA Draft, Cleveland Cavaliers general manager Chris Grant made a surprising selection with the team's first-round pick, taking shooting guard Dion Waiters fourth overall instead of higher-rated prospects Harrison Barnes, Thomas Robinson and Andre Drummond. Waiters shot up draft boards after a strong showing at the Chicago pre-draft camp. The Toronto Raptors and Golden State Warriors held the seventh and eighth overall picks, both teams anticipating Waiters would be available when it was their turn to select. Neither team would get the opportunity. Grant envisioned creating a dynamic backcourt, pairing Waiters with NBA All-Star caliber point guard Kyrie Irving to be the foundation of the rebuilding Cavs.
Throughout the 2012-13 season, Waiters showed the potential to become an All-Star player, averaging 14.7 points, 3.0 assists and 2.4 rebounds, and was voted to the NBA All-Rookie First Team. Despite a strong rookie campaign, however, he did struggle at times.
Waiters had a tendency to take bad shots. His poor shot selection is reflective of his shooting percentages of 41.2 from the field and 31.0 from behind the arc. In the half-court offense, he didn't play well without the ball. Oftentimes he would stand by the three-point line and wait for the ball to come his way. His on-ball defense was average and he missed defensive assignments. Sometimes Waiters seemed discouraged and his body language was reflective of that when sitting on the bench.
Despite these issues, Waiters is a great athlete, can create his own shot, can create shots for his teammates and has shown flashes of brilliance on the offensive end.
In a recent interview with Alex Kennedy from Hoopsworld.com, Waiters explained that he worked on every aspect of his game throughout the summer and that he is the next up-and-coming star at the shooting guard position. His comments raised some eyebrows and it will be up to him to show that he has taken the next step in his development.
Cavs head coach Mike Brown has a reputation as a great defensive mind and teacher. He will challenge Waiters to become an efficient player on both ends of the court. If Waiters buys into Brown's philosophy it will help him to become the All-Star player that he wants to be. If Waiters clashes with Mike Brown, Brown will turn to newly acquired guard Jarrett Jack to play extended minutes at shooting guard.
It will be interesting to see how Waiters progresses this season. The expectation is that he will get better and establish himself as a premier shooting guard in the NBA. Waiters will have to embrace a new head coach and several new teammates in order to be successful. Will Dion Waiters live up to his potential and emerge as an All-Star caliber player? Chris Grant, Mike Brown and Cavs fans are curious to find out.
Photo courtesy of Erik Drost/Flickr