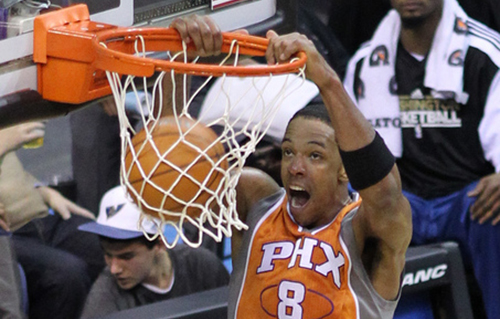 Don't forget to check out our 2013-14 NBA Ultimate Season Preview!
It's simple, really. It's something every player in the NBA does on a regular basis… put their jersey on.
But for Channing Frye, who missed all of last season because of an enlarged heart, it held a little more significance Monday, when he pulled on his jersey for the first time in over a year at Phoenix Suns Media Day at US Airways Center.
"I'm happy to be able to put this uniform on," Frye said. "I feel like I'm doing it for the first time. Last year, going through everything I did, was one of the hardest years of my life. It's definitely the toughest thing I've ever gone through. Not only because of my medical condition, but because I had to sit out and couldn't play and help my teammates."
Frye had been cleared earlier this summer by doctors at Johns Hopkins Hospital in Baltimore, Maryland, but it wasn't until this past weekend that he was cleared by the Suns and doctors at Columbia University Medical Center.
For the Suns, there was no rush in determining if Frye would be able to play this season.
"This was something we obviously took very seriously, and wanted to be sure about things and we were going to take as much time as we needed," Phoenix general manager Ryan McDonough said. "With that said, we are thrilled to have him back and get him on the court."
The only restrictions on Frye heading into training camp are his conditioning level and his own sense of comfort. Frye, who will be tested by doctors every six months, has been working out privately, but freely admits his conditioning is not where it needs to be to play in an NBA game.
"I feel good, but obviously am a little out of shape, but that will come," Frye said. "I'm just really thankful to the Suns for this opportunity to continue playing."
First-year GM McDonough sees Frye as a key component to any success the Suns will have this season, with his long-range shooting opening up driving lanes for slashing guards Goran Dragic and newcomer Eric Bledsoe.
"Every plan we made for the team this season is better with him in it," McDonough said. "He's going to be a big weapon for us this season when he gets back in game shape."
The sentiment was echoed by Dragic, "His shooting is so important to us, it's great to have him back with us this season."
Frye, who grew up in nearby Chandler rooting for the Suns, was determined to come back, but not without doing as much research as he could and talking to other NBA players who have experienced the same heart condition.
"I talked to Chris Wilcox, Jeff Green, Ronny Turiaf (who each came back from heart issues) about what they went through and how hard it was for them to come back," Frye said. "It was good to talk to them and after talking to the doctors, I feel good about things.
"I have a wife and two kids and could have easily hung it up if I wanted to. But I take a lot of pride in being part of this organization and at the end of the day I feel good enough to play and I just want to go out and play ball. And when I do get out there, I'm going to do it the best I can."
Photo courtesy of Keith Allison/Flickr