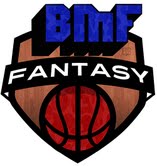 Here are the top candidates to come up with a breakout season in fantasy basketball this 2015-16. Some of them showed us a preview of what they are capable of when given ample opportunities to shine last season, while others are in positions to post solid numbers as they are thrust in bigger roles for their respective teams. Most of these names are worth targeting in standard drafts and grabbing one or two of them for their upside is a strategy that can pay off some hefty dividends during the season.
Aaron Gordon, ORL – Gordon is an athletic beast and now that he's healthy, he should be able to challenge Channing Frye for that starting PF job. Gordon is explosive on both ends of the court, but has his issues at the free-throw line. If the Magic decide to play a more run-and-gun style this 2015-16, expect to see a lot more of Gordon on the floor. Much more.
C.J. McCollum, POR – McCollum is one of those players expected to step and help out Damian Lillard in the new-look Portland Trail Blazers. He averaged 15 minutes per game last season, but his per-36 minute numbers were encouraging with averages 15.7 PPG, 1.6 SPG, 2.0 3PG. Given ample minutes on the floor, McCollum should deliver the goods.
Al-Farouq Aminu, POR – Aminu is a new face in Portland'™s starting lineup, but he's a five-year NBA veteran and is the favorite to land the starting job at small forward. He's not going to wow you with a ton of points, but has the potential to deliver Sheed-like numbers of solid rebounds, a steal, a three, and a block per game.
Otto Porter Jr., WAS – Paul Pierce'™s departure has opened the door for Porter to slide into Washington's starting SF role. Porter'™s early career has been stained with injuries, but now that he'™s healthy Otto will have a good opportunity to silence his naysayers with some solid production.
Nikola Mirotic, CHI – While a lot of eyes were on Pau Gasol at Eurobasket 2015, it was difficult not to notice Mirotic'™s solid play for Spain. There's talk of some lineup shuffling this season for Chicago and the frontcourt might have a totally different rotation than last season. Mirotic has a fantasy-friendly game and just needs more opportunities to show what he can bring to the table. If coach Hoiberg will give Mirotic 25-plus minutes per game, Nikola could be in for a big season.
Jordan Clarkson, LAL – We saw the writing on the wall post-All-Star break, when Clarkson posted averages of 16.7 PPG and 5.4 APG. Clarkson might have to share some of his time at PG with rookie D'Angelo Russell and of course the ball will be flowing through the hands of the now-healthy Kobe Bryant, but despite those factors, Clarkson will have a spotlight shining on him as he takes charge of LA'™s backcourt this 2015-16.
Robert Covington, PHI – Covington may or may not explode this season. There could simply be an uptick in his minutes and numbers. Either way, his production is on an uptrend. His three-point shooting will be key in spreading the defense for Philly this season and Covington has a good shot at improving on his fantasy-friendly stat line from last season.
Patrick Patterson, TOR – Amir Johnson is now with Boston and the only real threat, if you can call it that, to Pat-Pat'™s playing time is Luis Scola. Patterson is a talented stretch four and has shown that he can be a good complement to Jonas Valanciunas'™ inside game.
Kentavious Caldwell-Pope, DET – He is currently flying under the radar in most drafts, but with Brandon Jennings still a ways away from returning to 100%, KCP should be able to contribute in the early weeks. Jodie Meeks will always be a shadow looming over Caldwell-Pope"™s breakout potential, Kentavious has shown that he has a good attitude and is eager to learn and improve. Expect a bump in his numbers this season.
Khris Middleton, MIL – Technically speaking, Middleton already broke out last season as one of fantasy basketball's pleasant surprises, but that was just the tip of the iceberg. There'™s more Middleton Madness to be had this season and it would be a folly to sleep on him in this year's drafts. He was sneaky-good last year and he will be even "sneaky-better" this year. He's a gem in both Roto and H2H formats!