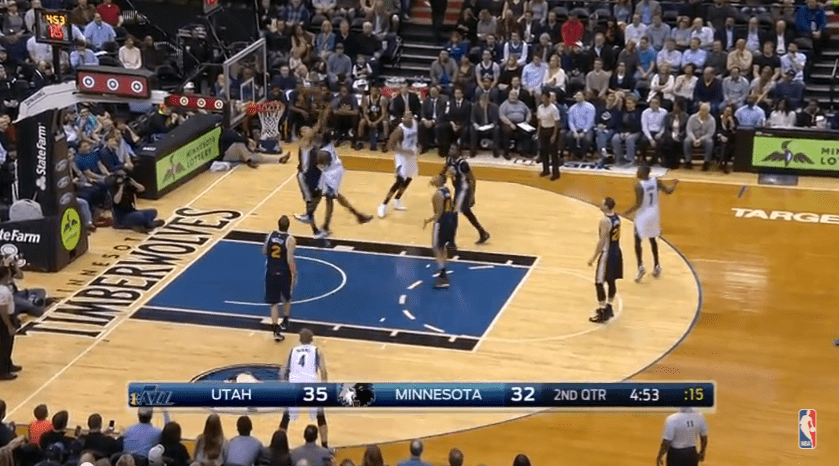 Resume: 16.9 points, 4.6 rebounds, 2.1 assists, 1.0 steal, 354 free throws made (9th in league), 466 free throw attempts (6th in league), 36.2 minutes (4th in league), 44% FG, 31% 3PT, 76% FT … Team Record in Games Played: 16-66 … Rookie of the Year
Two years ago I made the mistake of leaving Anthony Davis off of my Top 50 Countdown. In my defense, his rookie year was underwhelming for that of a much ballyhooed first overall selection; he was good and showed promise of being better, but I truthfully (and unfortunately) didn't feel like Davis' play from his rookie year warranted a Top 50 spot. Also in my defense, at that time I wasn't aware that Anthony Davis was a 6'10" basketball playing cyborg.
The following summer, I tinkered with my criteria for this process. Now, if you cared to check out the revised criteria, player rankings are determined by a two season sample-size, one of which I haven't yet seen. This is the Anthony Davis Rule, and the Anthony Davis Rule is why Andrew Wiggins is 33rd in this years Top 50 NBA Players Countdown.
You could make the case that Wiggins wasn't one of the 33 best players in the NBA last year, but I'd be willing to bet he will be next year, and if I'm sticking my neck out there ranking players, I don't want to miss out on the opportunity to bump someone up a few extra spots if they are about to kick all kinds of ass the following season.
I don't want to say it's an impossibility, but Wiggins likely won't have the kind of night to night impact Anthony Davis had in his second season, and moving forward, Wiggins doesn't have as high of a ceiling as Davis has. This is more of an Anthony Davis related statement than one about Andrew Wiggins. Wiggins will be a really freaking good NBA player. He already is, and he'll only get better over time. Just take a look at these numbers from his rookie year, and try to come up with any sort of rational argument as to why Wiggins won't continue to get better over at least the next five or six years.
October/November/December- 13.1 points, 3.9 rebounds, 1.4 assists, 41 percent shooting, 69 percent free throws, 4.3 free throw attempts
January/February- 18.6 points, 4.7 rebounds, 2.4 assists, 47 percent shooting, 78 percent free throws, 5.0 free throw attempts
March/April- 19.7 points, 5.2 rebounds, 2.5 assists, 44 percent shooting, 79 percent free throws, 8.3 free throw attempts
Even on a crappy team that never even pretended to have any sort of competitive hope last season, Wiggins got better, a lot better, over time. Some of the crappy habits he came into the league with (looking lost and disinterested at times, horrible shot selection, occasionally too passive) didn't seem quite as bad at the end of the year. And from time to time, Wiggins showed glimpses as to why Minnesota gave up an All-Star, and proven Top 20 player for him.
There is still stuff for Wiggins to work on; he took an alarming number of contested mid-range jumpers last year (Rudy Gay was so proud) and he didn't make his teammates all that much better. But he can do two things really well already (score and defend), and it would be shocking if he didn't get even better in those two areas over time. He has all of the tools to be just as good defensively as Paul George (prior to his leg injury), Jimmy Butler and every other long, athletic wing over the last decade.
On offense is where Wiggins needs a little more work, but it's not like he needs to remake his jumper or drastically improve in any one area. Just as is the case with a lot of young players, Wiggins just needs a little fine-tuning on the things he's already good at. He has a super quick first step, and he's totally unafraid of attacking bigs at the rim. Just ask Rudy Gobert:
[youtube]https://www.youtube.com/watch?v=44FzaXecALw[/youtube]
The most impressive part of Wiggins' offensive arsenal so far is his post game. A 19 year old small forward isn't supposed to be this comfortable in the post. LeBron wasn't at 19. Neither was Durant, T-Mac or Paul George. He has great foot work and an array of shot fakes that keep defenders guessing. If and when Wiggins cuts out a lot of those contested jumpers he'll shoot 52 percent from the field regularly. It's just a matter of time.
Two years ago when I included Anthony Davis in the Honorable Mentions I proclaimed, "come next year, Anthony Davis will be in the Top 50." Like I said before, I'm not making the same mistake with Wiggins. I will however end this column with a statement similar to the one I made relating to Davis. So here it goes: come next year, Andrew Wiggins will be in the Top 25.