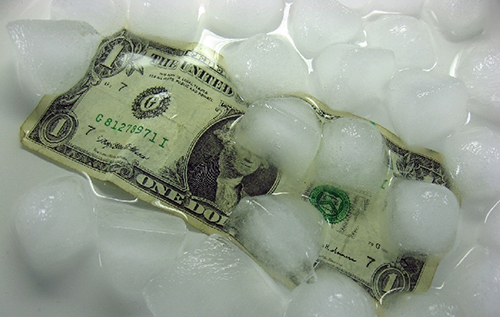 Whereupon an NBA free-agent fan sets about selecting a team to root for during the 2013-14 NBA season.
It's no mystery that the majority of NBA owners are very wealthy. Fourteen current owners appeared on the Forbes 400 richest Americans list, which doesn't include Mikhail Prokhorov, the NBA's second-richest owner and a Russian national. Absence from this list certainly doesn't preclude a person from being wealthy, either; the list's 400th name, Nicholas Woodman of Woodside, California, is worth well over $1 billion, more money than most of us can fathom.
It's also no mystery that most NBA fans are not wealthy. According to Media Life Magazine, more than half of NBA fans earn less than $75,000 per year. This figure allows for a very comfortable lifestyle, to be certain, but one that scarcely resembles that of any NBA owner.
Not that it should. The point here isn't class warfare via professional basketball. But as fans who engage the game on an emotional and personal level, an engagement that not only rewards but enables the livelihood of these basketball players as well as the NBA franchises that employ them, is it wrong to support an owner aligned with our own values? Someone who treats the franchise not purely as a business opportunity but rather with the enthusiasm warranted by a passionate fan base?
Only nine teams remain in the Fandom Games, all viable contenders. As the Fandom Games continue the quest to pare 30 teams down to one, all factors must be in play, these really rich guys included.
This is in no way about resenting a person's success or hard work. To prove it to you, the Brooklyn Nets will survive the Fandom Games today, despite the personal worth of the team's owner, the aforementioned Prokhorov, which is a staggering $13.5 billion. The Nets survive because Prokhorov plays to win, not to earn, turning an estimated $16.6 million loss (according to Forbes) and carrying what is by far the NBA's highest payroll into the upcoming season. Say what you will about the uneven playing field, but Prokhorov is (probably) playing within the rules, shares his fans' enthusiasm for his team, and proves it.
Not every owner's commitment is so clear. Mark Cuban has been accused in recent years of losing focus, but, accounts of missed meetings notwithstanding, Cuban has long been one of the NBA's savviest and most passionate owners, spending freely to transform the Dallas Mavericks into a contender. His history earns him a pass. Other questionable behavior comes via new Memphis Grizzlies owner Robert Pera, who, despite his obscene wealth, was in a hurry to shed salary upon his purchase of the Grizzlies, a bit of an early red flag. But with less than a year on the job it's too early to tell, so Pera gets a pass, too.
Some of today's survivals are unquestionably statements of righteous fandom. Take the San Antonio Spurs, who survive the day because Peter Holt's is a story of hard work, humility, community and values, and because he uses his relatively meager resources to produce a franchise that San Antonio can be proud of. The Los Angeles Lakers make it through for a cause, too, by virtue of having a woman in a prominent ownership role, an admittedly overt bit of reverse sexism but one worth defending in the face of an obscene and glaring lack of women serving in prominent roles anywhere in the general orbit of the NBA.
The sparing of New Orleans Pelicans owner Tom Benson and Indiana Pacers owner Herb Simon is a bit more difficult to justify. Both are experts in bleeding taxpayer dollars from local governments via leases and tax breaks related to their respective franchises, and both have threatened relocation (Benson is the long-time owner of the New Orleans Saints) in power plays for cushier stadium deals. At the same time, both have delivered tremendously for their fans over the years, and both of their lengthy ownership reigns (Benson's Saints and Simon's Pacers) have yielded tremendously popular franchises. They eke by today.

This leaves us with two: Chicago Bulls owner Jerry Reinsdorf and Minnesota Timberwolves owner Glen Taylor. Both men have repeatedly enraged their fan bases over the span of 28 and 19 years, respectively, and both have probably earned a Fandom Games elimination today. But only one will go.
Reinsdorf spends freely on his other major franchise, the Chicago White Sox, and yet adamantly refuses to exceed the luxury tax threshold on basketball's Bulls. He battled Phil Jackson and Scottie Pippen over salaries during the franchise's greatest era, basketball blasphemy and a wicked scar on a thoroughly imperfect record. Taylor is considerably wealthier than Reinsdorf, and a somewhat freer spender, but has experienced perpetual failure as an owner, guiding the Timberwolves out of the first round of the playoffs only once in his 19 years in command. He has a couple of scars of his own, engaging in an illegal contract negotiation with Joe Smith and hiring the incredibly unqualified sportswriter David Kahn to run his faltering franchise. Despite his considerable resources, Taylor has achieved very little in his reign as owner.
Ultimately aptitude has to win out here. Taylor finally seems to be on to something, with Rick Adelman at the helm and potential centerpieces in Kevin Love and Ricky Rubio on the roster. But besides the dynamic of "too little, too late," this is a tenuous foundation given Adelman's age, Love's various complaints over the years, and Rubio's trepidation about ever showing up in the first place. Reinsdorf loves to torture his fans but he's at least counterbalanced that misery with prolonged and undeniable success.
So the Timberwolves are eliminated from the Fandom Games today. Taylor's money gets him a lot of things, surely, but not the 2013 Fandom Games.
Photo courtesy of Steve Johnson/Flickr