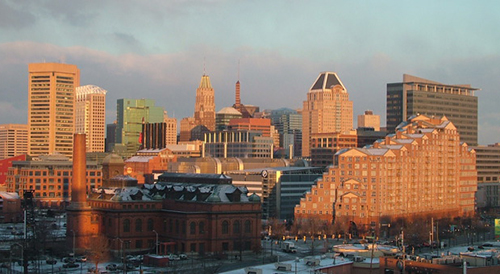 The New York Knicks are now 2-2 in preseason play. If the preseason were the regular season and the regular season were to end today, the Knicks would finish four wins ahead of their SCHOENE projected 37-45 record. TAKE THAT, SCIENCE.
Not too much to discuss in this one aside from individual player notes. The Knicks scored more than the Washington Wizards, frequently looked ugly doing it (Josh Powell played 19 minutes) and happened to play the game in Baltimore's 1st Mariner Arena—a venue that holds about 14,000 people, but looked really small because the game was shot in an overhead view for some reason. It looked like a demo for NBA 2K14 and initially made me a little nauseous, but I fought through, loyal readers, and it was all for you. Some gratitude would be nice.
– "Brooklyn made me but Baltimore raised me," said Melo before this game, and with an estimated 75 percent of the crowd being a personal friend or friend of a friend (dubious numbers, Mr. Anthony), it's no surprise that Carmelo was amped up for this one. Woodson, obviously equipped with his smiley attachment, let him play 29 minutes and Melo went to work, putting up 22 points, four assists and five boards on nearly 50 percent shooting. Glad his homecoming was a success.
– Iman Shumpert made his case for best put-back dunker in the NBA with a mighty left-handed flush midway through the first quarter. I tell ya, that fellow knows how to time a jump and be strong. Shump would go on to scare the crap out of everyone by going down with an elbow injury after getting his arm trapped in a Bradley Beal spin move. It looked like he was in a lot of pain at the time, but after the game he said he would have kept playing had the injury occurred during the regular season. Regardless, he'll be reevaluated today. Please be well, Iman. And please, don't be that guy who's always injured. We already have that guy.
– It should be noted that Pablo Prigioni also hurt his elbow. As far as I'm concerned, Pablo's 'bow is every bit as important to this team as Shump's. Got scared when I saw that Prigioni actually decided to use ice, but Woodson said after the game that his injury was "minor." Then again, Woodson's injury word can't always be trusted. Pray for Prig.
– Speaking of injuries, that Bargnani fellow played a whole lot of minutes. I feel like I've seen enough of him now to make a reasonably coherent analysis of his game: Offensively, there's nothing to be concerned about. He's shown a solid mid-range touch augmented by a fantastic shot fake that he consistently uses to draw fouls. Moreover, he's shown that he can put the ball on the floor and get fouled on the way to the rim, despite looking oafish in doing so. It ain't pretty, but it works. He went 4-for-7 from the field, putting up 13 points thanks to a 4-for-4 boost from the charity stripe. It's the defense people are concerned about, and rightfully so. Bargnani is awful in transition and awful on switches. I doubt he will ever get better. But believe it or not, he's actually pretty okay in the post. His footwork is competent enough, and he effectively makes use of his size to hold his ground and contest. Dude recorded three blocks last night, all of them on post D. In summation, Andrea is pretty good at offense, pretty bad at defense, and maybe the worst rebounder in the league. Seriously. He seems to have no idea where the ball is going to go, and as a result, is somehow always an arm's length away. He consistently allows teams second-chance points, and his downright tentative nature below the cup suggests an acute case of crystallophobia.
– On a more positive note, Beno Udrih had his most Beno game yet! He posted a +24 in which he drove to the basket with a vengeance, got some rebounds and made a sick steal followed by an assist to Melo that made my heart smile. If he can play like this consistently, then the Knicks have an absolute bargain on their hands at the third point guard spot. We will always miss Jason Kidd, but we will miss him less if Beno Udrih-es as thoroughly as he Udrih-ed tonight.
– Tim Hardaway, Jr. had himself a game as well, scoring 14 points, going 3-for-6 from downtown and getting five boards in the process. He also had one amazing reverse layup that made Walt Clyde quite pleased. Wasn't expecting too much from Timmy coming into the preseason, but he's definitely made the most of his opportunity and earned a regular spot in the rotation. He will be making many a three.
– Scrub Watch! The ongoing battle for a spot between Ike Diogu and Josh Powell came to a head tonight, with Diogu emerging the likely winner. He put up eight boards in 23 minutes and even scored ten points, despite some of his misses looking like he was trying to break the backboard. Powell missed all of his shots, but recorded two blocks, which was cool. I was initially leaning towards Powell over Diogu, but Ike is just a hound on the boards and on D, and looks way more skilled offensively. Diogu, I choose you!
– Giving Toure' Murry his own bullet because, frankly, the guy has earned it. He's been putting on a clinic the last few games and is looking more and more like a legitimate NBA player. I'll take 14 points on 5-for-7 shooting any night, and if he can keep swiping the ball from opposing offenses like he's been doing, all the better. There's gotta be a spot for this guy at the end of the bench. Come on, Mills.
That's all I've got, folks. I'm just a man. Next up, the Knicks take on the Toronto Raptors again and try to avenge their crushing, crushing preseason loss at the hands of Quincy Acy. His middle name is Jyrome.
Photo courtesy of David Davies/Flickr