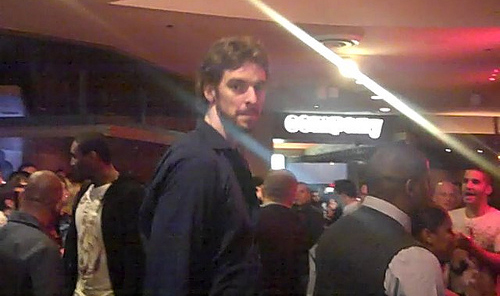 It wouldn't be a typical Los Angeles Lakers season if there weren't Pau Gasol trade rumors flying around. However, they're showing up a bit earlier than before.
The Spaniard will be starting his sixth season with the purple and gold, where he will be making $19.3 million. Gasol will be a free agent at the end of the year if he and the Lakers don't come to an agreement about a contract extension. He recently talked about his willingness to take a pay cut:
"Probably not. You have to explore your options, but I would like to continue to play for the Lakers and maybe finish my career here. But you have to see the cards on the table."
However, he is still open to negotiations, adding:
"If I perform well, am reliable and put up a great season, then I'm sure the Lakers will have interest in extending me maybe before the season is over. We'll see if there's interest or not. Then we'll go from there."
Not long after this, Sam Amico of Fox Sports posted some information regarding Gasol trades:
One Eastern Conference executive told FOX Sports Ohio he's heard from the Lakers recently, and word around the league is they may try to make a "substantial" trade before the regular season. Apparently, forward Pau Gasol remains far from untouchable.

Many NBA talent-evaluators feel as if Steve Nash is no longer capable of playing at a high level for more than 15-20 minutes game. The Lakers, it is believed, are on the lookout for a younger point guard who's a more potent scorer. But as everyone who deals in the trade market will tell you, that won't be so easy to obtain.
If you're having deja vu, it's because Gasol was involved in the botched Chris Paul trade two years ago, which also happened before the regular season, though it wasn't this far into preseason.
There are lots of compelling reasons to move Gasol. The first is that last season was statistically his worst ever. He averaged 13.7 points (17.4 was his second-lowest output), shot 46 percent, and only played in 49 games.
So far, he seems to be a key piece to this revised Mike D'Antoni offense and it's clear that the Lakers will need him if they plan on being a championship contender.
Assuming that Gasol won't take much of a pay cut, he's just not worth the cash. The Lakers are looking to strike it rich in free agency in 2014, so the last thing they need are big contracts.
The Lakers need to get younger, and they need more skill at point guard. As Amico pointed out, if Nash is unable to play for long stretches of time, they need some help.
Nash has played fewer games in each of the last three seasons, appearing in only 50 last year. He sustained several injuries and his ankle still isn't right. Nash is on contract with the team through 2014, and his contract would be very difficult to move.
If a team that has skill at this position can offer a package for Gasol, why not trade him? This will also help the Lakers draw some big names if they have a solid team.
Gasol seems like one of the nicest guys out there, and the Lakers don't win their last two rings without him, but it's time for the two to part ways. Unless Gasol has some sort of career resurgence in a big way, the Lakers need to get younger.
Photo courtesy of Mark Richardson/Flickr