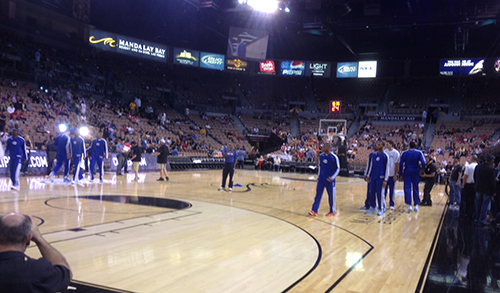 On Saturday night, Baller Mind Frame was in the house to personally watch Chris Paul go bananas on the Denver Nuggets at Mandalay Bay in Las Vegas. Coming off their Friday loss on the road to the Portland Trail Blazers, the team made up for their lackluster preseason performance with an overtime win. Meeting in the same place one year later, the Los Angeles Clippers looked to avenge their 2012 preseason Mandalay Bay loss when Ty Lawson scored a layup at the buzzer to give Denver a 106-104 win.
Point guard and team captain Chris Paul led the way with a preseason high of 40 points, adding 11 assists and 7 rebounds to that tally in 42 minutes of action. The Clippers now look towards opening night against their cross-the-hall rival Los Angeles Lakers. If CP3 made one point on Saturday night it was that he's regular season ready.
Sporting their new baby-blue sleeved uniforms, and despite being out-rebounded again, the Clippers "broke the law" with their overtime win, as Denver was first to put Lawler's Law into effect. Sharp defense, better shot selection and getting stops when it counted seemed to be the order of the day as the Clippers played with a renewed intensity that was not visible during their Friday night loss to Portland.
In response to Paul's masterful performance, including a clutch layup with 22 seconds left in regulation to send the game into overtime, Doc Rivers commented: "My challenge is to stay out of his way. He's got tremendous fire inside him and Chris is a great competitor. I'm gonna let Chris be Chris and lead this team." CP3 did lead, and his teammates followed: Darren Collison had a big night off the bench with 27 points and Black Griffin added 17 points and 8 rebounds in 39 minutes.
One growing cause of concern for the Clippers is their rebounding margin. The Clippers were out-rebounded 45 to 31 by Denver, 56 to 38 in Portland, and 29 to 53 against Sacramento in preseason games that certainly don't mean much, but can be indicative of potential regular season issues. Much of their rebounding hitch is attributed to Rivers' pairing of Byron Mullens and Antawn Jamison—both stretch bigs who have been giving opposing forwards physical relief due to their aversion to playing the low post, and firing from three so far with varied results. Cause for concern? Definitely. Cause for panic? Definitely not.
The Clippers went down by four points in the opening minutes of OT thanks to a Ty Lawson steal and layup, but suffocating defense and big-time performances from Chris Paul and Darren Collison pushed the Clippers over the hump for the win. After all, who travels all the way to Vegas to lose?