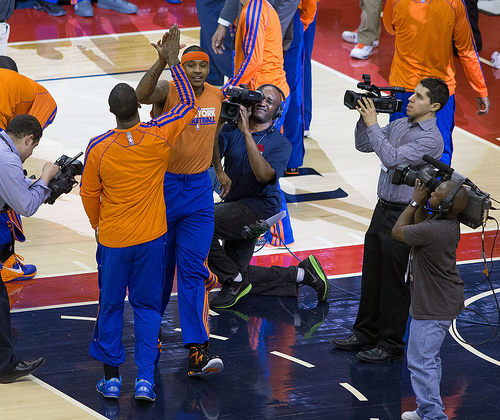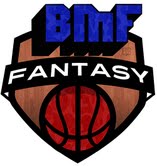 Even though it was a slow night for NBA action, it still provided lots of interesting tidbits to cover so lets dive in
Editor's Note: Baller Mind Frame's partner Draftstreet is hosting a freeroll starting Friday, 11/15. A $500 prize pool will be paid out to the top 50, $100 for first place. Don't forget to sign up, here's the link.
Fantasy player of the night: Carmelo Anthony – 45 points – 10 rebounds – 4 assists – 1 block
With the majority of the Knicks stinking up the joint last night, Melo once again put the team on his back and scored a monstrous 45 points on a surprisingly efficient (17-of-30) shooting. Despite Carmelo's valiant effort, the Knicks were still knocked off by the Houston Rockets 109-106 after a last-second three by Anthony was waived off due to a foul call.
Fantasy dud of the night: Steven Adams – 3 points – 2 fouls – 1 turnover
For everyone who thought Steven Adams would be a waiver-wire savior after his 17-point, 10-rebound, 3-block outburst last Friday, sorry to say he has crushed that dream with three straight awful games. Outside of the deepest leagues he can be safely dropped for a hot pickup.
Pick and play of the day: Diante Garrett
Owned in only 0.2 percent of ESPN leagues.
Diante was used sparingly in 19 games last season for the Phoenix Suns but his fortunes look to be brighter in Utah. In his Jazz debut, Garrett played 22 minutes and helped spark the Jazz to their first victory of the season. With Jamal Tinsley being waived, John Lucas being John Lucas, and Trey Burke injured, Garrett has a real shot to show what he can do.
Quick Notes: Dwight Howard only took 5 shots last night to finish the game with a pedestrian 7 points. His 15 rebounds and 4 blocks helped to salvage the evening but you have to believe his owners were left wanting more…. Terrence Jones has started the last three games for the Rockets and is averaging a respectable 7.7 points, 9.7 rebounds and 2.3 blocks. He has already been snatched up in competitive deeper leagues but could still be very useful in standard sizes as well. Now is the time to grab him before another savy owner beats you to him…. James Harden had another big game, with 36 points, 9 rebounds, 2 assists, 2 threes and a steal, showing once again why he was a top-five pick in every fantasy basketball draft on the planet this season…. Jeremy Lin came off the bench and looked like the point guard to own in Houston last night, with 21 points, 5 rebounds, 3 assists and a steal. Patrick Beverley got the starting nod but played an uninspiring 27 minutes, notching only 5 points, 2 rebounds, 2 assists and a steal. It's starting to look like these two will alternate hot and cold games all year unless someone is moved or injured…. Andrea Bargnani has been showing signs of life lately and is now averaging 18 points, 5 rebounds, 1.8 threes, 1 assist and a steal in his last five games. While his peripherals aren't great, he will be starting at center for the foreseeable future and is worth an add in most leagues…. Tim Hardaway Jr. should be on your deep league radar after three solid outings…. Metta World Peace looks to be droppable in shallow leagues after two back-to-back duds…. J.R. Smith stuffed the stat sheet with 15 points, 8 rebounds, 4 assists, 3 steals, 2 threes and a block…. Russell Westbrook looked like his old self putting up a 31/9/5 line….. Serge Ibaka got hot scoring 27 points to go with 13 rebounds and 3 blocks…. Kevin Durant had an off shooting night going just 5-of-13 from the floor but still managed to score 20 points in addition to his 8 assists and 7 rebounds…. Reggie Jackson was solid off the bench with 12 points, 5 rebounds and 3 assists…. David Lee scored 20 but ultimately disappointed with only 4 rebounds on the evening…. Andre Igoudala continued his impressive run in Golden State with 14 points and 9 assists while knocking in the game-winning shot in the final 2.3 seconds…. Stephen Curry kept the pace with Iggy, dropping an impressive 22/9/5 stat line while knocking in 4 threes as well … not to be outdone Klay Thompson, who had 27 points, 5 rebounds, 3 blocks, 2 assists and 6 three-pointers of his own.
Image courtesy Keith Allison/Flickr