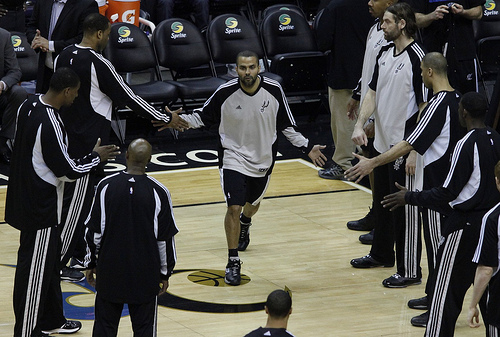 It was an amazing week of basketball during a time when we honor amazing individuals. We celebrated Veterans Day and the men and women of our armed forces. It's pretty fitting then that there was so much amazingness and there were so many heroes on the hardwood, with a number of posterizing dunks, buzzer beaters and games that went down to the wire. The final undefeated team fell, and the last winless team finally tasted a W. Here's to the heroes in life and on the court. Let's look at the action from this past week, 11/10 to 11/16
King of the court: Tony Parker
Now that the Pacers have fallen, it looks like the Spurs are the sharpest team so far out the gate. A major part of that is the genius of Gregg Popovich. Another part of that is San Antonio's all-world point guard, Tony Parker. Parker is way more efficient than any point guard should ever be. He scores more points in the paint than most big men these days. The Frenchy is making his case for MVP one win at a time. He had 14 points and nine assists against the 76ers, shooting 7-of-12 from the field. He scored 16 points against the Wizards on 7-of-9 shooting, then finished the week with 22 points and 6 assists in a win against the Utah Jazz. The Spurs being tied for the best record in the league is a surprise to no one, and Tony Parker as the main attraction in the Alamo is just as it should be. Ooh la la!
http://www.youtube.com/watch?v=3HdEoY1elBk
Rising star of the week: Eric Bledsoe
He's got the juice. People called him Mini LeBron, but he's his own man now. He's Bionic Bledsoe, and he's worth every penny that the Phoenix Suns paid to bring him in from the Los Angeles Clippers. The dividends are paying off, too. He's led a very surprising Suns team to a number of quality wins early. He had a great game to start the week, dropping 24 points, 6 assists, and 4 rebounds in a win against the New Orleans Pelicans. He followed that up with 23 points and 6 assists in a close loss to the red hot Portland Trail Blazers. Bledsoe finished the week with 15 points, 7 rebounds, and 4 assists, in a last-second loss to the Brooklyn Nets on a buzzer beater by Joe Johnson in overtime. The Suns are making some noise this season and Bledsoe is the main reason. I won't even consider him a Rising Star any more, he gunning for the crown. Stronger, faster, better, bionic!
http://www.youtube.com/watch?v=gLV47K4kBLA
Notables: Evan Turner, Damian Lillard, Harrison Barnes, Andre Drummond, Bradley Beal
Rookie of the week: Steven Adams, Oklahoma City Thunder
The Thunder from down under, Steven Adams is one tough dude. The rookie big man played rugby in his homeland, so he takes elbows to the head and doesn't even flinch. Ask Vince Carter. His minutes are limited but he still gets a little tick in a Scott Brooks rotation that rewards hustle and hard work. Adams brings that. He doesn't accumulate many stats, but he rebounds nicely and he's going to grow into a very nice role player. G'day mate.
Team of the week
Since the Pacers fell to the Chicago Bulls, the strongest team right now is the San Antonio Spurs. Gregg Popovich has the machine looking well-oiled as usual, maybe even better than last year. Danny Green is now a bona fide offensive threat, not just a three-point shooter. Manu Ginobili, though balding HARD, seems to have found his fountain of youth and is looking closer to his regular Sixth Man of the Year form. Tim Duncan continues to defy father time, and Tony "Bonjour" Parker is a beast. Pop still has the taste of defeat in his mouth from last year's finals collapse. The Spurs mean business.
Game(s) of the week
Minnesota Timberwolves vs. Los Angeles Clippers. This was a good one, as this matchup has been for the past couple seasons. Down to the wire, just the way we like it. The Clippers pull this one out at home this time. Kevin would Love to have this one back.
http://youtu.be/4Nekh57OnS0
Golden State Warriors vs. Oklahoma City Thunder. These two may be seeing a lot of each other come playoff time. This is a great start to a nice matchup this season. IGGY!
http://youtu.be/8ighSwczyvY
Hero of the week
We celebrated Veterans Day this past week, so this week's heroes are all the men and women who've served in our armed forces throughout the years and have given their lives in service to this country. The NBA celebrated Veterans Day with the rest of the country at the annual wreath laying ceremony in Washington D.C. David Robinson, a former naval serviceman and NBA legend, was in attendance representing the league and the Navy alike.
Stat line of the week
Ricky Rubio vs. Los Angeles Lakers – 12 points, 10 rebounds, 14 assists, five steals
Lance Stephenson vs. Memphis Grizzlies – 13 points, 11 rebounds, 12 assists, 1 turnover
Tony Wroten vs. Houston Rockets – 18 points, 10 rebounds, 11 assists.
http://www.youtube.com/watch?v=sHjF-eD_yLA
Notables
Carmelo Anthony vs. Houston Rockets – 45 points, 10 rebounds, 4 assists, 1 block, 17/30 FG
James Harden vs. New York Knicks – 36 points, 9 rebounds, 2 assists, 9/17 FG, 16/18 FT
Chris Paul vs. Oklahoma City Thunder – 14 points, 16 assists, 7 rebounds, 2 turnovers.
Roy Hibbert vs. Milwaukee Bucks – 24 points, 10 rebounds, 8 blocks, 8/10 FG, 8/8 FT
LeBron James vs. Dallas Mavericks – 39 points, 6 rebounds, 4 assists, 1 steal, 1 steal, 14/18 FG, 10/11 FT
Josh Smith vs. Sacramento Kings – 21 points, 8 rebounds, 7 assists, 5 steals, 4 blocks
Plays of the week
J.J. Hickson vs. Utah Jazz. Damn J.J.! Dynomiiiiiiite!!!
Andre Iguodala vs. Oklahoma City Thunder. IGGY!
http://youtu.be/SQazO5fKapI
DeMar DeRozan vs. Chicago Bulls. Two guest appearances on a brand new Double D poster.
http://youtu.be/AJzkzpyFiMA
Joe Johnson vs. Phoenix Suns. Joe Cool closes the show.
Xavier Henry vs. New Orleans Pelicans. To think, that used to be his college teammate. Kobe is proud (but he secretly wishes it was him dunking on Jeff Withey).
http://www.youtube.com/watch?v=1WnUuCHfow0
Play of the WEAK
New York Knicks vs. Houston Rockets. The refs may have blown what would have been four-point play. You be the judge. Heart-breaker for the Knicks.
Stat line of the WEAK
New York Knicks not named Carmelo Anthony or Andrea Bargnani vs. Houston Rockets: 37 points 10/45 FG, 3/13 3FG.
Josh Smith vs. Golden State Warriors: Two Points, two assists, one steal, 1/6 FG, 0/2 3Pt FG.
Team of the WEAK:
There are a few teams stinking it up out the gate, but since the Utah Jazz got their first win this past week, this week's WEAK team is the Milwaukee Bucks. At 2-7 and riding a five-game losing streak, the Bucks look like a slippery court is the least of their worries. I won't say the Bucks are in tank mode, because O.J. Mayo and Caron Butler do play with pride and valor. The Bucks just haven't been doing the best they can, while dealing with some big names on the injured list. Until Larry Sanders, Ersan Ilyasova, and Brandon Knight return, the Bucks are just going to have to hope some of the younger guys, like John Henson, Ekpe Udoh, and Khris Middleton, can pick up the slack. Right now, it's ugly.
Player of the WEAK
I love my Knicks, but J.R. Smith, where are you??? Since J.R. Swish made his way back from injury/suspension he just hasn't gotten into any type of groove. He's shooting horrendously and the Knicks are losing. He's not the only reason the Knicks are losing, but when Swish gets it back on track, it will be brighter skies around Madison Square Garden.
Did you see …
Mario Chalmers practicing his MMA moves on Dirk Nowitzki.
http://www.youtube.com/watch?v=dRfGgMT_TpE
Dirk Nowitzki (he survived the elbow) passing Jerry West on the all-time scoring list. Congrats to the second greatest Euro Player (Long live Drazen Petrovic) that I've ever seen. Well deserved.
***Shoutout ALERT***
Shout out once again to all the veterans around the world. To all the men and women who have served throughout the decades and beyond. Here's to risking your lives in service to this country. Thank you.
Image courtesy Keith Allison/Flickr