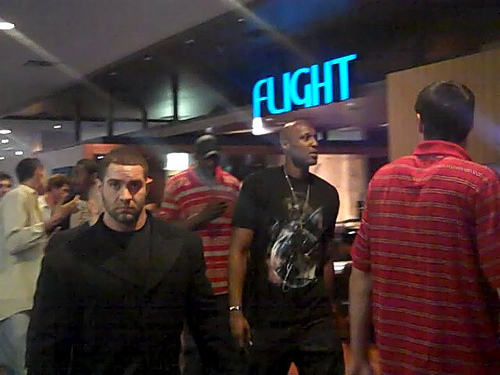 It seems that every year Lamar Odom must rediscover his love for basketball, and it's fair to say that he might need basketball. But at this point does it need him? He's been plagued with every tragedy known to a professional sports player, except for any that are basketball related. He's never suffered a major injury, gone through an extensive contract battle and most times got his way. The only blemish on Odom's favorable NBA career would be the trade from the Los Angeles Lakers to the Dallas Mavericks, but that's short grass compared to the forest of problems many of today's NBA stars play in.
Attempting to step forward from a chaotic summer that spiraled out of control with rumors of divorce and drug abuse, Lamar Odom is back at work and ready to move on—but only with the Clippers. He decided to work out at his alma mater University of Rhode Island with trainer Rob McClanaghan in the interest of more work and less distraction. Rhode Island is an area TMZ won't even touch. And after a two-hour meeting with Doc Rivers, reports of Odom rejoining the Clippers had him at a 90 percent chance of being signed, with an even greater prediction from Jared Dudley: "Oh, 100 percent."
What does it take to keep Lamar Odom mentally healthy, and does the Hollywood circus that's become his life have the potential to disrupt the Clippers locker room? Undoubtedly these are questions Clippers VP of Basketball Operations Gary Sacks and head coach Doc Rivers will ask themselves, but the most important question is can Odom produce a consistent level of play worth giving up their last roster spot and paying luxury tax penalty? Yes. Monday's loss against the Memphis Grizzlies showed a need for rebounding and veteran play. Odom didn't miss a game last season and averaged 4 points and 6 rebounds in a role that wasn't very clear, with sporadic usage under former Clippers coach Vinny Del Negro.
Before Lamar Odom became a celebrity tragedy for alleged drug use, a DUI arrest, and a public rollercoaster marriage to reality television star Khloe Kardashian, he sported a career average of 13 points per game with 8 rebounds and 3 assists, and won a Sixth Man of the Year award in 2011. His talent has never been questioned, however his work ethic and mental stability give reason for skepticism, as no one truly knows what can keep Lamar Odom happy aside from Lamar Odom himself.
Reviving the 2013 Clippers bench that contributed 40.1 points per game in the regular season and contributed 40 percent of the team's scoring is a scary thought for opposing teams, as the Clippers are already currently second in points per game and assists. Last season, the Clippers' fourth-best shooting lineup was comprised of Barnes, Crawford, Griffin, Odom and Paul, shooting 44 percent in 38 games together. Odom was the center-piece of a bench unit that consistently out-rebounded opposing units. DeAndre Jordan said of Odom's potential return: "Just to get a veteran guy like that back on the team, just to help us, because he's more than capable of being a locker room guy and a player. He's a great player. He can help us out in so many ways. As long as he's ready to go, we definitely welcome him back with open arms."
With the Clippers' issues being primarily on the hardwood, Odom is a risk that the Clippers franchise seems prepared to take. Statistically adding a talent like Odom is unquestionable, however with the Clippers waiting patiently for Byron Mullens to warm up and Antawn Jamison being spared for the latter part of the season, the Clippers have no room for another big man at the end of the bench. If signed, Odom must produce a consistent level of play. As of right now, the Clippers believe he will.
Image courtesy Mark Richardson/Flickr