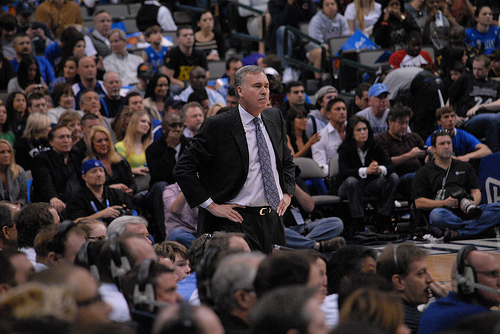 Los Angeles Lakers head coach Mike D'Antoni's offensive system is predicated on the ability of his players and offense to move quick. Really, really quick. He wants the offense constantly moving in order to catch the opposing team off guard and get easy buckets. As with any system, there are good and bad things about this approach, but D'Antoni's plan has some very noticeable holes in it.
The pros to executing that type of offense are obvious. Fluster the other team, keep them off balance, create mismatches and score. In the end you get high-scoring basketball games that are highly entertaining….
Unless you're losing, like the 4-6 Los Angeles Lakers are.
Due to the age of L.A.'s starting roster, this style of offense has caused problems that we've already seen both this season and last. The older players get tired early on in the night and become nearly useless on defense late in games. Kurt Rambis can't do much about that because ultimately playing defense comes down to desire.
Pau Gasol and Chris Kaman have already expressed that they are unhappy in their roles. Jordan Hill was ambivalent about the issue when he started for the purple and gold for the first time on December 12. Since then, Hill has found a way to make his style of play work well within this system, but the rest of the team doesn't seem to be coming along, just yet. With their age, it's plausible that they may never come along.
By speeding things up, the Lakers aren't properly utilizing their biggest weapons, literally. Both Gasol and Hill play much better when used as pure centers, and their numbers reflect that. It's a similar situation with Kaman as well. Those players in particular thrive when not forced into a stretch 4 position, which they are in this faster offense.
A big issue with them fitting into this style of play is that it reduces their rebounding ability since the biggest guys on the team are hanging out on the perimeter. Hill is the exception to that because he's not quite comfortable in the stretch 4 role. He reverts back to how he's played for the majority of his career, which has actually done wonders for his numbers and also given the Lakers some kind of rebounding presence.
Then there's the situation at guard. Steve Nash has been out of the lineup, which has been a blessing in disguise. With him healthy, D'Antoni will play his veteran guard. However, out of all of the healthy Lakers, Nash has the hardest time keeping up in the fast-paced offense.
It doesn't need to slow down much, but enough so that players can get into an offensive rhythm and work for high-percentage shots instead of shooting as many three-pointers. By now D'Antoni should be able to see that an offense based on shooting threes only leads to a low team shooting percentage, low offensive rebounding numbers, a whole lot of wasted possessions and no NBA championships.
D'Antoni's plan will work, but only if it is being played much slower so the offense can set up, exploit the mismatch, and make every possession count, whether it be a easy high-percentage shot or a drive to the rim.
Image courtesy of Scott Mecum/Flickr