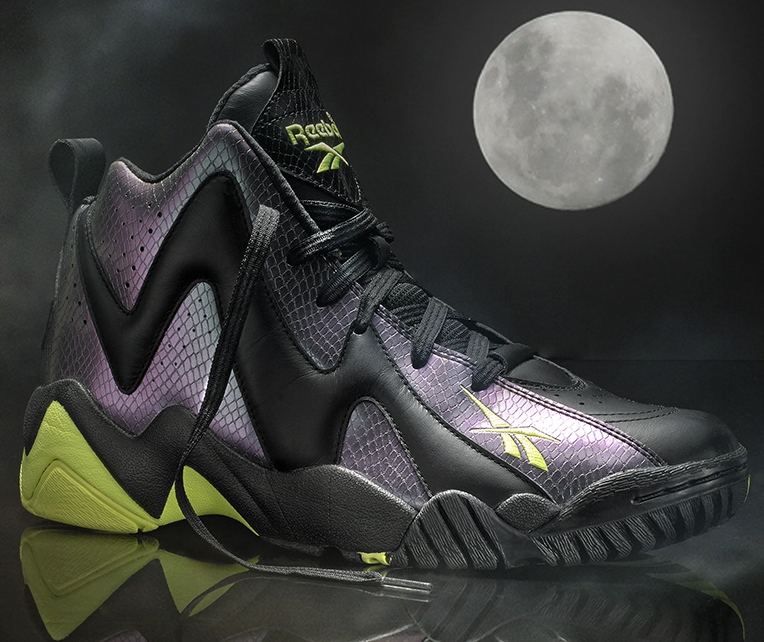 With Black Friday coming up, plenty of people will be out standing in the cold, under the moon, and liking trying to ignore their tired legs and wind-chapped lips as the temps have started to dip. Usually the occasion isn't very glamorous and staring down at your shoes is a typical activity, but Reebok Classic today has release a shoe that you bust out momentously for the occasion and into other future moonlit nights. The Reebok Classic Kamikaze II "Noctural" is just that shoe.
Originally the signature performance shoe of former NBA superstar Shawn Kemp of the Seattle SuperSonics, the Kamikaze II Nocturnal is given a great bit of theme treatment, playing up the deep, dark colors of the night, while also add a bit of luxury shine with rich black leather, iridescent purple textile snakeskin, and chartreuse on the sole for some dynamic color pop.
If you're going to check for the Kamikaze II "Nocturnal", you can find limited pairs of the shoe right now at Foot Locker, Finish Line, Champs, Jimmy Jazz, Villa, Walter's, and reebok.com for $99.99.