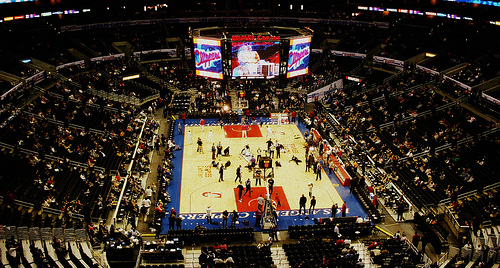 Clippers Nation knows that they'll be able to catch the game at 7:30 Pacific or 4:30 Eastern time, and occasionally at noon on weekends. For those who aren't lucky enough to sit in the cozy confines of Staples Center or in front of the television, they're more than familiar with Isaac Lowenkron. He's been the host for Los Angeles Clippers radio broadcasts since 2009 and can currently be heard on local Los Angeles radio, KFWB 980 AM. I recently had the chance to catch up with Isaac to hear his thoughts on this new Clippers squad and to hear his projection for Sunday's game versus the super-hot Indiana Pacers.
Marcus Bass: What has been the biggest surprise for you this season coming from this Clippers team?
Isaac Lowenkron: I think the biggest surprises have been how quickly DeAndre Jordan has been transformed under Doc Rivers tutelage, how seamlessly J.J. Redick has fit in and how versatile Redick is. DeAndre is significantly more confident than last season because of the trust and expectations that Doc has for him to dominate on the defensive end, while telling him not to worry about his free-throw shooting because the Clippers will live with whatever he does or doesn't do at the line, as long as he makes a big impact in other areas.
I knew JJ was an excellent shooter, but didn't know what the Clippers would get from him early because he missed six of the eight preseason games with an injury. He has been remarkably consistent, particularly early in games. I also didn't realize that in addition to being an outstanding shooter, he's also a strong ball handler, passer and is one of the best in the league at moving without the ball.
MB: For the last couple of seasons, one criticism has been that the Clippers will only go so far as DeAndre Jordan's improvement. Jordan is definitely improved, so what do you think are the final steps for this team to claim the NBA throne?
IL: The final steps for this team to truly become a championship team are simply to get it done in the playoffs when it counts. This team learned last year that a 17-game winning streak and a franchise record 56 wins means nothing if you don't get it done in the playoffs. I've learned that there's a big difference between regular season and playoff success in this league. Fortunately, the Clippers have the perfect coach to take them across that bridge, particularly as it relates to the grueling adversity you constantly have to deal with during a playoff run. From a tactical standpoint, this team needs to be able to create a shot and score in crunch time of a playoff game when opponents force Chris Paul to give the ball up. They are making excellent progress in that area already, particularly Blake Griffin.
MB: Charles Barkley has said numerous times that Chris Paul is the toughest guy on this Clippers team, and Matt Barnes recently showed his displeasure in the lack of physicality coming from his teammates. Do you think this team needs to toughen up? If so, where?
IL: Toughness has many definitions in the NBA. Physical toughness is important, but mental toughness is even more important. I think an example of this team's mental toughness came in a game at Houston a few weeks ago when they were down 11 with four minutes left in the third and it just didn't seem to be their night. Maybe last year they lose that game, but this season they hung in there and rallied to win the game.
I don't think Barnes was complaining about any of his teammates, per se, I think he was just frustrated and emotional – moments after the Serge Ibaka incident. People nationally seem to question Blake's toughness, but I've said for the last two years that he takes the most physical punishment of any NBA big man since Shaquille O'Neal in his prime. If Blake fights back and gets ejected, that will hurt the Clippers more than help. His best way to fight back is to keep doing what he's doing… dropping 20 and 10.
MB: Although they've been outscoring opponents like crazy, this Clippers team has had struggles on the defensive end – currently ranking 27th out of 30 teams in opponent points per game. Why is there such current disproportion between offense and defense?
IL: The main reason there's such a discrepancy between offense and defense is because of the pace the Clippers play, so the opposing team is going to have the opportunity to take a larger amount of shots. I think both the offensive and defensive numbers will come back down to earth as the season progresses. The main way to judge the Clippers defensively is – do they get stops when they need them? So far this season, the answer has been largely yes.
One example was the final play of the home game vs. Minnesota when they could have tied with a two or won it with a three-pointer. Minnesota ran some nice screening actions for Kevin Love and Kevin Martin, but the Clippers switched perfectly and the best they could get was a very tough two-pointer by Martin. Yes, the Clippers gave up two subsequent offensive rebounds that were missed, but watching the DVR I didn't think they made positioning mistakes that led to allowing those rebounds, it was more how the ball bounced. Then on the last play of the home win over Sacramento, the Kings primary options were to get the ball to Isaiah Thomas, or to someone at the rim on a lob. This time the Clippers did not switch, they stayed at home, and took away both options. The best shot Sacramento could get was a desperate 20-footer by DeMarcus Cousins that DJ defended perfectly.
MB: This current Clippers team versus the Memphis Grizzlies playoff squad in 2013 (a roster that hasn't changed much)… Who closes that series on top and why?
IL: My heart says the Clippers, but my head says I don't know. Memphis has been the Clippers' only opponent this season that has totally dictated their style of play from start to finish in a game. I was more troubled about that loss than the Oklahoma City Thunder loss. Memphis started the season slow, but seemed to round into form during the road trip they played the Clippers on. Losing Marc Gasol obviously hurts for the short term, but they will remain a formidable foe in the long term.
MB: What's the biggest change you've seen in this ball club since they acquired Doc Rivers as head coach?
IL: The biggest change I've seen since Doc has taken over is a general improvement in confidence, consistency and an embracing of championship expectations. It is very important for a team to have trust of its coach and you can tell that the players trust Doc 100 percent. You get the sense that if a random coach and Doc said the exact same things, some players might roll their eyes at the random coach, while nodding yes at Doc. His presence is that strong. I knew he'd do a great job and admired and respected him from afar when he was in Boston, but to see him up close every day is a revelation. I've been fortunate to cover coaches and managers like Phil Jackson, Pete Carroll and Joe Torre, and I'd easily put Doc in that class.
MB: The bench unit has had its ups and downs so far this season. Last year's bench was capable of maintaining, regaining and expanding leads. Why has this bench unit got off to such a slow start?
IL: The bench hasn't been as productive because of injuries, most notably to Barnes, who has had to deal with three or four different injuries since camp. Also, it's simply a different type of unit. Last year's bench was almost literally a five-man second team. This year, the bench's role is different, and I think people need to gauge their expectations with that in mind. Most benches in the NBA, even with other elite teams, will not have the kind of impact on games that the Lob Mob did last season, but remember; last season they only had that type of impact during the regular season. I think this year's bench has the capability to make a bigger impact during the playoffs.
MB: Two-part question. There are reports of Lamar Odom closing in on a return to the Clippers. If signed, what do you think he can bring to this Clippers team? Why do you think he publicly stated his interest in only playing with the Clippers and not the Lakers as well?
IL: If Lamar winds up signing with the Clippers, I think it would be great. By all accounts, he was extremely well-liked by his teammates last season. He obviously has plenty of playoff and championship experience and is capable of doing the "little things" that it takes to win, like getting a key offensive rebound or helping facilitate a half-court offense. I don't know why Lamar publicly stated his interest in playing for the Clippers and not another team, but I don't think that will affect whether he signs with the Clippers or not.
MB: There's a ton of good NBA coaches sitting from the sidelines this year, most notably George Karl, Lionel Hollins and Jerry Sloan. There's been an injection of younger head coaching blood with Jason Kidd and Brian Shaw, David Joerger, et cetera. Is the head coaching landscape of the NBA changing? Do you think former players make better head coaches, such as Kidd and Shaw?
IL: The landscape is changing and I think Doc is the prototypical coach for the modern NBA player because he is a players coach and not a dictator, yet can definitely lay down the law when need be. I don't think former NBA players make better head coaches per se. It's kind of a crapshoot. For example, both Mark Jackson and Kidd are former point guards who were hired as NBA coaches without any experience. Jackson has succeeded while Kidd, so far, has not. Also, the analytics crowd is also having success. Erik Spoelstra rose through the ranks starting as essentially a video intern, yet through hard work became a head coach. Boston's Brad Stevens didn't play in the NBA, yet is essentially taking more of the Spoelstra route in getting experience from studying the game instead of playing it.
MB: Last, going up against a hot Indiana Pacers team on Sunday, what do the Clippers need to focus on to come out with a win?
IL: Many players must have solid, not spectacular shooting games. If one of their key guys goes 3-for-12 or 2-for-9 from the field, it will damage their chances because Indiana is an awesome defensive team. They allow around less than 90 points a game and less than 40 percent shooting from the field. Aside from that, it's the usual, don't get outworked, and don't commit a high amount of turnovers, etc.