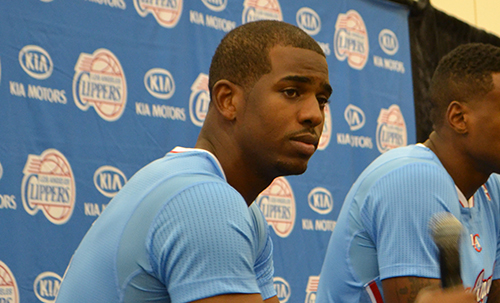 MVP stands for Most Valuable Player, but at times it's a popularity contest where the most essential player on a team isn't granted the praise he deserves. It's easy to argue LeBron James will get it again this year, but Chris Paul seems to be a better fit for MVP so far this season.
CP3 has helped to elevate the Los Angeles Clippers in becoming a championship contending team—despite Charles Barkley's opinion—and he's a name that's linked with greatness in the NBA today. When he was on the New Orleans Hornets he was putting up a stellar stat line and had the bravado to lead a mediocre team to the playoffs.  In the 2008-09 season he put up 22.8 points, 11 assists, and 2.8 steals per game, while shooting 50 percent from the floor. He's just as good, if not better, this season, leading the league in assists per game and making clutch plays.
The numbers aren't everything, and even without his stat line he's the go-to guy that makes the Clippers that much better. He may not be the most popular player in the league, but he's definitely the most indispensable player on his team. The Clippers would have a much lower ceiling to their potential if he were taken out of the picture, just like the Cavs without King James. He distributes the ball better than anyone in the league, and he can create his own shots. The man is clutch when it counts, willing to take on the challenge when the moment becomes the moment, scoring 6.8 points per game in the fourth quarter.
Okay, so let's look at the stats, since we can't avoid them. If you haven't heard yet, CP3 broke Magic Johnson's record of 11 straight points-assists double-doubles to open a season, which he established in the 1990-91 season, opening up this season with 13 straight. Not too shabby, right? According to NBA.com, CP3 is generating a league-high 27.1 points per game from the dimes he dishes. Combine those 27.1 points with his 19 points per game, and that's 46.1 points per game that he has a hand in. Just for fun, here's his stat line for this season so far: 19 points, 12. 2 assists, 5 rebounds, and 2.4 steals per game. He's definitely the number one contender to knock LeBron down and snatch the MVP crown.
Are there other contenders? Of course. The scoring machine that is Kevin Durant is always up there, Kevin Love has some people talking, the underrated Tony Parker is always stellar, and some even think Paul George could take it. The truth is, Chris Paul is catching fire right now, and it doesn't seem like he's going to cool down anytime soon. CP3 has been an amazing player since he's been in the league, and this year he seems to be hungrier than ever to get his first ring and put a second on Doc River's hand.
At the end of the season, with all the talk about stats, Chris Paul is only looking to earn a single number: number one.