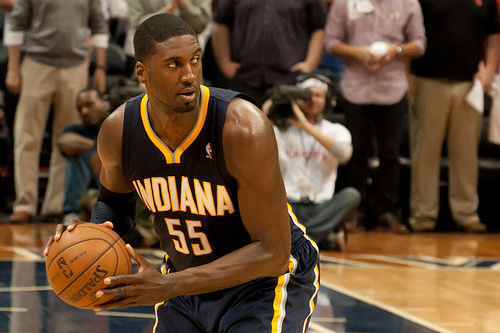 It was a strange game for the Indiana Pacers. Facing the Los Angeles Clippers (fourth in the Western Conference) at Staples Center was to be a test for them for certain, but to find themselves in the position to lose this late in a game was different from every game but one.
The only time they were close this late in the fourth quarter, was, well, never. The only time they have trailed with less than three minutes left in any game was the beatdown they suffered at the hands of the Chicago Bulls a few weeks back. So, when they found themselves in a two-point game today with less than 2 minutes remaining against a very good Clippers squad, it was definitely unfamiliar territory.
The blue and gold eventually prevailed 105-100 in the contest of heavyweight contenders from each conference. With J.J. Reddick out of the lineup for the Clippers and Chris Paul hobbled with a questionable hamstring, it could have been a cakewalk for Indiana. However, it turned out to be anything but easy.
The Pacers did lead by double digits in both the second and fourth quarters, but the Clippers found a way to claw themselves back into the game each time. By the time five minutes remained in the fourth quarter, the Clippers were on the verge of beating the best team in the NBA. It would have been a huge victory for them.
Then Hibbert showed up big time with several huge tap-out rebounds to keep the ball alive for the Pacers. There was great leadership play by David West and timely defense played overall by Indiana. A tie game developed into a five-point win by the final buzzer for the Pacers.
Paul George finished with a dominant 27 points despite early foul trouble. The "hometown" hero from nearby Fresno State played inspired ball and, along with David West and his 24 points and 12 rebounds, was an inspirational leader in this win.
So, with the first game of the road trip under their belts, the Pacers continue on to Portland tomorrow night for the second of five on the trip. The 13-3 Trail Blazers are led by forward LaMarcus Aldridge and are only a half-game back of the Western Conference-leading San Antonio Spurs, whom the Pacers face on Saturday. Portland plays solid team ball and has lost only one game at home.
Image courtesy Mark Runyon/Flickr