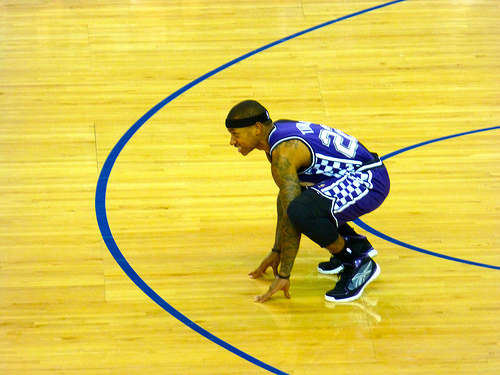 Tonight, the Sacramento Kings will host a Los Angeles Lakers team which is dominated by news and updates of the possible return of Kobe Bryant, a player whose absence has left a void in basketball, which only his return can fill.
We'll be kept waiting tonight.
Mike D'Antoni, as well as the rest of the Lakers organization, seems to be confident in the Mamba's recovery and have assured that he is making solid progress to get back to basketball form, but he won't be ready by Friday.
That leaves the Kings with one less thing to worry about.
Sacramento is coming off two close losses to the Golden State Warriors and Oklahoma City Thunder, two playoff teams which the Kings were able to keep up with for a majority of the matchups. In both contests, Sacramento had the all-too-familiar-feeling of letting the game slip away in the final seconds, leaving the team with nothing more to do than hang their heads, return to the locker room and try again the next night.
The Lakers (9-9)  present a much less challenging task in front of the Kings (4-12), as DeMarcus Cousins and Jason Thompson will likely be able to challenge Pau Gasol and Chris Kaman. We can expect Cousins to put up big numbers against Kaman, as his much improved footwork and post play has proved too powerful for most bigs he's faced.
With Steve Blake questionable for Friday's game and Steve Nash still out indefinitely, the Lakers point guard position is in an unsettling state. Greivis Vasquez, Isaiah Thomas and Ben McLemore will likely have big numbers with the lack of Lakers guards for Friday's game. McLemore will look to keep momentum rolling after his impressive month of November, for which he received the Western Conference Rookie of the Month honors.
Nick Young will try to contain McLemore during the game, yet the rookie's proven ability to put the ball on the floor and attack the basket may prove to be too much for Young to handle. McLemore was effective in this area against Klay Thompson of the Warriors, getting himself to the free throw line consistently throughout the night.
With the return of Kobe Bryant doubtful for Friday's game, the Sacramento Kings look to exploit their positional advantages to gain a quiet yet crucial win at home.
Image courtesy Matthew Addie-Heel Sports/Flickr