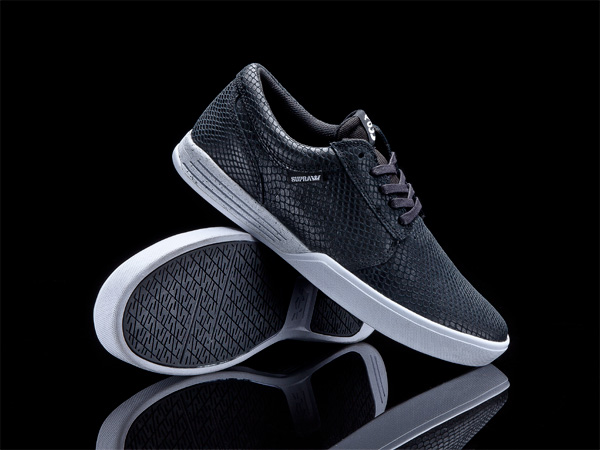 For all the various sorts of bad wrap that snakes get being sinister and sneaky, they seem to have made an impression on the fashion world. Scales and all, snakes have made a comeback and are pervasively becoming a luxury material of footwear.
None other than SUPRA comes in to bring in the noise and the funk with the Hammer Snake — the ideal blend of off-court comfort and lux style when the dogs have been barking from running the floor for a few games.
Courtesy of SUPRA:
SUPRA Footwear has announced the release of the Jim Greco signature Hammer low top in a limited edition, black snakeskin style dubbed, The Hammer Snake.
"The inspiration for this shoe was I wanted a snakeskin shoe that I could skate in," Greco said simply. It's no secret that Jim is a fan of snakeskin. "The shoe's awesome. I'm psyched on 'em. They last super long. They already lasted me through a tour and two weeks after the tour."
The Hammer Snake is constructed from black, snakeskin embossed leather, and features custom Hammer Snake and Crown Coalition logos throughout. As with every Hammer low top, the Hammer Snake is constructed on a lightweight SUPRAFOAM midsole that is thicker in the heel for cushion and impact protection, yet thins at the toes for better board feel, thus combining the comfort of a cup sole with the responsiveness of a vulcanized sole. The Hammer Snake is an extremely limited edition release and will only be available at Crown Coalition skate shops.
"The Crown Coalition is made up of about 250 select skate shops that support skating throughout the world," Greco explained. "The Crown Coalition is the core of the core."
The limited edition Hammer Snake is available now at fine SUPRA Crown Coalition retailers. To learn more, visit suprafootwear.com.