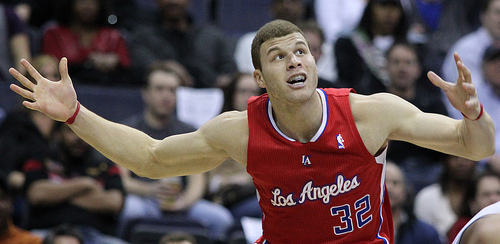 Setting sail on the first of two seven-game road trips over the next two months, the 12-6 Los Angeles Clippers made their first road stop Wednesday against the 9-10 Atlanta Hawks, who were losers of five of their last six games. The Clippers were a step behind Atlanta all night, missing the three-point presence of J.J. Redick, shooting a miserable 21 percent from three and only gaining a two-point lead all night compared to Atlanta's biggest lead of 17.
The Clippers loss was due to more than Atlanta's season-high 12 three-pointers on 52 percent from behind the arc, or Kyle Korver tying an NBA record 89 straight games with at least one three-pointer. Starting wings Jared Dudley and Willie Green combined for 18 points on 7-for-19 shooting. Blake Griffin was the only Clippers player to break 20 points, going home with 24 on 10-for-17 shooting.
Paul Millsap was hot, scoring 25 points on 12-for-21 shooting, 11 of which came in the first quarter. The Clippers bench outscored Atlanta's 30 to 20, but lethargic play from the starters, particularly poor shooting from the wings, did them in. The Clippers made two fewer three-pointers than Korver alone, and the Hawks cruised to an easy home win, 107 to 97.
There's nothing a lengthy film session merely 12 hours after the final buzzer can't cure, and after a night of poor defensive rotations, Clippers coach Doc Rivers sought a no-excuses game in a rematch against their most formidable rival in the 9-8 Memphis Grizzlies, who threw the Clippers a 102-106 beating in Staples Center weeks prior.
Holding the Griz to a season-low 38 percent shooting was key for the Clippers, who shot 48 percent from the field and 55 percent from three. The Grizzlies were without Marc Gasol and Tony Allen, but Kosta Koufos picked up some slack for the Grizzlies, posting 17 points and 9 rebounds.
Once again Jared Dudley failed to break 10 points in the starting lineup, and Willie Green posted 5 points on 2-for-8 shooting, play which can be tolerated from Green, but not as much from Dudley, who continues to look like the odd man out in the Clippers rotation. No Clipper scored over 20 in this game, although six players scored in double figures, including three from the bench. Antawn Jamison put up 11 points on 3-of-5 shooting, and Darren Collison and Jamal Crawford each dropped 15 points. Chris Paul tallied 15 and 8 assists and Blake Griffin had 14 points, and 9 rebounds. DeAndre Jordan contributed 14 rebounds and 10 points, playing excellent defense on Grizzlies forward Zach Randolph, who ended the night with 12 points on 4 from 13 shooting.
The Clippers evened the season series at one win apiece, coasting to an easy 101-81 victory, and Doc Rivers became the 23rd coach in NBA history to reach 600 wins, joining Rick Adelman and Gregg Popovich as the three active coaches to reach the mark. The Clippers will play their third of seven on the road against Kyrie Irving and the Cleveland Cavaliers.
Image courtesy Keith Allison/Flickr