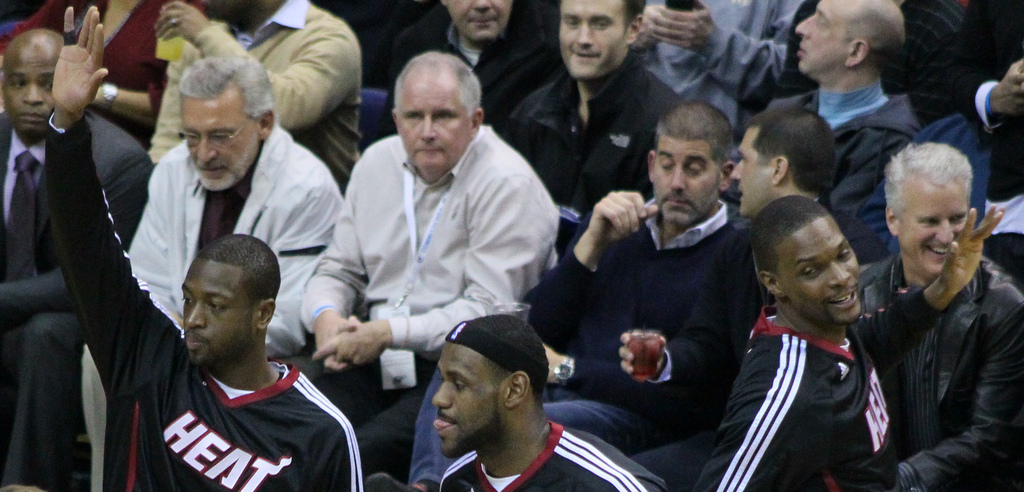 If you've ever watched HBO's "The Wire," you'll know that it's commonly referred to as one of the greatest shows in television history. You might also remember the quote "the king stays the king," and although the Indiana Pacers have been running on premium fuel, until they drop LeBron James the Miami Heat and battle against more teams on the high side of .500 marker, the Pacers sit in the number two spot as the biggest threat to the throne.
1. Miami Heat (16-5 and 2nd in Eastern Conference)
Let's be clear, when you're the reigning champs and still have a healthy LeBron James, it's hard to be trumped in the weekly NBA power rankings. Certainly, Tuesday's upcoming battle between the Heat and the league's best, record-wise, Indiana Pacers will reflect in next week's power-rankings… maybe. That 30th in team rebounding statistic is definitely a thorn for concern.
2. Indiana Pacers (18-3 and 1st in the Eastern Conference)
Yes, I know they have the best record in the league, and they're beating the pants off every team they've faced, but a bad loss to Oklahoma City in addition to the fact that the majority of their wins have come from teams under .500 keeps the Pacers stuck at number two. Oh, and Danny Granger has returned to practice as well – as if they need to play any better.
3. Oklahoma City Thunder (15-4 and 3rd in the Western Conference)
Getting Russell Westbrook back in uniform has pushed the Thunder to a level of play that's helped them to go 9-1 in their last 10 games. Last night against the Pacers, they shot an impressive 61 percent in a win against the league's stingiest defense, and with Kevin Durant leading the league in scoring, they're likely to start another win streak with a light schedule this week against Atlanta, Memphis and the Lakers.
4. Portland Trail Blazers (17-4 and 1st in the Western Conference)
The Blazers sport the highest-rated offense in the NBA, currently ranked second in points, seventh in rebounds and assists, respectively. Earlier in the week, they snapped a Thunder win streak, and set the NBA 3-point percentage mark after beating the Jazz. With former NBA Rookie of the Year Damian Lillard and big-man LaMarcus Aldrige performing at an optimum level, there's still a sense of skepticism as to whether or not Wesley Mathew's great play will continue. For the time being, they're the league's fourth best.
5. San Antonio Spurs (15-4 and 2nd in the Western Conference)
They lost to the Pacers, but Tony Parker and Tim Duncan were 9-for-24 in field goal shooting, many of which were closer to the hoop than you'd think. Not to discredit the Pacers on a well-deserved win, but the league's most veteran team has a 97.8 defensive rating, and while their shooting may come and go, you can always hang your hat on being the second best defensive team in the league.
6. Houston Rockets (15-7 and 5th in the Western Conference)
There's only three teams in the Western Conference that have performed better in the last 10 games, and the Rockets have gone 7-3 without Jeremy Lin (knee injury) with Harden, Parsons and Howard pulling most of the weight. With Omer Asik likely on his way out via trade and a tough week on the road against Portland, Golden State and Sacramento, the Rockets have a chance to climb the Western Conference ladder or fall out of the picture.
7. Los Angeles Clippers (13-8 and 4th in the Western Conference)
Doc Rivers is currently fighting issues with injuries, chemistry and now pouting? That was the theme of their recent loss against the Cavs, and with recent injuries to Matt Barnes, J.J. Redick, rookies Reggie Bullock and Maalik Wayns, in addition to center DeAndre Jordan, the Clippers are hobbled in the middle of a seven-game road trip. Their defensive rating is currently 14th, up six notches in one week, and there's a rumor of Stephen Jackson joining the club to place a band-aid on Jared Dudley's bloody horrible play.
8. Denver Nuggets (12-8 and 7th in the Western Conference)
A seven-game win streak from late November to early December put Denver back into the playoff picture, after an unexpected 1-4 start to the season. Denver is seeing slow change, as new head coach Brian Shaw's influence is apparent in the play of point guards Nate Robinson and Ty Lawson, who's currently leading the team in scoring with 19 points. They're buying into Shaw's system, and that coupled with good health has the Nuggets eyeing more than the first round.
9. Dallas Mavericks (13-8 and 6th in the Western Conference)
Mark Cuban can beg for more foul calls going to Monta Ellis, and after he hit a buzzer beater to end the Trail Blazers' 11-game win streak, it became apparent that he doesn't need them. The Mavericks have the longest win streak in the West right now as winners of their last three, but as their rebounding woes continue, the Mavs might be stuck in the middle to bottom of the pack for most of the year.
10. Golden State Warriors (12-9 and 8th in the Western Conference)
The Warriors have gone 4-4 since Andre Igoudala injured his hamstring against the Lakers, and still with Igoudala, Festus Ezeli and Toney Douglas out indefinitely, the Warriors next three games are against teams that total 17 wins and 13 losses in their last 10 games each. The Warriors started the season holding seven of their first ten challengers under 100 points, and lately, seven of their last eight have exceeded that mark. For a defensive-minded coach in Mark Jackson, he'll seek to improve that statistic fast.
11. Phoenix Suns (11-9 and 9th in the Western Conference)
The Suns have reason to be optimistic with Hornasek's dual guard system finally being put on display as both Eric Bledsoe and Goran Dragic are healthy and have started and finished their last 3 games together. Positive play for PJ Tucker who's currently 5th in 3-point shooting has also made a name for himself through defense, and with every jaw-dropping Gerald Green highlight dunk, the Suns push themselves closer to an identity, but inches further from playoff contention.
12. Minnesota Timberwolves (9-11 and 13th in the Western Conference)
The T Wolves are scoring 105 points a game, but also giving up 102, with injuries to Budinger and Turiaf (both out indefinitely), their defensive grit is up in smoke, similar to last weeks skipped contest against the Spurs in Mexico City.
13. Los Angeles Lakers (10-10 and 10th in the Western Conference)
The big news in Hollywood is that the Mamba is back from Achilles injury. He had 9 points in a loss to Toronto, and the timing of his return couldn't be worse. Going 6-4 in their last ten, the Lakers set an identity for hustle and an up-tempo consistent pace of play (currently 3rd), and will now have to find a new identity with a visibly slower and rusty Bryant.
14. Washington Wizards (9-10 and 6th in Eastern Conference)
The Wizards had won two straight games and missed a chance to go over the .500 for the first time in four years after Friday's loss to the Milwaukee Bucks. Wizards point man John Wall is currently second in assists and fifth in steals per game, and although their third overall draft pick Otto Porter returned to the lineup last Friday, Randy Whitman will have to find other ways to get this team over the .500 hump.
15. Memphis Grizzlies (9-10 and 12th in the Western Conference)
The injury bug has definitely bit the Grizzlies, as Marc Gasol is out indefinitely with a left knee sprain and Tony Allen and Ed Davis have missed games with no definite return. Opponents are still only scoring 96 against Memphis, but the longer Tony Allen and Gasol sit, you can expect teams to pour in more on the league's 4th worst ranked offense and losers of their last 2.
16. Atlanta Hawks (11-10 and 3rd in Eastern Conference)
Winners of their last two at home, Kyle Korver set a new NBA record for most consecutive games with a 3-pointer, and Al Horford is putting up All-Star worthy numbers again. The Hawks will have to find ways to pull off more wins on the road, as their current road record sits at 4-7.
17. Charlotte Bobcats (9-11 and 7th in Eastern Conference)
The Bobcats closed their week out on a 17 point win against the Philadelphia 76ers, but with forward Michael Kidd-Gilchrist expected to be out 4-6 weeks from a left hand fracture, Charlotte will miss the tough-nosed defense he brings, which pushed then to 2nd in opponents points per game.
18. Chicago Bulls (8-10 and 8th in the Eastern Conference)
Deflated and seemingly decapitated from the losses of Derrick Rose and Jimmy Butler, the Bulls have gone 3-7 in their last ten and after they showed signs of life after the 107-87 win against the Heat, they'll look to get back into the winning column with their next four games against Milwaukee (twice), NY Knicks and Rudy Gay-less Toronto Raptors.
19. New Orleans Hornets (9-10 and 13th in Western Conference)
The Pelicans were manhandled by the Thunder in their second straight home loss. Certainly losing the league's leading shot blocker in Anthony Davis from injury will make things difficult. They'll also lose one half of the duo that produced the majority of bench production as Tyreke Evans will sit out due to an ankle injury and Ryan Anderson is now in Davis' starting role. Evans is one of three reserves this season to average 11 points, 3 rebounds and 3 assists per game, hopefully there's a speedy return for Evans in the Pelicans stars.
20. Detroit Pistons (10-11 and 5th in the Eastern Conference)
Five days after the Pistons turned a few heads for defeating the Heat, they lost our attention and a four game winning streak to the defending champs by 15. They've split their games on the road at 5-5 and are 5-6 at home, and with Will Bynum and Rodney Stuckey sidelined to injury, the Pistons will continue to rely on the trigger-happy Brandon Jennings.
21. Sacramento Kings (5-13 and 14th in the Eastern Conference)
Mike Malone's Kings have been playing much better than their record reflects, and the additions of Rudy Gay, Aaron Gray and Derrick Williams will propel them into the "conversation". Their last three losses against the Warriors, Thunder and Lakers haven't been by more than 6 points as the Kings have failed to produce in the 4th quarter. Rudy Gay will fix that in no time.
22. Boston Celtics (10-12 and 4th in the Eastern Conference)
The Celtics just handed New York the biggest blow out of the season thus far, beating the struggling Knicks by 41 points and while they're first in the Atlantic Division, they've only played two division games, and their among the league worst in points per game – heavily relying on small forward Jeff Green who just realized he's being relied on.
23. Orlando Magic (6-14 and 12th in the Eastern Conference)
Tobias Harris' return was cut short as he sits out indefinitely due to an ankle sprain, and while the team is suffering a 5 game losing-streak. The Magic do have reason for optimism in Victor Oladipo's play and although they're continuously trying to ship Aaron Afflalo elsewhere, they're without identity and for now a playoff picture.
24. Brooklyn Nets (6-14 and 13th in the Eastern Conference)
Lawrence Frank demoted and they still stink. Not certain if Jason Kidd is on the hot-seat yet as GM Billy King is reluctant to admit a possible mistake in hiring the first-year head coach, but in all fairness Brooklyn is missing Paul Pierce for the next 3 weeks, and Andrei Kirilenko, Jason Terry and Deron Williams indefinitely. They're 4-8 on the road and even worse at home with a record of 2-6, and without an improvement in health, the Nets will continue to struggle.
25. Philadelphia 76ers (7-14 and 11th in the Eastern Conference)
The Sixers got off to a surprising 3-0 start to the season, but since have fizzled out and have lost 8 of their last 10. Michael Carter-Williams salary is reportedly being deposited in a trust fund, and for now Sixers fans will have to bank on the long-haul.
26. Cleveland Cavaliers (7-13 and 10th in the Eastern Conference)
Bynum is rolling and Dion Waiters has silenced any trade talk for now, but it will take a bit more from the league's worst ranked offense and their middle of the road defense to set their sights on playoff contention.
27. Toronto Raptors (7-12 and 9th in the Eastern Conference)
It seems as if the Raptors have been rebuilding for a while now, and new GM Masai Ujiri has cleared house by moving Rudy Gay to the Kings via trade, and there's rumors of swing-man Demar DeRozan being moved as well. The Raports sit in the middle of the road on most statistical categories; they're not doing anything horrible or exceptional and the loss of a star like Gay will certainly cause a dip in production.
28. New York Knicks (5-14 and 14th in the Eastern Conference)
Some say Carmelo has already mentally checked out of the Knicks uniform, and while fans and front office campaign to keep him in Madison Garden, the 2-8 home record will surely encourage Melo otherwise. Expect a head coaching change very soon.
29. Utah Jazz (4-18 and 15th in the Western Conference)
The Jazz are in the bottom 5 of points per game and opponent points per game and with head coach Tyrone Corbin possibly losing Derrick Favors and Marvin Williams for a few games, things won' get any easier for the slumping club who'll split their next four games at home and on the road against Portland, Sacramento, Denver and the Spurs.
30. Milwaukee Bucks (4-16 and 15th in the Western Conference)
The Bucks are currently missing Caron Butler, Carlos Delfino, Zaza Pachulia and Larry Sanders to injury, causing them to collect only two wins on the road and at home. Ouch…
Image courtesy of Keith Allison/Flickr