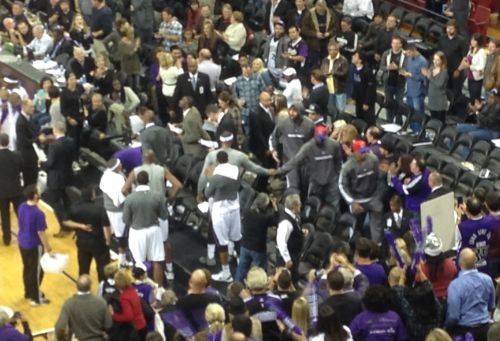 The new-look Sacramento Kings are off to a good start, and they've yet to even hit the floor with their recent acquisitions from Toronto.
They may have been short-handed Monday night, but who they did have to work with stepped up in a period of transition.
With a third of their team gone to Toronto and Rudy Gay, Quincy Acy and Aaron Gray watching from a suite, the Kings only had 10 players active for Monday's game against the Mavericks, but perhaps could've played with even fewer.
Fueled by huge performances throughout the starting five, the Kings ran away with a 112-97 victory over the Dallas Mavericks.
"My challenge to the guys this morning and before the game was, 'I don't care if we have 10 players or 15 players, we have enough talent in this locker room to win the game and we're not going to use the fact that we made a trade today as an excuse or distraction,'" Malone said. "And to our guys' credit, they went out there and played and followed the gameplan."
Sacramento lost three forwards in Sunday's trade, but DeMarcus Cousins alone made up for any absence in the frontcourt. Dallas cycled a number of bigs into the game to throw at Cousins defensively, but none were able to have much impact, if any, as Cousins bowled over defenders en route to his 30 point, 19 rebound double-double. (He posted nine turnovers too, also enough to account for an entire frontcourt.)
Despite an impressive individual performance, though, Cousins deflected praise toward his teammates instead.
"It was a great team effort tonight. Our plan was to go out there and have no excuse," Cousins said. "We put (the distractions) aside and just played good team basketball."
Isaiah Thomas, in his first start of the season, proved once again that he's a viable starting option in the NBA. He started each half with scorching aggression – penetrating the lane and confidently firing up threes – before settling down and looking for his teammates.
After toiling behind Greivis Vasquez for 18 games this season, Thomas didn't miss a beat in the starting role Monday. In fact, he had his strongest outing of the season and perhaps of his career. Despite starting the game standing for tip-off rather than sitting on the bench, Thomas insisted he won't alter his approach.
"Nah, I think when I (play a pass-first style) it takes away my aggressiveness to just be me," Thomas said. "Coach told me at the end of the game, 'I want you to be like that. Just because you're starting, I don't want you to try to do something you can't do. Be aggressive and make plays, but also run your team,' and that's what I'm going to be working on from this day forth."
Time and time again Monday, Thomas looked the floor general Malone desires him to be.
On one play in the fourth quarter, Thomas slashed into the heart of the defense before dishing to a cutting Derrick Williams, who finished with a dunk that marked a career-high in points for him (he finished with 31) and in assists for Thomas (12).
"I'm just finally enjoying playing basketball again. That's the main thing," Williams said. "… We're going to be tough to guard once we all get our chemistry going."
It was just one of many connections between the two throughout the night. Williams had several high-flying dunks, highlighted by a fastbreak alley-oop off the backboard – courtesy of Thomas.
Sacramento's depth chart was thin due to the trade, but the way players were sprinting up and down it seemed as though they had literally shed some weight.
The Kings (6-13), who have frequently fallen victim to themselves by giving up turnovers that are then converted into transition baskets, outpaced the Mavericks (13-9) throughout the night – a style of play they hope to implement with new pieces going forward.
"It's something you dream about," Thomas said. "You have Ben on this wing that you can throw toward the rim and he's going to dunk it … you have Derrick Williams, now you have Rudy Gay and then DeMarcus Cousins – if you want to go into the post – you have him. You have options. As a point guard you want options and I have some good ones."
As the final seconds ticked off the clock, Gay, Acy and Gray walked down the aisle toward Sacramento's bench, giving their new teammates high-fives amidst loud applause. Come Wednesday, they'll get their chance to lend a hand on the court.