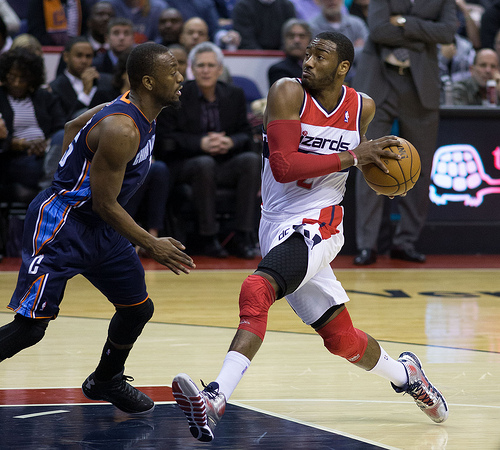 The goal around the Verizon Center in Washington D.C. is clear for the 2013-14 season. It's playoffs or bust for the Washington Wizards. And that's not to say every team doesn't want to advance to the postseason, unless you want to exclude those who were supposed to be tanking this season in anticipation of a loaded 2014 NBA Draft class.
The Wizards most recently made playoff appearances in four consecutive seasons (2005-08), but haven't been back since. 2014 was pegged as the year playoff basketball was to return to the nation's capital.
Bradley Beal impressed towards the end of last season as he became more comfortable playing with John Wall and one would think he was going to improve in his second season. Trevor Ariza was to continue providing strong perimeter defense and solid three-point shooting. Nene is a more than capable inside presence on the offensive end of the floor and is an underrated passer. Otto Porter was selected with the third overall pick in this year's draft and arrived with First Team All-American honors and a Big East Player of the Year trophy after averaging 16 points and 7 rebounds as a sophomore at Georgetown. Emeka Okafor was supposed to anchor the defense, but that plan hit a snag. A disc problem in his neck led the team to ship him and a protected first-round pick in 2014 to the Phoenix Suns for Marcin Gortat, Shannon Brown, Kendall Marshall, and Malcolm Lee. The latter three were subsequently cut, leaving the Wizards with a big man who can be effective with Wall in the pick-and-roll and provide a defensive presence. Martell Webster signed a four-year deal over the summer and Eric Maynor was brought in as added depth. The pieces were in place.
The man to lead the Wizards to their goal is the one who has the ball in his hands the most, point guard John Wall. At at time when the NBA has as many good floor generals as it's ever had, Wall is as important to his team as any. He and the Wizards agreed to a five-year, $80 million extension during the offseason. The team felt Wall was worth the commitment and that he was indeed capable of leading the franchise back to where it wanted to be. Security received and confidence in hand, it was Wall's turn to do what was expected and elevate both his game and the team.
Prior to the start of the season, Wall vowed to write the word "playoffs" each day on his shoes as a reminder of the goal at hand. But with just two wins through the first nine games grumblings began from fans thinking this was the same old Wizards.
After shooting a career-high 44 percent from the floor last season, Wall came out of the gate struggling mightily with his shot, connecting on just 37 percent of his attempts through November 16. The assists were there (9.1 per game) as were the ever present steals (1.8), but those are two areas fans have come to expect. Since then, Wall has shot at a 45 percent clip, including a three-game stretch against the Raptors, Knicks, and Lakers where he made 35 of 57 attempts (61 percent) and scored 30+ points in three consecutive games for the first time his career. He was named Eastern Conference Player of the Week for games played from November 18 to November 24. Over the last 10 games the Wizards are 7-3 and Wall's scoring has increased from 16.1 per game during the first nine to 22.7, while his assists (9.2) have remained constant. He's also seen an uptick in steals (2.7).
An area Wall has added to his game this year, and the confidence shows, is a more reliable three-point shot. The 22 he's made so far are more than the previous two seasons combined. Currently sitting at 32 percent, Wall is never going to be confused with Stephen Curry from behind the arc, but compared to 27 percent a season ago it's an improvement. It's never going to be a major component of his arsenal, that's not his game. All he has to do is make enough to keep defenders from playing too far off, because the closer they get, the better to utilize his lightning quick first step.
So far this season, among point guards, Wall ranks fifth in points (19.6), fourth in rebounds (4.4), second in assists (9.2), and fourth in steals (2.26). Then, there are moments like this.
There's not much John Wall isn't doing on the court right now for the Washington Wizards. With Bradley Beal currently out with a stress injury in his leg and Martell Webster (ankle) and Nene (foot) both picking up injuries Friday against the Bucks, Wall may be forced to carry even more of the load in the near future. Three pieces of the bench rotation in street clothes might be too much for the team to overcome in the short term. On the other hand, the way John Wall is playing at the moment you never know. He seems willing and able to put the team on his back, and that's what you want from your star player.
Image courtesy Keith Allison/Flickr