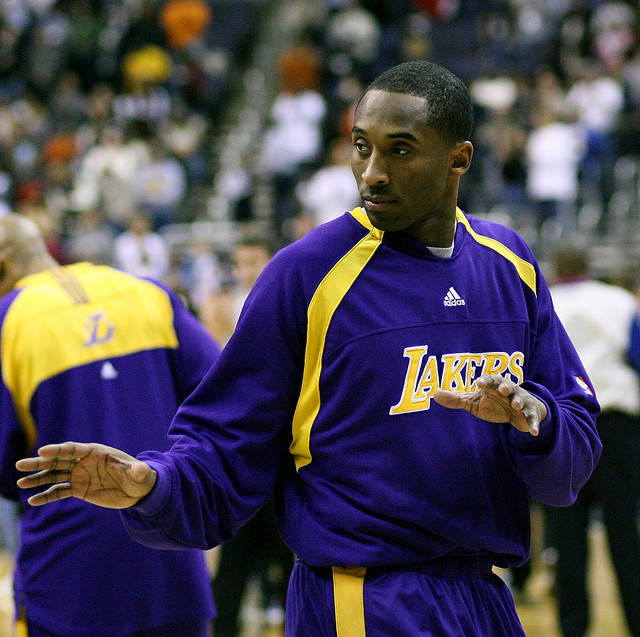 The Toronto Raptors and Los Angeles Lakers game last night was bigger than usual. All season the Lakers have been a pretty fun team to watch, but it's just not the same without Kobe Bryant. Luckily enough for the Lakers, Kobe made his highly anticipated season debut in last night's game.
This game was nationally televised on NBA TV so millions of NBA fans watched to see if the legendary Kobe Bryant would look like his old self or just look plain old. Bryant has been out for almost eight months, but you never know with Kobe. He could have either dropped 50 points on the Raptors or he could have looked like a 35-year-old player who hasn't played in eight months. Unfortunately for Lakers fans and NBA fans in general, he looked like the latter.
In his return, Kobe played 28 minutes, scoring only nine points on 2-for-9 shooting from the field. As those numbers might suggest, Kobe didn't play like his normal self. When has Kobe Bryant ever taken nine or fewer shots in 28 minutes? My guess would be never. Right from the opening tip it was clear that he wanted to be more of a facilitator than a scorer, probably just trying to ease himself back into playing at a high level. He also had 8 rebounds, 4 assists and 2 steals, but that wasn't enough to defeat the Raptors.
Not too long before this game started, it was reported that Raptors small forward Rudy Gay had been traded to the Sacramento Kings. The deal also sent Toronto players Quincy Acy and Aaron Gray over to the Kings so the Raptors were left with only two legitimate big men, Amir Johnson and Jonas Valanciunas (Tyler Hansbrough is out with a shoulder injury).
One of those two players really stepped it up, having a career night while also trending worldwide on twitter so congratulations to him on that as well. Amir Johnson, born and raised in Los Angeles, was in beast mode last night. He scored a career-high 32 points to go along with 10 rebounds and 2 blocks on an amazing 14-for-17 shooting night. Amir has been the heart and soul for this team over his five seasons in Toronto and after getting off to an irregular start to the season, he has really started to turn it on and looks like the Amir of old. Over the last three games he is averaging 23 points and 9 rebounds per and has probably won back his starting role.
Johnson was the MVP of this game but two other Raptors played extremely well in this one. DeMar DeRozan bounced back and continued his great play after a terrible night in Phoenix. He had 26 points, 5 rebounds, 5 assists and 2 blocks on 8-for-19 shooting from the field. Kyle Lowry had 23 points, 8 assists, 5 rebounds and 3 assists on an impressive 8-for-13 shooting night.
Other than those three guys for Toronto, nobody else stepped it up. The Raptors were in control for most of this game but when Dwane Casey took out four of the five starters in the second quarter, the Lakers roared back and made it a four-point game at the end of the first half. That run was made by the always impressive Lakers bench, who destroyed the Raptors reserves. If Kobe actually played to half of his ability, the Lakers would have won this game; the Raptors shouldn't get too excited about this win.
So Kobe Bryant finally returned and looked mediocre. NBA TV played the 81-point game from Bryant before this game started so they were almost hyping his return too much. I'm not sure if people were really expecting a 35-year-old player who has been out for eight months to come back and be spectacular right away but you shouldn't have. Kobe will still be Kobe but it will take time before he looks like his old self, so give him a few months before you proclaim he's old and washed up.
Next up for the Raptors are the always great San Antonio Spurs on Tuesday. Despite their age, the Spurs are still championship contenders and somehow they are still right near the top of the standings. This will be a tough game for Toronto despite playing at home. The Raptors will look to point guard Kyle Lowry to match-up against Tony Parker and use his size to slow Parker down, which is not an easy task against one of the league's best.
Image courtesy of Keith Allison/Flickr