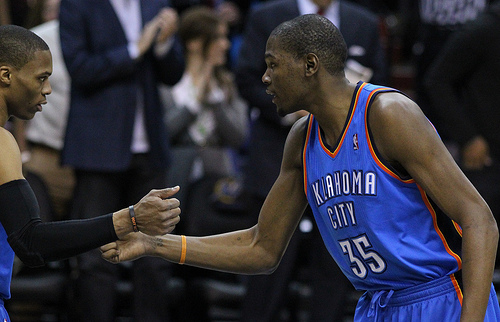 Maybe it was jet lag. Maybe it was the last game of a grueling five-game road trip out west. Maybe it was a lack of defense. Maybe it was that the Oklahoma City Thunder are just that good. Or, maybe, it's a combination of all of those. Whatever the reason, the Indiana Pacers found themselves manhandled like an Oklahoma calf Sunday night in a 118-94 loss to the Oklahoma City Thunder in Chesapeake Energy Arena.
By late in the third quarter, Indiana found themselves down by 30 points, rode hard, and put away wet. If the Pacers win in San Antonio was like the Alamo, then tonight's loss was like the shootout at the O.K. Corral—and shoot (among other things) the Thunder did, very, very well. To the tune of at least 28 points each quarter, shooting 61 percent from the floor for the game as a team and out-rebounding the vaunted Indiana defense by 16 boards on the defensive end.
Individually, it was the Kevin Durant and Russell Westbrook show. They treated the basket like a clay pigeon at the end of Doc Holiday's gun, with 36 and 26 points, respectively, and Durant left with over four minutes left in the game. It was a clinic on well-executed, systematic offense by a talented and energetic Oklahoma City team.
Indiana, on the other hand, shot a meager 41 percent from the floor and only had 13 assists as a team. Paul George had his usual stellar night with 32 points and 5 rebounds, but he could not offset the torrid shooting and faced paced game that the Thunder brought on this night. The Pacers seemed stunned from the end of the first quarter onward.
This was a classic thrashing in nearly all aspects of the game. It should be a long time until the blue and gold forget this one. They will undoubtedly mark Sunday, April 13, 2014 as a payback date as Oklahoma comes to the Bankers Life Fieldhouse for a rematch.
The Pacers fly back tonight to Indianapolis and will face the Miami Heat on Tuesday, marking the end of the most difficult part of their young schedule. We will see if the blue and gold can get the buckshot out of their wounds and recoup before the defending world champions come to town. 18-3 is not a bad record, and 3-2 on that particular road trip is nothing to sell their horse and saddle over, but current records and past wins do not beat anyone.
Coach Frank Vogel will have them ready. Game 7 of the 2012-13 Eastern Conference Finals is still fresh in their minds. This one isn't going to be the playoffs, but it will no doubt be memorable.
Image courtesy of Keith Allison/Flickr