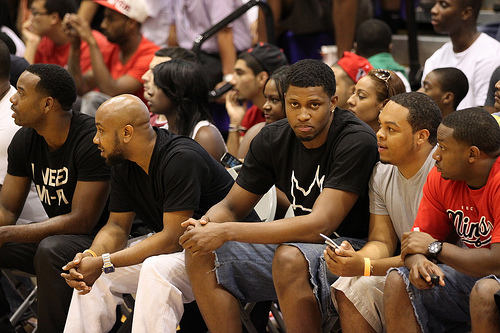 The success of a trade is ultimately determined by time, but in the present it can be weighed on the scales of risk and reward.
Sunday, the Sacramento Kings reportedly finalized a seven-player trade with the Toronto Raptors centered on Rudy Gay and Greivis Vasquez. As it stands, the scales seem to be balanced for both teams since neither has taken considerable risk in pursuit of the deal's potential rewards.
Over the last year, Rudy Gay has become the poster-child victim of the advanced sabremetrics movement in the NBA. In a league becoming more and more dominated by an obsession with efficiency, Gay's abominable shot selection paired with his max-contract brought him under fire. As fate would have it, the Memphis Grizzlies front office was taken over by the face of the NBA statistical revolution, John Hollinger, the former ESPN analyst famed for creating a statistic that measures efficiency.
Last season, Gay was shipped off to Toronto – where he recently (hilariously) banned stat sheets in the locker room – to play for the Raptors before new general manager and similarly statistically-inclined Masai Ujiri found a suitor for the forward, which is where we find ourselves today.
Gay's downfall and whirlwind of movement in the last calendar year incites an understandable knee-jerk reaction to condemn the Kings for taking him on, but the trade is a success for Sacramento whether Gay performs well or not.
For starters, they rid themselves of John Salmons, Chuck Hayes and Patrick Patterson, all of whom have contributed little or, in the case of Salmons and (sometimes) Patterson, even been detrimental because of the number of minutes they've received. No one's to blame with the roster the Kings had, but 24.7 minutes of Salmons is at least a few too many.
Vasquez's distribution and mentality will surely be missed – he was selfless on the court and brought professionalism and leadership to the locker room – but his departure allows Isaiah Thomas to finally get a chance in a leading role. Other than DeMarcus Cousins, Thomas has been Sacramento's best player this season, seemingly single-handedly keeping them in games and preventing blowouts on numerous occasions.
He leads the league in points per game off the bench and now he'll get an opportunity to showcase his talent as the team's starting point guard.
That's what the Kings gain simply from what they've given up in the trade. What they receive is a double-edged blade.
In Gay, they get an inefficient player who still tries to play like the superstar he isn't. He will have to be reined in by the coaching staff if he's to have a sizeable impact, but he's a player with the potential for impact nonetheless. He adds athleticism to a team that's lacked it for years, something that was a key factor in the recent acquisition of Derrick Williams.
According to Marc Spears of Yahoo! Sports, the Kings intend to put Gay at power forward, which may help limit the amount of shots he takes, particularly those that are so clearly out of his range.
Sacramento general manager Pete D'Alessandro has been billed as forward-thinking and was an assistant under Ujiri, so I can't imagine he's getting duped in this trade like some may assume, or that he's expecting Gay to be the superstar that arithmophobes around the league see him as.
If the Kings can successfully confine Gay to areas where he's effective offensively, the trade may prove a huge get, but realistically that's unlikely. On one hand he'll be the second or third offensive option behind Thomas and Cousins, which could naturally stifle his offensive ambition; but Gay is 27-years-old and it's more reasonable to expect that he is what he is, with little chance of him having an epiphany.
Who knows? Maybe being traded for a second time in less than a year will prompt him to change his ways, but I wouldn't bet on it.
If Gay doesn't change, then the Kings are potentially on the hook for about two years, $37 million. (There's a chance Gay, who has a player option for next year, could opt-out in the summer in hopes of getting one last big, long-term contract.)
But how much of a risk is that for Sacramento, which has no plans of contending in the next two seasons? Suppose Gay doesn't perform, where does that put the Kings other than where they are already heading now?
They'd still have a high first-round pick in a monster draft class this year. Gay would be off the books before said draft pick or Ben McLemore were up for extensions, so they'd have flexibility when it matters most. (Admittedly, committing to Gay will likely limit their ability to make moves over the next two years, but they still have movable pieces in Jason Thompson, Marcus Thornton and Jimmer Fredette that can provide some return.) Overall, the potential of Gay failing doesn't do much to alter Sacramento's course.
As for the Raptors, they get the benefit of ridding themselves of an overpaid player that isn't part of their future, as well as cap relief.
Hayes is the only player going to Toronto in the deal that they're committed to beyond this season. Vasquez and Patterson are restricted free agents that the Raptors can refuse to give qualifying offers to, freeing them of financial commitment, and Salmons can be bought out for $1 million following this season.
Best case, they like Vasquez and decide he can be their future floor general. Worst case, they part ways with the three players after this season, giving them considerably more flexibility than they had six months ago, with Andrea Bargnianni and Gay on the roster.
The long-term rewards aren't astronomically high for either team, but the risks are minor and both have guaranteed themselves some gain simply by pulling the trigger on the trade.
Gay's involvement will give it some flash, but ultimately the trade isn't all that sexy.  Rather, it comes across as low-risk, moderate-reward for both teams.
Read Chris Deveaux's take from the Toronto Raptors' perspective here.
Photo courtesy of GAMEFACE-PHOTOS | Flickr