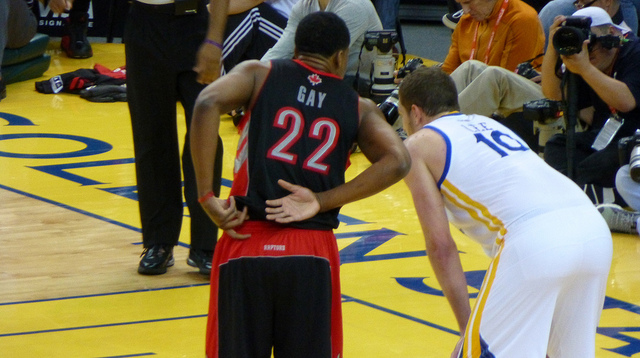 Many NBA analysts considered Rudy Gay an impossible player to be traded with his terrible contract – almost $18 million this season with a player option next season worth over $19 million. With Gay almost certainly picking up that option, his contract is quite possibly the worst in the league, with his unbelievably selfish play and horrid shooting percentages.
So maybe the impossible has happened. Toronto Raptors general manager Masai Ujiri traded Rudy to the Sacramento Kings alongside Quincy Acy and Aaron Gray. In return, the Raptors get point guard Greivis Vasquez, forwards Patrick Patterson, John Salmons and Chuck Hayes. In a move that was made to shed cap space for the Raptors, it could have actually made the Raptors a better team.
Gay is seemingly the most talented player involved in this trade, but with Rudy off of the Raptors, Toronto could win more games, based on Rudy not taking 20+ field goal attempts per contest. Rudy Gay is a ball hog, plain and simple. The Raptors will now win more games without him, or at least be more cohesive because they will play as a team and not run isolation plays every other trip on offense.
On the surface this seems like a trade that would make Toronto lose more games. Their most talented player is now not on the team, which usually makes a team worse. However, like what was said above, this trade could ultimately make Toronto better, something that Masai Ujiri is probably not hoping for. The 2014 NBA Draft is stacked with talent and Ujiri is likely hoping this team plummets to the bottom of the standings so they can get a great pick.
Raptors fans have to be rejoicing over this news. The team is clearly going in a rebuilding direction and Gay was only making them a treadmill team. His enormous contract was the dark cloud over that rebuild because it would have handcuffed the Raptors for the next two seasons in terms of making trades and signing free agents.
The contract situations benefit the Raptors more so than the Kings with only one player signed for next year coming over from Sacramento. Chuck Hayes will make $5.9 million next season and John Salmons has a $1 million buyout for a non-guaranteed $7 million contract for next season. The other two players, Vasquez and Patterson, are both free agents at the end of the year so Ujiri can decide not to re-sign them, leaving a lot of cap flexibility.
Ujiri made a huge impact right away this past offseason when he traded Andrea Bargnani to the New York Knicks. Bargnani, much like Gay, had an extremely undesirable contract, but somehow Ujiri was able to move it, however, he was last season's NBA Executive of the Year for a reason; the man gets deals done. Remember the Carmelo Anthony trade while Ujiri was with Denver Nuggets? Even though he can't say it, Masai's vision has to be tanking for the upcoming NBA Draft, or quite possibly making more deals to get picks before the trade deadline.
It's unclear how well Rudy will play for the Kings. He could either change his ways under a better coach in Mike Malone or still continue to jack up "hero ball" shots. Both DeMarcus Cousins and Ben McLemore's development could take a serious hit since they'll likely get the ball less, something nobody wants to see. It might sound crazy, but Rudy Gay could find himself on the trade block again next season when he starts to show Kings fans and management who he really is. Raptors fans thought he was a star, but got a serious wake-up call this season. The Kings will probably find out the same thing pretty quickly.
We won't know for certain whether or not Rudy will thrive or flounder with the Kings until he plays for them. However, there is one thing you can count on. Unless a miracle happens, Gay will continue to take 15+ shots a game and will shoot less than 50 percent in all of them.
Miss you already Rudy.
Read Steven Covella's take from the Sacramento Kings' perspective here.
Image courtesy Heel Sports/Flickr