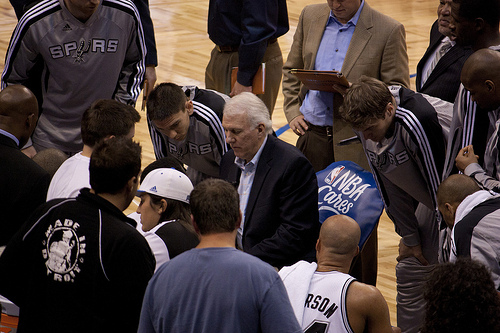 It had been over a decade since the Indiana Pacers were able to win on the road against the San Antonio Spurs. For the first 13 minutes of the game Saturday night in the AT&T Center, the visiting Pacers must have felt like the Texans during the Battle of the Alamo, with the Spurs playing the role of Lopez de Santa Anna.
Indiana was able to turn the tide, and the battle turned into another rout as the blue and gold won handily, 111-100. San Antonio made a run late in the game, but it was too little, too late.
Early on, however, the Pacers were at the mercy of the Spurs, who seemed to grab every rebound and hustle for every loose ball. They led by as many as 13 very early in the second. But after that point, San Antonio seemed to disappear.
By halftime, the Pacers found some energy. Paul George and David West played some inspired ball, leading to a 52-48 lead at halftime. The blue and gold scored 32 points in the quarter, fueled by some very impressive defense and timely buckets by both George and West.
Indiana's blitzkrieg continued immediately after the break, and by the nine-minute mark of the third, they were up by 14 points and the game was all but over. The Pacers built as much as a 26-point lead several times throughout the fourth. It was an impressive win for a team that has taken a lot of criticism for building a gaudy record mostly against inferior teams.
The Pacers had a balanced attack. Six players finished in double figures, led by PG's 28 points on 9-for-14 shooting. C.J. Watson played significant minutes and was a spark for the Pacers in the third quarter. As a team, their 111 points was a season-high, as was the 53.5 shooting percentage. They finished with only 14 turnovers, which is a marked improvement from where they were after the first five games of the season.
Many people felt this road trip would be a defining trip for this team. This was an impressive win, and they are now 3-1 with one more game against the Oklahoma City Thunder.
Now those individuals who believed the Pacers have played a soft schedule will have to find some other reason not to cheer for this exciting team. Meanwhile, the Pacers just keep on winning, which is the cure for all that ails.
Image courtesy of Mike-RMTip21/Flickr