Notable Newcomers
Let's start with Dallas Mavericks stunner Dennis Smith Jr. who, as I (re)write this paragraph, just literally rolled his goddamn ankle during a Mavericks preseason contest against the Atlanta Hawks (their second-to-last preseason game, I might add). While it looked painful, word is that it's not too serious since he walked off the court on his own power. Sure, this made Dallas pucker a little in the rear since the 2017-18 season is supposed to be the Year of DSJ, his extravagant hype thicker than LaVar Ball's ego. Smith started turning heads during Summer League where he averaged 17.3 points, 4.8 rebounds, 4.2 assists, and 2.2 steals which lead to him winning a coveted spot on the All-Summer-League 1st Team. Whispers of "Rookie of the Year" started to circulate throughout the league with some heavy hitters as they eyed Smith's style and drive. It also helps that God Shammgod, Smith's mentor since he was a 10th-grade student, is the Mavs assistant coach.
Rookies aside, let's talk about one of the biggest chess moves in the league: Chris Paul joining James Harden in Houston . While it's clear that the dangerous backcourt pairing will help the Houston Rockets nab the Southwest Division crown, will it help Houston nip at the heels of the Golden State Warriors in the West? HAHAHAHHAHA, what? Of COURSE not. Dear god no. Houston had to give up, well, a balls load to obtain one of LeBron James' infamous banana boat companions including Sam Dekker, Patrick Beverley, Montrezl Harrell, Lou Williams, a 2019 first round pick, and probably the television rights to all of Harden's sassy sideline interviews.
Moving over to Gregg Popovich and the San Antonio Spurs, who are known to slither quietly in the grass with Manu Ginobili, Pau Gasol, and Patty Mills, decided to add on known Sacramento Kings P.O.W., Rudy Gay. Gay is known to be a playmaker and under Pop's guidance, I believe the acquisition can be relatively big.
The New Orleans Pelicans? Yeah, it'll be like the second coming of The Iceman Cometh in the Southwest Division with the acquisition of Rajon Rondo. Sigh. Yes, yes, he'll join former Sacramento Kings teammate DeMarcus Cousins there and make… well, resting bitch faces with him at the cameras.
*The Memphis Grizzlies wave in desperation to try to get noticed* Tyreke Evans and Ben McLemore? No, you go back into the corner and stay there until you stop sniffing around the Kings' leftovers – not everyone can be IT, people.
X-Factors
Dallas Mavericks: Dirk Nowitzki. Head coach Rick Carlisle made the decision to move the Big German to the 5 spot and have Nerlens Noel (who showed flashes of Tyson Chandler talent) come off the bench, much to the surprise of everyone. The important thing is that he remains healthy and drink his ensure shakes (bro is entering his 20th season and is still one of my favorite people on the face of planet earth). Most thought going into this season that it would be Noel manning the paint with Dirk on the wing, but Carlisle made it clear on Media Day that that scenario won't be the case to start the season. I wanted to put Noel in this slot with his abilities as rim runner and rim protector, but the offseason proved to be randomly chaotic so I question where exactly his head remains.
San Antonio Spurs: Gregg Popovich. Because it's always Pop, whoever is on his fucking team. He could pull random fans out of the crowd, put them in the game, and those fans will manage to make the All-Division Team. You know it to be true, don't deny it or the power of the Pop – that's just insulting.
New Orleans Pelicans: The Frontcourt. Anthony Davis and Cousins are clearly the leaders of the Pelicans and we all know that they're a powerhouse duo if the roster is set up properly around them. Also – Rondo can't come into the locker room and mess with the vibe there. Thankfully, this isn't like 2014-15, so I do believe he'll at least attempt to make an effort on the court and not frost up (clearly, I still have some unresolved issues that pertain to him).
Houston Rockets: Freaking Teamwork. While we get that the Houston Rockets are now the prettiest girls at the prom this year, if they want to win the Southwest Division, they can't go all Mean Girls on us with their two biggest names. With Paul joining Harden in the backcourt, we can rest assured that we will be witnessing something massive, but only if they get the fact that they literally need each other to win.
Memphis Grizzlies: We all know that it's Mike Conley. We've watched him struggle with his shot during this preseason but he's been able to make up for it with his assists and production on the boards. Other than Marc Gasol, Conley is the most known on the team and will end up being the focal point this 2017-18 season.
Bold Predictions
Dallas Mavericks:
In TJ's Head: HC Rick Carlisle drinks one too many vodka tonics and sets a five-guard line up three weeks into the regular season with a cardboard cutout of J.J. Barea at the 5.
An AARP membership card magically appears in Dirk Nowitzki's wallet in January.
In Real Life: Dennis Smith Jr. equals ROY… if he stops rolling his damn ankle.
San Antonio Spurs:
In TJ's Head: Gregg Popovich will punch Donald Trump square in the face in January and be awarded the Nobel Peace Prize.
In Real Life: Even though they flew quietly under the radar during this past offseason, the Spurs will NOT be up to their old tricks. This year, they will actually be testing the waters of a small-ball line up (something Pop avoided in the past) with Pop rationing Gasol and Aldridge's playing time. Small ball is a young man's game, as we all know, and Pop finally has the tools to work it in San Antonio. Also, coming off of his thigh injury, Kawhi Leonard will move to the 4 in order to soak up frontcourt minutes, and the move would create more playing time for the wings.
New Orleans Pelicans
In TJ's Head: Boogie says "fuck this shit" and comes over to Dallas after the season has wrapped.
In Real Life: Boogie says "fuck this shit" and goes to mope at the end of the bench after flipping off a camera because a referee happened to point at Boogie's socks. The Brow has to carry the team on his back like usual.
Houston Rockets
In TJ's Head: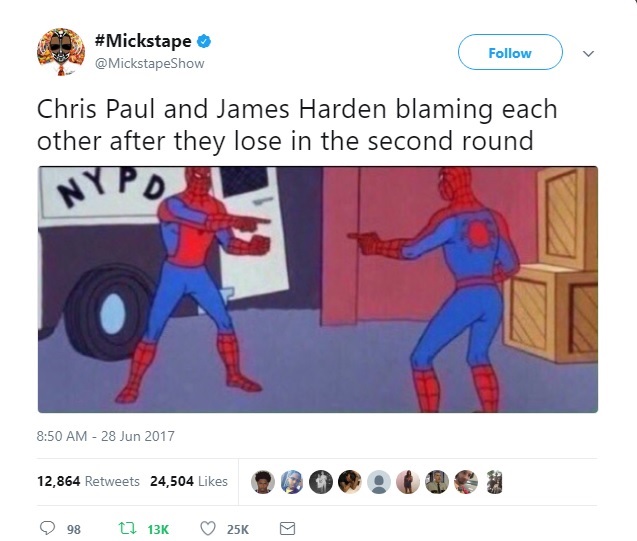 In Real Life: The Rockets will take the division but, yes, like the tweet says, will be knocked out during the second round because Harden refuses to let Paul bring the ball up. Both are divas, but both can't be Beyonce and they know this all too well.
Memphis Grizzlies
In TJ's Head: "I'm still here?" – Chandler Parsons
"Yeah, seriously?" – all of Memphis
In Real Life: The Grizzlies will fly under the radar like a couple of weak kids in a Hunger Games book who just hide and let everyone else kill each other before sneaking away with a playoff seed, which will have everyone saying, "Hey, I forgot you were still here". Marc Gasol and Mike Conley HAVE made the playoff for seven straight seasons, so you never know.
All Division Team
PG: Chris Paul, Houston Rockets
SG: James Harden, Houston Rockets
SF: Harrison Barnes, Dallas Mavericks
PF: Anthony Davis, New Orleans Pelicans
C: DeMarcus Cousins, New Orleans Pelicans
Predicted Standings
Houston Rockets
San Antonio Spurs
New Orleans Pelicans
Dallas Mavericks
Memphis Grizzlies