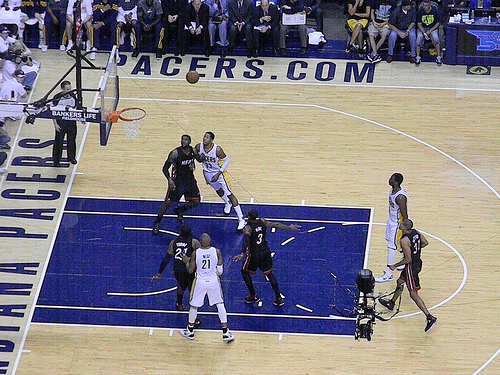 In a game that the Indiana Pacers have seemingly been waiting for since the start of the season, the blue and gold showed some impressive play and determination during the second half and took care of the Miami Heat at Bankers Life Fieldhouse, 90-84. They placed themselves behind the proverbial eight-ball during the first half, trailing by as many as 13 points before being able to pull even with about eight minutes in the third, and then never looking back.
Miami looked very impressive from the start, running offensive sets at will, double-teaming Paul George, and taking advantage of a plethora of Pacers turnovers to run out to a seven-point halftime lead. The Heat were focused and determined to take it to Indiana at home in the first half. LeBron James had help with Paul George for most of the half, and held him ultimately to two points. Dwyane Wade seemed to be slowed somewhat by an ailing knee, but still managed to do some damage with timely defense and good floor presence.
Then, as it has been with Indiana all year, the third quarter came and they had energy effort that just wasn't present in the first half. They buckled down on LeBron, who only had nine total points over the final 32 minutes of the game. Paul George began to find open space and Roy Hibbert played like a man possessed, scoring 24 points. Miami had no answers for the big fella, really. With no one big enough to stop him, Hibbert scored at will.
Indiana's turnovers almost cost them the game. They averaged nearly 20 per game against the Heat in the seven-game series last year and tonight was no different. Miami has a knack of applying solid pressure defense and forcing teams into bad decisions or bad shots. That's one reason they've won back-to-back world titles. Indiana finished with 21 turnovers, something they seemed to have dealt with in the past weeks. Nonetheless, it didn't cost them the game.
This was a statement game for Indiana. The taste of the Eastern Conference Finals loss in May still lingers in their minds. They have spoken about it publicly, tweeted about it, and have used it as motivation and fuel for this season. The Miami Heat better get with the program that this is a rivalry or the current three-game lead the Pacers hold in the conference will turn into a number much, much larger by the end of the year.
Teams do not win championships in December. But they can lose one. They can lose their edge, their focus, and their drive on the big picture. The home court advantage that is so precious against teams like Miami can slip away with a prolonged lack of focus. Indiana has shown no signs of letting off the gas pedal and their passion seems just as intense as it did when the season began. The quality wins are beginning to pile up for this team and that will do nothing but build confidence throughout the year.
Oh, it's a rivalry all right. We'll see how big a rivalry next week when Indiana visits Miami for the rematch. Maybe by then LeBron will have seen the light.
Image courtesy of Martupelis/Flickr