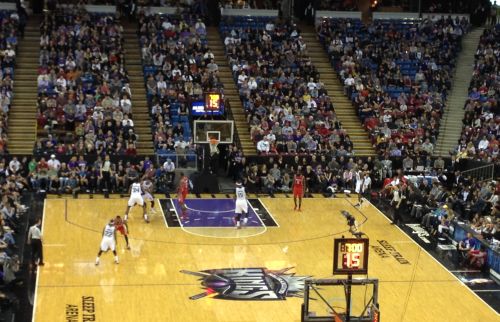 Rudy Gay and the Sacramento Kings weren't able to launch their partnership with a win Friday, but they got liftoff Sunday against the Houston Rockets.
In his second appearance for the Kings, not much changed in Gay's output, but the team surrounding him improved its production en route to the 106-91 victory over the Rockets.
"I think the guys were up. I think they were embarrassed with how they played last game and how we haven't defended anyone recently," Michael Malone said. "To come out, in Rudy's home opener … we played with great energy and had our antennas up. That's a very good team over there."
On the offensive end, the Kings continued to impress with the new assets, with multiple players claiming afterward that the game comes easier having someone of Gay's caliber on the floor.
Along with Gay, Isaiah Thomas worked to simplify the game for his teammates. The Kings point guard has excelled since taking over the starting role and Sunday night wasn't any different.
Per usual, Thomas probed the opposing defense before getting comfortable and once that happened, Sacramento's offense gained rhythm and momentum. Thomas zipped around the halfcourt, attacking the rim and frequently dished to teammates after drawing the defense's attention.
Sunday marked the fourth time in five games since the latest trade was announced that Thomas has registered at least seven assists; he finished with eight assists along with 19 points against the Rockets.
"I'm getting more of an opportunity and more minutes, so I'm understanding different situations. Me and coach (Malone) have been having great talks about what I see and what he sees," Thomas said. "Adding a guy like (Gay) – you have to play defense on him – so you have to pick your poison. Either you're going to try to stop DeMarcus (Cousins), Rudy or me and then others have to step up."
Aiding the Kings on both ends of the floor was Houston's thin frontcourt, an issue compounded by foul trouble.
Dwight Howard picked up a second foul which sidelined him early in the first quarter, and then a third with just one second left in the first half. With Howard on the bench, the opportunity arose for Quincy Acy, among others, to see the floor for Sacramento.
"When they take Dwight out, they play so much small ball. They'll have lineups when Dwight's out where they'll have one big and four smalls – like Omri Casspi at power forward," Malone said. "I felt the matchup, the speed of the game, how they play, Quincy would be able to go in there and give us some great minutes and I thought he did that."
The Rockets came into Sunday night's matchup sporting the third-ranked offense in the NBA, but with Jeremy Lin out, Howard playing in spurts and the Kings' strong defensive performance, Houston left unfulfilled. Particularly in the second half, Sacramento frustrated Houston players, causing them to make a number of errant passes.
After the game, a simple stat line scribbled on the locker room whiteboard said it all: 41.3 percent from the field, 25.9 percent from three and 91 points.
"The challenge to our guys was, that's two games where we gave up 119 and well over 50 (percent) from the field and the three and we can't beat anybody like that," Malone said. "We each have to look in the mirror and be embarrassed about it, but have more pride defensively. … And when we defend like that, like we've shown all year, we become very good offensive team and a tough team to beat."
Now the Kings head to the East Coast for a four-game road trip, their longest of the season thus far. With so many new players, concerns that such a trip could hinder acclimation may arise, but Malone isn't worried.
"Sometimes going on the road helps build chemistry because it's just your guys in a hostile environment. I told the players, 'This is a business trip. We got four games in five nights out east,'" Malone said. "I think it's a great opportunity for us to go on the road, get together and create that chemistry – not just on the court, but also off the court."