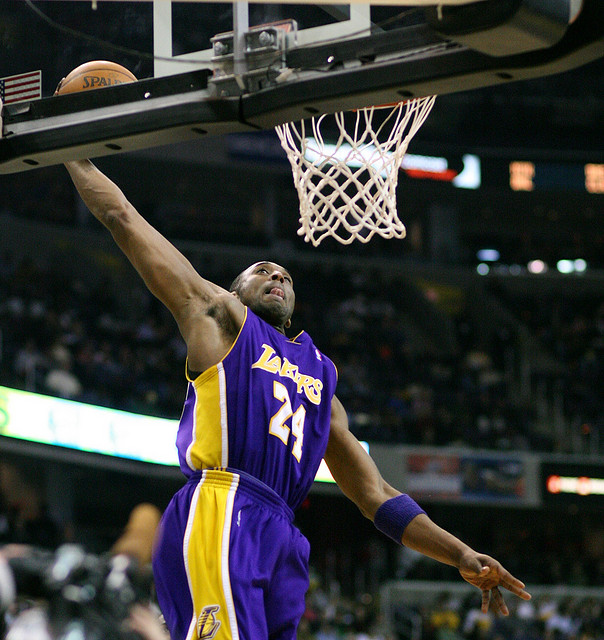 The Los Angeles Lakers struggled on this road trip but managed to a pull out a victory in Tuesday night's matchup against the Memphis Grizzlies.
The game started out with two fast turnovers at the hands of Kobe Bryant, who finished with four turnovers in all. At the end of the night, the Lakers had 14 total, and the only player who never gave up the ball was Robert Sacre, who played 18 minutes scoring five points (all from free throws).
The Lakers kept up the fast pace coach Mike D'Antoni has preached all season while adding a twist that led to most of their points being scored in the paint. Pau Gasol exhibited this more than anyone, and was tied with Bryant as the team's leading scorer with 21 points on 60 percent shooting. It was good to see Gasol show off his inside game and work for the high percentage shot.
While many lauded Gasol's play at the end of the game, it's impossible to ignore a glaring fact: all nine of his rebounds were defensive rebounds, shining an even brighter light on his lack of offensive rebounding. It also should be mentioned that Bryant worked hard to serve up a few of Gasol's buckets on a silver platter.
Nick Young gets a ton of credit for this road win as well. He came off the bench, knocking down 3-of-6 three-pointers and scoring 18 points on the night. The only people who shot better than Young were Bryant and Gasol.
Jordan Hill was a non-factor in this game, since he got into early foul trouble. D'Antoni went with Sacre, who had three rebounds and three blocks to go along with his five points.
There were a couple of scary moments during the game, like when Bryant went down clutching his knee. Also, during one of his breaks, Bryant headed back to the locker room, but it turned out it was just to keep him warm. Last season, getting cold while sitting was something that the NBA vet said had bothered his knees. In the post-game interview, D'Antoni revealed that they had a hot yoga studio back there where the Black Mamba could keep loose.
All of this said, it was a good win for the Lakers, especially considering it was the second back-to-back road games. They played good defense against the Grizz, especially when Sacre was on the court. Zach Randolph had 18 points and 16 rebounds, but it just wasn't enough to keep the Lakers at bay.
TAKEAWAY
The Lakers kept up a fairly fast-paced game, and didn't seem too tired from it, including Bryant who played 32 minutes. Also, the collective effort on defense to clog the paint was refreshing. However, their excessive turnovers continue to be very problematic.
Image courtesy of Keith Allison.