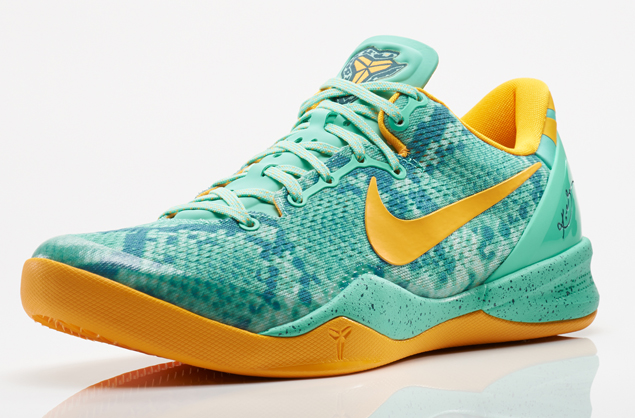 Leroy Green got the glow in the 1980s B-movie classic "The Last Dragon", and considering his allegiance to Bruce Lee, it wasn't all that surprising. Just like "Bruce" Leroy Green, Kobe Bryant has the glow in a different kind of fashion — particularly in his Nike Kobe 8 System "Green Glow" sneakers.
Following the usual serpentine theme that The Black Mamba himself has co-signed for years, the Green Glow is sure to make sneakerheads and ballers alike green with envy for a number of reasons that you can ascertain below (courtesy of Nike):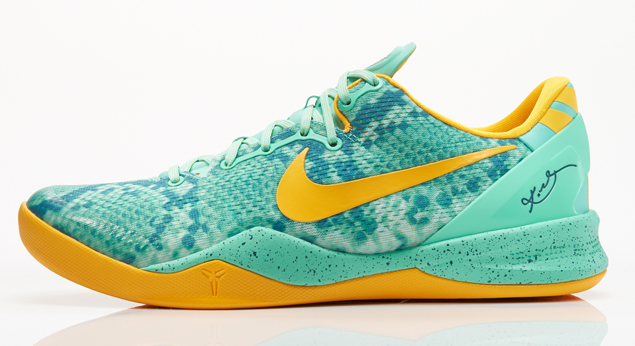 Like Kobe himself, his signature shoe is constantly evolving to up its game. The latest version, the Nike Kobe 8 'Green Glow,' features a striking new colorway that combines Green Glow on the upper and midsole with touches of Mineral Teal and Laser Orange. But the trademark snakeskin pattern (this time in a photo-realistic style) and lightweight cushioning remain.
Add a new dimension to your game when the Nike Kobe 8 'Green Glow' drops Friday, December 20th on Nike.com