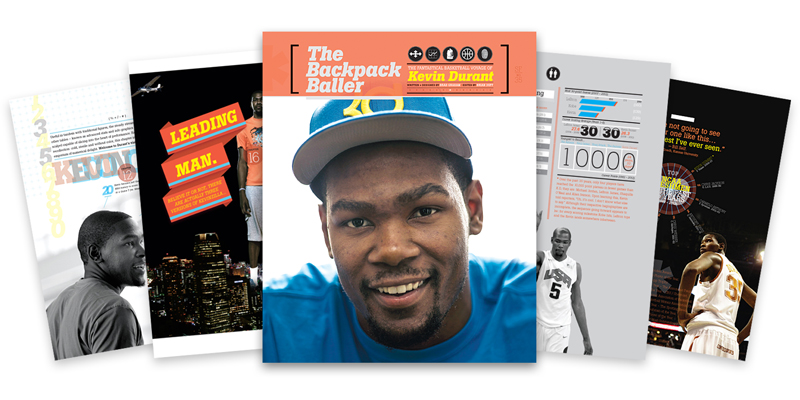 One of the greatest players the basketball world has ever seen is Kevin Durant.
A phenom from high school through his historic lone collegiate season at the University of Texas to his tenure as a Seattle SuperSonic/Oklahoma City Thunderer, the player affectionately known as "KD" has been shown himself to be a one-of-a-kind talent in the sport's history — and he's only just turned 25.
Also one of the most inspirational figures in basketball, Durant has set a new standard about what it can take to reach the highest level of sport, and he's inspired one man to write a book.
Titled The Backpack Baller, NBA columnist & graphic designer-turned-author Brad Graham has sought to give the world Durant's full in-depth story with player and personal accounts, metrics, and a wide-spanning look at KD's entire career. A Kickstarter campaign, The Backpack Baller is an exclusive find. If you pledge for the book, you'll get an opportunity to get your name printed in the book and an opportunity to score your own copy.
Here at Baller Mind Frame, we're honored and delighted to give you these exclusive images and a lengthy excerpt of The Backpack Baller, found only at BMF, which you can peruse below.
Chapter 16: Leading Man.
Having built significant clout online (before Kobe or LeBron joined the party), Kevin's rise as a bankable endorser occurred in tandem with the mobile device advancement. Whenever he posts a comment, a nation of followers (5.2 million on twitter alone, and counting) notice. He may be able to roam freely "where the wind comes sweepin' down the plain" but as an early adopter of Jack Dorsey's micro-blogging movement, it isn't hard to track his location. By October 2012, Kevin had become one of the 250 most followed (and by default, popular) people on the planet.
After LeBron James and Yao Ming became the children born under the internet sun, Durant captained the social media movement as the first basketball megastar to live in the digital cloud. In 2012, Klout, a popular digital tracking service which measures online influence, had Kevin next to global dominators Serena Williams, Michael Phelps and Novak Djokovic as Twitter's most influential Olympic athletes. When ESPN started their weekly Cross-Sport Power Rankings, Kevin's name topped the charts three times and in late 2012, ESPN: The Magazine awarded the Thunder their "Best Franchise" in sport honor — with K.D instrumental to that happened as well. In a related story, the Portland Trail Blazers finished 81st.
Once assuring, well, everyone, Kevin said, "Twitter is a place where I can let people know what type of person I am." And although he rarely creates controversy — besides calling Chris Bosh a "fake tough guy" before acknowledging, "Maybe I shouldn't have said it" — Durant has exchanged jabs with Hip Hop artist Lil B and dropped coded messages about his first love, Monica Wright. However, the Thunder forward is pragmatic, highly concentrated and visibly controlled.
Knowing how to feel about Kevin is easy, the specifics are mostly pre-told or guarded, unlike LeBron, who, in contrast, is an entity that exists out in the open. Point being, many equally exposed A-Listers from entertainment's sphere operate in solitude, given protection by working on closed sets, in studio or backlots — compared to pro athletes who are forced to work and rehearse in glasshouses.
Once able to dodge fame's bullet, Mr. Fantastic is now swamped by autograph hunters and rivers of fans whenever he travels domestically, spends a week in China, represents Team USA, hits the asphalt in NYC, makes a sponsored appearance in his hometown or takes part in All-Star Weekend festivities. Larger than life personalities often like to sound off like car alarms but folks like Kevin have to cautiously navigate their extraordinary circumstances. Regardless of preference, there's nowhere to hide inside the NBA fishbowl. Yet he's the first to concede that, "it's the ultimate blessing to be part of this league and be known as one of the top guys." Happy to serve slices of humble pie, K.D admits, "My mom was happier than I was" in regard to his ESPN R.V ad appearance, a well positioned Home Alone parody that aired nationally.
Yet his bank account continues to boast. According to Forbes.com, from June 2011 through June 2012, Durant collected a combined $25.5 million in earnings from his NBA salary in addition to various endorsements, bonuses, appearance fees, prize money and licensing.
As the Thunder's number of national TV appearances increased, so too did Durant's popularity. One day he was killing time playing table tennis with the boys, the next he was sucked into the corporate vacuum and forced to leave the boys outside. Providing telecommunications giant Sprint with their NBA face, K.D has also: taken Sports Illustrated Swimsuit covergirl Kate Upton to work for Skull Candy; served as ambassador for the Swoosh in their Wieden + Kennedy's anti-Lockout "Basketball Never Sleeps" mini-movie; appeared in a number of stylish G series Gatorade spots; been BIG for the NBA in their Playoff push; sat in the rafters for ESPN's "A Champion Will Rise" Playoff commercial; received a phone call from Napoleon Dynamite (Jared Hess) to promote Fantasy Basketball; bragged how "My better is better than your better" for NIKE and challenged Bear Grylls (Man vs. Wild) on behalf of Degree for Men. In all, Durant had 20 more commercials than Kobe — the highest overall money earner in basketball — during 2012. No wonder collectors cherish his likeness on trading cards and YouTube has over 50,000 Durant-based clips.
His portfolio, an authority without being authoritative, caught up with his on-court talent once the 2011 Lockout was over. If Kobe or LeBron weren't the right fit, or proved to be too expensive, Kevin was the default choice for many on Madison Avenue. Delivering on his many advertised promises has forced publication decision makers to redirect their front page compass settings. Bob Dorfman, executive creative director of Baker Street Advertising and author of the Sports Marketers' Scouting Report said, "he's about as safe an endorser as you can get" and notes, "if LeBron is still too polarizing, K.D.'s your boy." No preconceived baggage has made him the perfect pitchman. Or as Henry Schafer, Executive Vice President of the Q Score Company believes, "focus on his strong family and team values" led to Kevin's marketing might.
Once drafted, Kevin was paid according to the rookie scale — a system of salary based on Draft position — accepting the standard two-year rookie deal (with the third and fourth years optional, as outlined by the Collective Bargaining Agreement amendments of 2005). More importantly, he didn't have to borrow money from mom, or coach, anymore. Thanks to an over-achieving, youth centric roster (and smart book-keeping), Sam Presti put Oklahoma City in a position to more than double Durant's four-year earrings in Year 5. K.D's eligible extension also coincided with the most anticipated Free Agent meteor in basketball history.
As Bill Simmons told best-selling author Malcolm Gladwell in 2010, "Almost on cue, Kevin Durant showed up saying and doing the right things… hugging his adorable mom after every game and inadvertently positioning himself as the anti-LeBron (even if that wasn't his actual intention)."
While LeBron James, Dwyane Wade, Chris Bosh, Amar'e Stoudemire, Dirk Nowitzki, Paul Pierce, Joe Johnson, Carlos Boozer, Rudy Gay and others, drove speculation for 12 months, the Thunder simply ensured their long-term competitiveness by re-upping with their most important player (for $15 million less than New York agreed to give Amar'e). Before the official July 8 signing season commenced, Aaron Goodwin let ESPN.com's J.A. Adande know the deal for his client would hover around $86 million (over five years).
Soon after The Great Free Agent Chase of 2010 was underway, Kevin blogged: "I think I owe it to you all to let you know how it went down and why I handled it the way I did. First off, I've always said that Oklahoma City is a place I want to be and I couldn't imagine not playing for the Thunder. It wasn't a very hard decision… As far as announcing my signing through Twitter, c'mon what else would you expect!?! You all know how much I love social media."
Acknowledging that "LeBron, Chris Bosh and D-Wade, those guys were unrestricted free agents, so there was more hype" Kevin reminded NBA fans "I was just up for a contract extension. That's a big difference".
Jonathan Abrams, a pro-hoops scribe for The New York Times, wrote, "In the era of camera phones and celebrity obsession, Durant is an anomaly. Some of it is based on where he is. Most of it is based on who he is."
For more information, find The Backpack Baller on Twitter, Tumblr, and at [email protected].