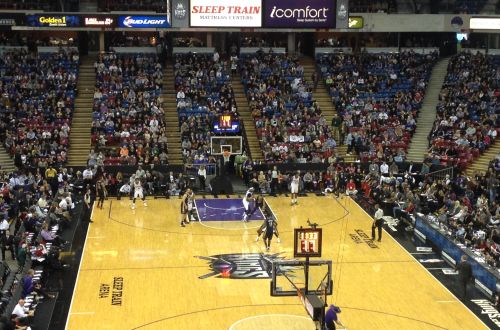 The season of giving is upon us and Monday night both the Sacramento Kings and New Orleans Pelicans were on the receiving end of physical play.
Bodies hit the floor left and right as big men clashed and perimeter players attacked the basket. Both teams likely left Sleep Train Arena with some fresh bruises, but the Pelicans had a 113-100 victory to ease their pain.
The Kings' wounds may be harder to heal. They played the Pelicans tightly for most of the game before getting outscored by 13 and allowing 36 points in the final quarter.
"To allow them to score 39 points—I can't get over that. … 39 points, do you know how hard that is? You know how hard it is to give up 39 points in a quarter? That is embarrassing," said Malone of the 36-point final quarter. "I'm embarrassed. I don't know if anyone in that locker room is embarrassed, but I'm embarrassed."
"Each guy in that locker room needs to start looking in the mirror and owning up and taking responsibility for their play. We don't have a lot of that right now."
Heading into the game, Tyreke Evans' return loomed large. Monday marked his first game in Sacramento since being traded in June and, while New Orleans' Monty Williams tried to play down its significance, Evans seemed to rise to the occasion.
In what was undeniably his best performance in a Pelicans uniform, Evans trounced the Kings, putting up 25 points, 12 assists and six rebounds. The 2009 fourth overall pick moved freely against his former team and his game came easily. Without much resistance from the Sacramento defense, Evans slipped into the paint for layups or to find open teammates once defenders collapsed.
"He got wherever he wanted to go. He gets 25 points, 12 assists, gets to the foul line at will—nobody can keep him in front of them, he gets to the rim," Malone said. "If guys didn't think he was going to come into this arena and try to get off, I question their IQ. Because he played here and he's going to try to show what we're missing, and he did."
Malone didn't hide his frustration following the loss, and his players claim to understand why. He's given them gameplans, but they've failed to execute, according to Isaiah Thomas. Despite knowing Evans struggles with his jumper, the Kings routinely went over screens and allowed him penetrate.
"We're just not dialed in," Thomas said. "The attention span, I guess it is, is like a kid in a classroom. He's in the classroom too long, he might not know what the teacher's saying. I think that's how we play sometimes, where no matter what, guys—we kind of do it our own way—and that hurts us."
Defense was front and center, with so much of the Pelicans' success clearly coming during the fourth quarter defensive collapse, but offensive execution was equally detrimental to the Kings.
Sloppiness was perhaps a byproduct of the game's physical play, but it was prevalent nonetheless.
And New Orleans capitalized on Sacramento's numerous miscues, converting 22 turnovers into 29 points.
"Every time we tried to build a little bit of a lead, we'd turn the ball over. We come out of a timeout in the fourth quarter and we can't make an entry pass to the wing. We turn the ball over out of a timeout, our starting point guard to our starting small forward," Malone said. "We're not that good that we can beat teams when we give them 22 extra possessions, I'll tell you that much; I don't know if we can beat them if we give up zero extra possessions."
Cousins found success on offense, bowling over defenders and through the paint to put up 24 points and 14 rebounds, but he was limited by foul trouble.
Ultimately, the Kings acknowledged, it will take an entire team effort to change direction.
Since trading for Rudy Gay, Sacramento has had just one practice. Now that the team has an upcoming homestand, players and coaches alike will look to fix what's broken.
"We got to get better," Thomas said. "Or we're going to be in this predicament we're in right now."