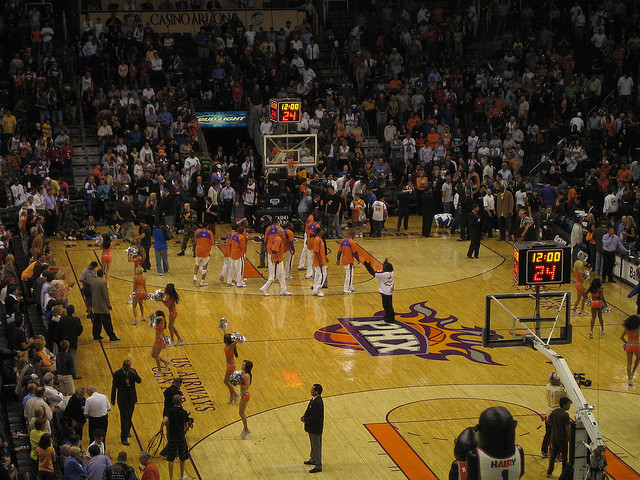 In a masterful performance, Miles Plumlee scored 17 points and snagged 20 rebounds, leading the surging Phoenix Suns to a 117-90 victory over the Los Angeles Lakers on Monday night. The victory moved the Suns to 17-10, and dropped the Kobe-less Lakers to 13-15.
After a late run by the Lakers cut the Phoenix lead to four going into the second quarter, the Suns began to pull away. Gerald Green led the way with 12 points, all on three-pointers, and Marcus Morris scored 10 of his 19 in the frame. The Suns led by 13 at the half and continued their assault on the Lakers in the second half. Markieff Morris scored seven points in the third quarter, including five in the final minute. In all, six different Suns scored in the third, and Phoenix led by 22 heading into fourth. The reserves saw the floor late in the period, as Dionte Christmas, Slava Kravtsov, and Ish Smith all contributed in the latter stages of the blowout.
The Suns dominated the glass on Monday, out-rebounding the Lakers 62 to 39. As mentioned above, Plumlee led the way with 20 boards, 14 of which were defensive rebounds. Bledsoe managed to grab 11 rebounds in the contest to go along with 16 points and seven assists. Goran Dragic tied Bledsoe for the game lead in assists with seven and contributed 12 points himself.
The Phoenix bench once again did major damage in this one, shooting 50 percent compared to 34 percent for the Lakers bench, and outscoring them by 28 points, 61-33. Green (22 points, 6 of 11 from three) and Marcus Morris (19 points, 5 of 6 from three) outscored the Lakers bench by themselves. Speaking of Green, he's averaging 21 points per game and shooting 52 percent (16 of 31) from long distance over the last three games. The Lakers' leading scorer on Monday night was Nick Young, who racked up 19 on 6-of-17 shooting. Jodie Meeks has 18 for the Lakers, while Pau Gasol struggled, shooting only 4-of-12 and scoring 10 points.
The Suns are now 8-2 in December, and are averaging a whopping 107.4 points per game in the month. Their stunning 17-10 record is good for fifth in the West, two games back of the Clippers for fourth place. With a third of the season complete, the Suns appear to be a legitimate playoff contender, and pretty soon, we'll reach the point where "it's still early" is no longer a valid dismissal of Phoenix's success this season. Apologies to the Portland Trail Blazers, but the Suns are the NBA's most surprising team to this point.
The Suns are off until Friday night, when they'll visit Stephen Curry and the Golden State Warriors in Oakland.
For Natalie Saar's take from the Los Angeles Lakers' perspective, click here.
Image courtesy of Josh Knowles.