Kevin Durant's latest shoe is already unorthodox, as far as shoes go. The tongue is off to the side and basically a sheet of thermoplastic textile; it's an ultra-low cut sneaker, befitting of a soccer player; and it uses a strand of cable for the laces to weave up the shoe — different.
And now it's getting graphics, now as the Nike KD VI Illusion for New Orleans.
See more of the Illusion and other pieces of the 2014 NOLA Gumbo Collection below, courtesy of Nike:
Nike Basketball is paying tribute to the unique flavor of New Orleans with the 2014 NOLA Gumbo League Collection, including three shoes: LEBRON 11, KOBE 9 Elite and KD VI.  A "gumbo" in the cultural sense, New Orleans is an eclectic mix of characters, music, cuisine and art.
You can't rush gumbo… It requires an instinctive balance of heat, spice and creativity. Inspired by the flavors and stories of the Big Easy, Nike cooked up a bold mix of technical innovation, aesthetic flair and old-fashioned New Orleans traditions for some of the world's best basketball players: LeBron James, Kobe Bryant and Kevin Durant.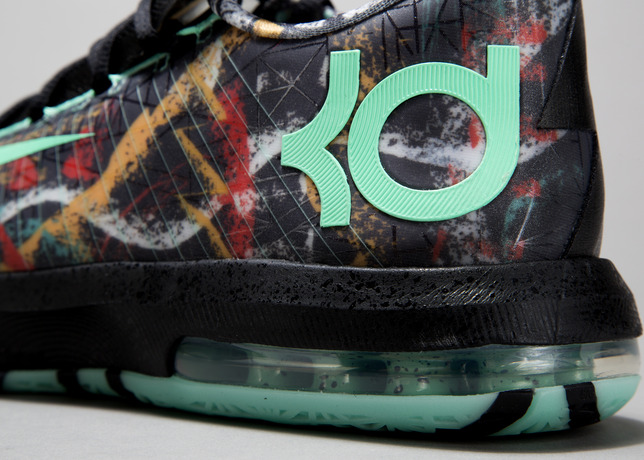 KD VI Illusion
Not everything is what it first appears to be in New Orleans.  Similarly, Durant defies the perception of a near seven-footer – an illusion of sorts.  His limitless scoring range is redefining the perception of a forward. Celebrating the magic of KD's versatility, the KD VI Illusion showcases hand-drawn patterns on the upper emulating Durant's fluidity on the court. A glow-in-the-dark outsole also represents the "spark" of KD's game.
The remarkable, collective basketball skills on display in New Orleans Feb. 14-16 are as eclectic as this internationally beloved city.  Leading the charge for Nike Basketball with special interior lining graphics are the LEBRON 11 Gator King, KOBE 9 Elite Maestro and KD VI Illusion; each including a commemorative tarot card and special edition box with purchase of each shoe.
The 2014 NOLA Gumbo League Collection will be served up on Nike.com and at select retail locations on February 14.
As they say in New Orleans, Laissez Les Bons Temps Rouler! Let the good times roll!