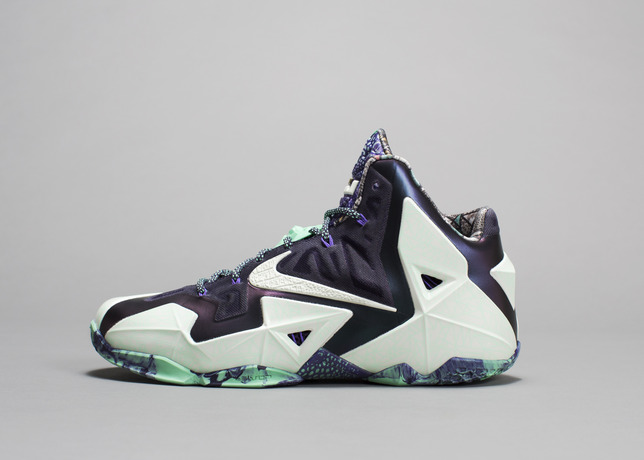 Well, it's unofficial whether the Nike 2014 NOLA Gumbo Collection is the official 2014 All-Star footwear lineup for the brand's top Nike ballers, but it is known that these pay homage to the city hosting the 2014 NBA All-Star Game — New Orleans, Louisiana.
The NOLA Gumbo Collection is a unique set that is headlined by LeBron James (along with Kobe Bryant and Kevin Durant) and veers off a bit from the more conventional hues that are usually seen at the All-Star festivities, to some extent.
Namely with James' new shoe — the Nike LeBron 11 Gator King — it's more of the same — a limit-pressing shoe that continues to surprise and make waves aesthetically. Looking a bit like the navy/white shoes from James' former Cleveland Cavs days, it taken on a new look in the dark.
See more of the Gator King and other pieces of the 2014 NOLA Gumbo Collection below, courtesy of Nike: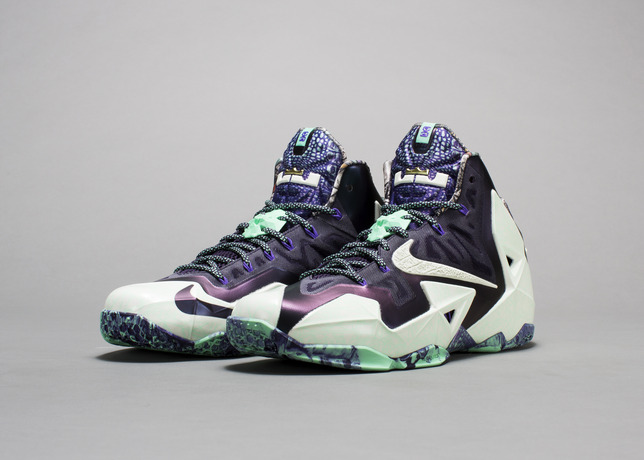 Nike Basketball is paying tribute to the unique flavor of New Orleans with the 2014 NOLA Gumbo League Collection, including three shoes: LEBRON 11, KOBE 9 Elite and KD VI.  A "gumbo" in the cultural sense, New Orleans is an eclectic mix of characters, music, cuisine and art.
You can't rush gumbo… It requires an instinctive balance of heat, spice and creativity. Inspired by the flavors and stories of the Big Easy, Nike cooked up a bold mix of technical innovation, aesthetic flair and old-fashioned New Orleans traditions for some of the world's best basketball players: LeBron James, Kobe Bryant and Kevin Durant.
LEBRON 11 Gator King
Inspired by the fearsome alligator, the king of the bayou, the LEBRON 11 Gator King is a bold expression of royalty and power. Gators, often a symbol of protection in New Orleans culture, influence graphic textures throughout the shoe.  Invisible to the naked eye, hand-drawn patterns come to life as the Hyperposite bucket of the shoe glows in the dark. The musings of majestic color in deep purples, greens and gold are derived from the "Rex" – king of carnival celebrations.
The remarkable, collective basketball skills on display in New Orleans Feb. 14-16 are as eclectic as this internationally beloved city.  Leading the charge for Nike Basketball with special interior lining graphics are the LEBRON 11 Gator King, KOBE 9 Elite Maestro and KD VI Illusion; each including a commemorative tarot card and special edition box with purchase of each shoe.
The 2014 NOLA Gumbo League Collection will be served up on Nike.com and at select retail locations on February 14.
As they say in New Orleans, Laissez Les Bons Temps Rouler! Let the good times roll!