As we approached 2014, the Memphis Grizzlies were nearing a code red for their season, the hopes of another playoff run dissipating. They were 13-17 with a NetRtg of -4.1, the seventh-worst mark in the NBA. During Marc Gasol's absence, the Grizzlies were just 10-13 with the sixth-worst defense in the NBA. Only the Portland Trail Blazers and Dallas Mavericks had winning records out of teams that had a DefRtg ranking of 15th or worst, and Portland in particular got away with it due to having a ridiculous 112.1 OffRtg that would by far lead the NBA through the entire season.
The Grizzlies were scrambling, trying to find a way to stop the leak defensively with the 2012-13 Defensive Player of the Year not present. They were almost the bizarro Grizzlies, a decent offensive team with a defense that was piss poor. Memphis had the 13th best OffRtg during that span of games and overall have been 18th in offensive efficiency. Their current OffRtg of 102.5 is actually the highest they've produced since the 2010-11 season, when they were around league average. Their startling lineup of Tony Allen/Mike Conley/Kosta Koufos/Tayshaun Prince/Zach Randolph was just bad on both ends, with little spacing and little rim protection. It's not a coincidence that Mike Conley during that time only shot 42.2 percent from the field and had a rather pedestrian TS% of 52.7.
But as the calendar turned to 2014, the Grizzlies turned over a new leaf and the wins began to pour in. 14-5 is their record since the beginning of the new year, 10-3 with the big Spaniard manning the middle. Their defense has been the best in the NBA since Gasol's return, James Johnson's been a nice acquisition, and Mike Conley was spectacular in the month of January before his ankle injury. The trade for Courtney Lee has been an absolute win for the Grizzlies, providing outside shooting that's so vital to a team like Memphis.
The Courtney Lee Effect
One of the benefits that Lee has brought is off-the-dribble perimeter shooting within pick-and-rolls. It's a skill that not a lot of guards in general have. Players like Kyle Lowry, Stephen Curry, and Tony Parker bring such value to a squad, especially when plays breakdown, and Courtney Lee has brought that. I even wrote a little about this in regards to some of the limitations Gordon Hayward has. You obviously in a vacuum wouldn't compare Lee to the players I listed, but he's been vital, giving them the same creativity that Jerryd Bayless did but with much higher efficiency and as a shooting guard with actual wing size. The looks he's been getting have been diverse enough, coming within the flow of the offense on the wings, top of the key, and even with him as the dominant ball handler in certain sets:
It isn't just the spark he's giving on offense, he's been a major upgrade over Bayless defensively and has filled in just fine in Tony Allen's spot. The lineup of Conley/Lee/Prince/Randolph/Gasol has been outstanding, registering a NetRtg of 13.3 which is the fifth-best NetRtg among lineups that have played at least 150 minutes this season. Their DefRtg ranks fourth at 91.9, besting the Indiana Pacers' vaunted starting lineup. Admittedly the sample size of 165 minutes is too small to come to some sort of a hard-line conclusion, but it's very intriguing. Conley and Lee as a backcourt duo more than holds its own defensively against the rest of the league. Prince still brings some value defensively with his declining age. Randolph is no one's shining example of a defensive stalwart but he manages to get by on that end, and Marc Gasol is Marc Gasol. Lee gets into you defensively, especially guarding the pick-and-roll. He holds his own off the ball and for the most part relatively stays within the team schemes.
Early Season Malaise
The funny part about the Memphis Grizzlies this year is their defense hasn't always been spectacular with Marc Gasol healthy, having only the 18th-best DefRtg in the NBA before his knee injury. Some of that is due to opponents shooting above average on mid-range shots and non-restricted shots against Memphis. Something that I've been very curious with and perhaps it's already been accomplished is the repeatability of certain NBA shots, and how much talent drives it and how much variance it has. The Grizzlies were allowing the 12th-most non-restricted shots in the NBA while allowing the eighth-most corner threes at a near 40 percent clip. These were very non-Memphis numbers, especially on the perimeter when they've been clinical in containing opposition three-pointers.  It might've been due to their schedule not exactly being a walk in the park, having to play the San Antonio Spurs twice, the Golden State Warriors twice, the Los Angeles Clippers and the New Orleans Pelicans.
Addition of James Johnson
James Johnson before his current run with Memphis had played for three teams in four years, plus the D-League earlier this year, grading as perhaps a below-average small forward with limited range on offense. Some of that is still the same. On defense, despite the athleticism he possesses, he can get hung up on screens guarding the pick-and-roll. When having to chase players and fight through screens off the ball, he can have some mishaps, at times going the wrong route and being a second too late to contest the shot:
In the large scheme of things these tendencies can be hidden on the court, and teams have been better on defense with James Johnson on the court throughout his career. He puts his athleticism on defense towards his closeouts in spot-up opportunities, where he's very good and at times electric, especially considering he has a seven-foot wingspan. He's capable of defending bigger forwards and post-centric players, something he had to do consistently for the Sacramento Kings last year. Via Basketball Reference, Johnson played 37 percent of his minutes at power forward and, from Synergy, 16.4 percent of Johnson's defensive possessions ended up in post-up situations, his third-biggest share behind isolations and spot-ups.
On offense is where he's possibly made more of a distinguishable impact. His PER of 18.9 is by far the highest of his career, his eFG% of .497 is a career best and his TS% is the best since his rookie year. Mind you these numbers aren't groundbreaking, but the Grizzlies produce an OffRtg of 105.6 when Johnson's on the court and he's done well in replacing some of the production left behind by Quincy Pondexter's injury. Perhaps the most interesting development though is Johnson's shot selection: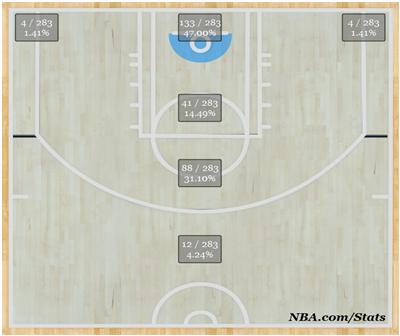 And here's the distribution for this year: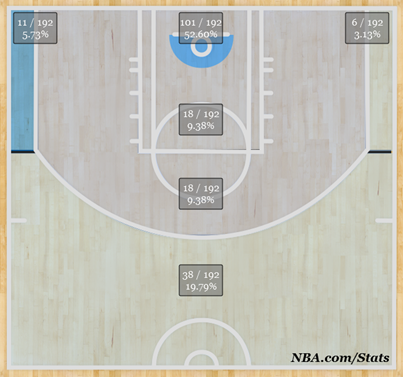 This is quite the switch in shot selection. In fact, it's very drastic compared to what's happened previously in his career
| | | | |
| --- | --- | --- | --- |
| Year | % of shots coming from midrange | % of shots coming from 3 combined | % of shots coming from RA and Non-RA combined |
| 2009-10 | 21.90 | 21.42 | 56.19 |
| 2010-11 | 29.11 | 13.93 | 56.54 |
| 2011-12 | 31.85 | 11.19 | 56.56 |
| 2012-13 | 31.20 | 7.06 | 61.49 |
| 2013-14 | 9.38 | 28.65 | 61.90 |
He's been a suspect shooter throughout his career, and it hasn't changed drastically this year, but the near elimination of mid-range shots is encouraging and you can make the argument that his previous distribution was influenced a bit by the teams he was on.
Mike Conley/Marc Gasol
It's a shame that Mike Conley has to play in the Western Conference, where very good-to-great point guards are being made with the efficiency of an sweatshop. In the Eastern Conference, he'd be an All Star and perhaps even a starter. He's been very good this year, producing at a career-high efficiency despite having by far the highest USG% in his career at 24.7. His passing has never been better, holding up relatively well despite playing on a very slow paced Memphis side. His hesitation and stop-and-go dribbles are ridiculous, rivalling even the great Chris Paul:
His defense has been steady, though not at the echelon that it was in last year when he was named to the NBA's All-Defensive Second Team. His contract is a bargain and helps the Grizzlies' potential cap flexibility immensely, especially with the very real possibility that Randolph accepts the player option and forgoes free agency. He's become a very good point guard in a league where point guards on the whole have never been better.
In comparison, Marc Gasol's been pretty good since his return. He has been allowing opponents to shoot 51.9 percent at the rim courtesy of the NBA's Player Tracking database, though that perhaps is more a reflection of what happened before the knee injury. His on/off splits defensively aren't kind to him although the 97.1 DefRtg the Grizzlies have with Gasol on the court is still a very good rating. His shooting inside the paint and restricted area are below average but that'll revert back close to the mean considering his previous work.
The Grizzlies Bench
The bench has held its own throughout the year, ranking middle of the pack in NetRtg this year, and the crew they can potentially use in the playoffs is formidable. Ed Davis has been a pick-and-roll demon, ranking fifth overall in the NBA in plays that end with the roll man, via Synergy. His shooting on the perimeter has been steady even with the unattractive form, and he's honed in on playing very efficient basketball in 15-20 minutes per game.
Nick Calathes has produced at around what you would expect from a league average point guard, Kosta Koufos has regressed a bit from last year, something that the fine folks at the SB Nation site Grizzly Bear Blues covered in extensive detail. We've talked about James Johnson, Jon Leuer has been okay, and Mike Miller has managed to not have any limbs explode on him while providing some needed shooting.
The Grizzlies are rounding back into the form that saw them make the Western Conference Finals last year for the first time in their history. Their defense is stingy once again, Mike Conley's continued emergence as a dominant ball handler has been inspiring, they've been the anti-Minnesota Timberwolves in terms of crunch time production, and the acquisitions of Johnson and Lee have given some oomph to a team that desperately needed it. The return of Tony Allen will bring some adjustments in the rotation concerning the minutes for the wings, possibly hamstringing the production of Johnson and Lee. Their schedule is road dominant, and their fixtures in late March/early April is a daunting one. There's still the very real possibility that the Grizzlies don't make the playoffs this year in the uber competitive Western Conference, but they'll definitely have a big say in what happens with the bottom half of the West.