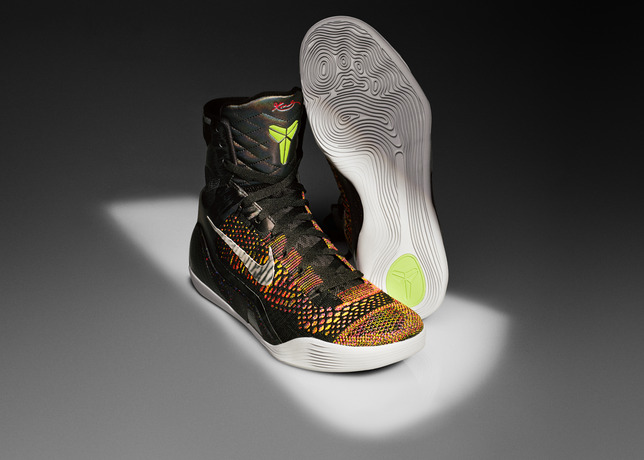 Weekend Rewind: Need to catch another look at the top weekend releases in basketball footwear or just catching up in general? BMF's Weekend Rewind gives you a brief recap in the best performance and lifestyle sneakers to drop, ranging from Nike to Jordan to adidas.
Courtesy of Nike:
The provocative KOBE 9 Elite embodies Nike's singular focus on delivering innovation that makes athletes better.  Evidence of Nike's passion to simultaneously push the limits of design is best proven in the details.
In this exclusive look at the KOBE 9 Elite Masterpiece we decode the creation of this striking shoe by sharing nine design details from Nike designer Eric Avar. 
More than two years in the making, Avar worked closely with Kobe Bryant on the design and development process and estimates the two met in person 15 times, spending hours obsessing details to create The Masterpiece:
Kobe insight #1:  I want to feel the court.
Eric Avar:  "We created a thin web outsole less than 3 millimeters thick, combined with a responsive Lunarlon insert."
Performance result:  This combination puts the foot in close contact with the court surface, allowing agile cuts, quick response and tremendous court feel.
Kobe insight #2:  I'm looking for a high-top that feels like a low-top.
Eric Avar: "Let's integrate lightweight ankle support with a Flyknit collar that is barely noticeable."
Performance result:  Allows a natural range of motion, proprioception and an intuitive fit with the lightweight feel of a low-top.  The collar is high, but there are zero distractions or restrictions.
Kobe insight #3:  Make it personal.
Eric Avar: "We'll incorporate nine red sutures stitched up the back of the shoe."
Performance result:  Toughness. These sutures represent Bryant's commitment to recover from a torn Achilles.
Kobe insight #4:  I want to move with the quickness of a boxer.
Eric Avar: "Create a design that acts as a second skin and locks in the foot."
Performance result: A natural feel of the upper, combined with sole that "moves with you," allows basketball movements that mimic the footwork you see in a boxing ring.
Kobe insight #5:  Use the best materials.
Eric Avar: "Flyknit, Flywire, Lunarlon and carbon fiber are outstanding for performance."
Performance result: The combination of high-performance materials are lightweight, responsive, strong and durable.  For a player like Bryant who runs more than four miles in the average game, shedding weight without compromising strength makes a significant impact.
Kobe insight #6:  Comfort is key.
Eric Avar: "A quilted tongue and padded inner-sleeve will provide a great feel, with aero mesh in the inner sleeve for comfort and breathability."
Performance result:  In tandem with the Flyknit, the quilted tongue and inner bootie provide a comfortable, glove-like fit.
Kobe insight #7:  Inject some chaos.
Eric Avar: "Evolve the Chaos colorway and feature four distinct shades in the Flyknit's four threads: red, purple, green and black.  The Chaos colorway began with the Kobe IV in 2008 as a tribute to Kobe's intrigue with the joker – let's parlay that into the 'Masterpiece' colorway."
Performance result: Distinction on the court.  Absolutely no pair of the Masterpiece colorway are the same, they are all unique – like snowflakes. The Flyknit creation process weaves a one-of-a-kind upper so that no shoe is the same; the color blend is different on each shoe.
Kobe insight #8:  I want to stop and cut on a dime.
Eric Avar: "An evolved herringbone traction pattern that mimics the foot's natural pressure mapping – what nature intended."
Performance result: With an outsole traction pattern that provides maximum grip, no slipping and sliding on the court.
Kobe insight #9:  Keep people guessing.
Eric Avar: "Let's include the Kobe code."
Performance result: Small details matter, both in basketball and design. The Kobe code is featured on each shoe, both on the lateral (outside) and medial (inside) sides of the midsole.  Code on lateral side translates to: 'Masterpiece.' Code on medial side translates to 'Veni, vidi, vici,' an inspirational Latin phrase that translates to "I came, I saw, I conquered."