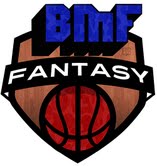 We're at the halfway point of the 2013-14 NBA regular season. It's a good time to check in and see how our favorite players in fantasy basketball have fared so far. Baller Mind Frame has ranked the Top 50 players based on their cumulative wins based on their "WARP" scores. What are WARP scores? WARP stands for Wins Above Replacement Player and is an estimate of the number of wins a fantasy player is worth on a per week basis in H2H leagues compared to a replacement, or free agent, player.
Kevin Durant – He's been absolutely dominant and has brought a complete game. "MVP! MVP! MVP!"
Kevin Love – Love may not be your stereotypical big man, but with what he brings, who cares?
Stephen Curry – We like our Curry "Hot!" and Steph has been on fire this season to keep us happy.
LeBron James – He had a slow start and also dealt with a few nagging injuries, which cramped his style (game).
Carmelo Anthony – Melo's shown that he's more than just a pure scorer. Sort of. We're not complaining.
Anthony Davis – Brow's numbers were slowed by his broken hand, but is on track to finish as a Top 5 guy.
Dirk Nowitzki – He's aged like a fine wine. Well the fact that he lives in medium-range shot area helps a lot as well.
LaMarcus Aldridge – While he's been known more for his consistency, LMA's turn things up a notch this season.
Paul George – He hit a shooting slump early this 2014, but he should still be able to finish strong this season
Kyle Lowry – Surprise! Lowry has thrived this season and has shown shades of his breakout year back in Houston.
Chris Paul – CP3's injured shoulder made him miss considerable time. On averages alone, he's a Top 5 player.
Damian Lillard – Last year's R.O.Y. award winner just keeps on building on what he started. A "poor man's" Steph Curry.
John Wall – Washington's investment in Wall is finally paying some solid dividends. An elite PG now and moving forward.
James Harden – Dwight Howard's addition hurt his production a bit, but he's still an all-around stud.
Blake Griffin – His 70% from the line and his 3.5 APG has elevated his position in the rankings this season.
Paul Millsap – As the main man in Atlanta, Millsap had to raise his game and boy are his owners happy as hell!
Serge Ibaka – His improved scoring and still low number of turnovers, has solidified his reliability as primary big man.
Kyrie Irving – It's been a disappointing season for Irving owners so far. Perhaps a new team will do him good…
Isaiah Thomas – Finally unleashed, "the Pizza Guy" has been delivering great lines for his owners.
Goran Dragic – He's morphed into a scoring combo-guard. Given his team and situation, he's really stepped up.
Trevor Ariza – Just call him Trevor "the resurgent sleeper" Ariza. Threes and steals galore!
DeMarcus Cousins – DMC has been solid this season and has been the anchor of the Kings down in the post.
Al Jefferson – After a slow start, Al Jeff's efficient game picked up some steam and has kept as one of the more underrated guys in the game.
Mike Conley – If it weren't for Conley's injury this season, his improved scoring would have had him pegged as a late first-rounder.
Andre Drummond – The fact that he does not get to the line too often has mitigated the flaw in his game and has allowed his big-man numbers to truly shine.
Spencer Hawes – His roto-friendly game has translated well into H2H and been one of this season's more pleasant surprises.
Chandler Parsons – Parsons has yet again upped his game. He brings scoring, solid percentages and great peripheral numbers as well.
Joakim Noah – With Derrick Rose done for the season (again), "Mr. Intensity" has taken up some of the slack much to his owners' joy.
Nicolas Batum – With Damian Lillard doing so well, Batum has had a quiet yet still effective season so far as he contributes pretty much across the board.
DeAndre Jordan – Don't look now, but it seems Doc Rivers has awakened the rebounding beast in DeAndre. He makes a case for this season's most improved player.
Wesley Matthews – One of the game's more underrated players continues to provide threes and steals with low turnovers.
Tim Duncan – This is as good as it gets for TD as we should expect him to get more than a few "DNP-rest" in the second half of the season.
Chris Bosh – From the second half of December and onwards Bosh has stepped up his game. Expect him to finish strong.
Ty Lawson – Lawson has shown he can deliver the numbers. It's his ability to stay healthy that has been the issue for him.
Brandon Jennings – His shooting percentage from the field remains atrocious, but his AST, STL and 3PTM help make up for it.
Klay Thompson – Thompson started the season hot, but cooled off when he hit a shooter's slump. He should provide a solid second half of the season this 2013-14
DeMar DeRozan – Finally! This is the first season (well, so far at least) that DeRozan has been able to diversify his game.
Gordon Hayward – Arguably, Utah's lone bright spot, Hayward is one of the players worth keeping in Keeper leagues, thanks to his age.
Monta Ellis – The move to Dallas has been a wash for Ellis this season, but he still brings on the PTS, AST and STL.
Thaddeus Young – Young was an early disappointment this season, but has since been on a tear since late December.
Rudy Gay – The move to Sacramento has improved his game a bit. He just needs to keep away from that injury bug.
Kemba Walker – Kemba has been hot and cold this season. His injury has dragged down his ranking compared to 2012-13 and owners hope he can turn it up and finish strong.
Kyle Korver – The most underrated guy in the game. His image as a pure three-point shooter has been just smoke and mirrors.
Ricky Rubio – We love the dimes and steals, but his low-scoring output and shooting pecentages have put a damper on his appeal.
Pau Gasol – A slow start, injuries and a team in search of a new identity has really hurt Gasol's production this season.
Arron Afflalo – He's proven to be Orlando's best player this season. He's parlayed good three-point shooting and respectable shooting percentages into a great comeback season.
Jamal Crawford – Injuries to J.J. Redick and Chris Paul this season have allowed Crawford some opportunities to shine.
Jose Calderon – While we're disappointed with the drop in his APG, his increased 3PTM and efficient game have kept him in the Top 50.
David Lee – As long as you're not looking for blocks from your big man, Lee will deliver the goods you need.
Josh Smith – His counting stats have served to offset his horrible shooting this season. The move to small forward only encouraged him to take more ill-advised shots too far from the basket.