The NBA: where one-name recognition happens.
Michael, Russell, Wilt, Kareem, Magic, Hakeem, Kobe, LeBron, the Doctor. Some of the greatest athletes in the history of the world have graced the hardwood floors of the NBA since Dr. James Naismith invented a game of throwing a ball into a basket.
In that time, these players' phenomenal exploits and awe-inspiring performances have been fodder for swooning and praising and even at times for reevaluating how we look at race, class, culture, entertainment, and ourselves. But most importantly—for all of us talking heads on the internet, TV, radio, or just on our couches—these players have given us one of the all-time best sports debates: who was the greatest of all time?
For many, myself included, the answer for the number one spot comes down to Michael Jordan vs. Bill Russell. After that things can get a bit messy though. How low can you drop Kareem-Abdul Jabbar, the most prolific scorer ever? How much of a grain of salt is recommended for heavy dosages of Wilt Chamberlain's stats? Should "Doctor" Julius Erving be discredited for his time in the ABA?
So for a new take on this whole debate—and as a desperate attempt to make my years of playing too many video games pay off in some way—I decided to ask NBA2K14.
Lists of the best players are about as inherent (and as volatile) to the NBA as prima donna wide receivers are to the NFL. There will inevitably be a new crop each year, you don't know exactly what to expect, and they can often have dramatic flaws.  So, I do not submit this as a definitive statement of any kind. That would be silly. This conversation is a never-ending story and I submit this as one chapter.
How does it work?
First let's get a bit of housecleaning out of the way. Modern video games have come a long way from the hackable, glitch-infested, easily exploitable games of my youth. Certainly none of them are perfect, but modern games have gone through great lengths to create accurate simulations of real life sporting events. They have ratings for the players down to the minutest of details. Want to know or change a player's off-hand ball dribbling? Interested in the differences between Manu Ginobli's euro step and Danilo Gallinari's? It's all there and more, including ratings for consistency, awareness on offense, awareness on defense, hop-step, quickness, speed, and potential.
These ratings update constantly for players still in the league. In addition to all this, the NBA 2K franchise has done a tremendous job over the years bringing gamers realistic interpretations of classic teams and players. It has become a tradition for me to go through a process (that varies in difficulty each iteration) of releasing each of the notable classic players into the free-agent pool and then running a fantasy draft that includes the best players of today and all time.
It always comes out as a fun and challenging league to play in, where interesting combinations arise and, yes, I've even learned a few things about some of the players through observation. Doing a draft in this manner spreads the talent more evenly than it ever actually was/is in the NBA because the talent pool is so deep.
When you can get Walt Frazier, Russell Westbrook, Gary Payton, or Derrick Rose in the second round and LaMarcus Aldridge, Ben Wallace, Dirk Nowitzki, or Horace Grant in the third, suddenly guys who had to carry the entire load their whole careers are free to let their true talents shine. The results can be both predictable and surprising.
But just a few more nuts and bolts before we get to the good stuff.
There are a few missing pieces to this puzzle. Some I was able to solve and some I was not. First, there are notable omissions from the game that I wanted to include. Luckily, I found that through a feature in the game called "2K Share" you can download players that other people have created online. Several of the most highly downloaded ones were perfect for my experiment since they were simply recreations of players that had already officially existed in previous versions of the game.
This is how I added Kareem-Abdul Jabbar, Charles Barkley, Ben Wallace, Chris Webber, Reggie Miller, and young Tracy McGrady. I also realized that there were a few guys who are either just after or just before retirement whose current iteration distorts their historical significance.
So, based on ratings in previous games I created young versions of Jason Kidd, Steve Nash, and Kevin Garnett and deleted their current selves. Kobe Bryant is the one guy who gets screwed by this whole process since he is still rated a 94, so I didn't think to make a new version of him. But after running the simulations I would think his age hurt him some in such a stacked league.
Tim Duncan suffers from a similar circumstantial problem, and like Kobe, he is one of the two players I left multiple versions of in the league since their ages and statistics/ratings are so far apart. So while these simulations don't include either Duncan or Kobe in their primes, it includes both of them now as highly effective veterans and as rookies filled with potential.
Finally, I did not end up with Bob Pettit, Bob Cousy, Elvin Hays, or George Mikan as they were all well before my time and to my knowledge have not appeared in any video games, so I wasn't comfortable in my ability to create accurate approximations. For the same reason, I came to a dead end trying to make the heroes from my home state: David Thompson, Alex English, and Fat Lever.
Hint to anyone who may be reading this and has influence on these games: that was a list of players we'd love to see in the future.
After assembling this enormous cast of a Space Jam sequel that would figuratively explode minds everywhere, it was time to get an answer to who is first team all-time, all-Earth, in the battle against the aliens.
I ran 10 simulated seasons with a serpentine-style draft and 10 with fixed draft positions. I'll get into the reasons for this in the next installment of this series, but let's finally look at some data!
Here are the results of the first two rounds of a version of the draft (it never goes exactly the same way twice). In the parenthesis, I've included each player's age and overall rating.
Top 60 "Season"
Top 60 "Franchise"
As you can see, there are two modes in which we could conduct our experiment that can have quite an impact on how teams are constructed. In "Franchise" mode, our virtual GMs will take the future into account during the draft and throughout the season. My first inclination was to run the sims in this mode since it is most like how actual NBA teams operate. But then I remembered that a main tenant of this silly exercise was measuring the best players in their prime and mitigating all other factors.
If we've learned anything from Tank-a-palooza 2014, it's that sometimes when teams have an eye on the future they become less (let's say) interested in winning basketball games. For the integrity of the project I thought it was best to have the teams built to win now. We don't want Larry Bird's team deciding after a slow start to trade all his best teammates for picks in a draft of made-up players. That does no one any good. For similar reasons I also turned injuries off.
So how did everyone do? (Click on image for larger view)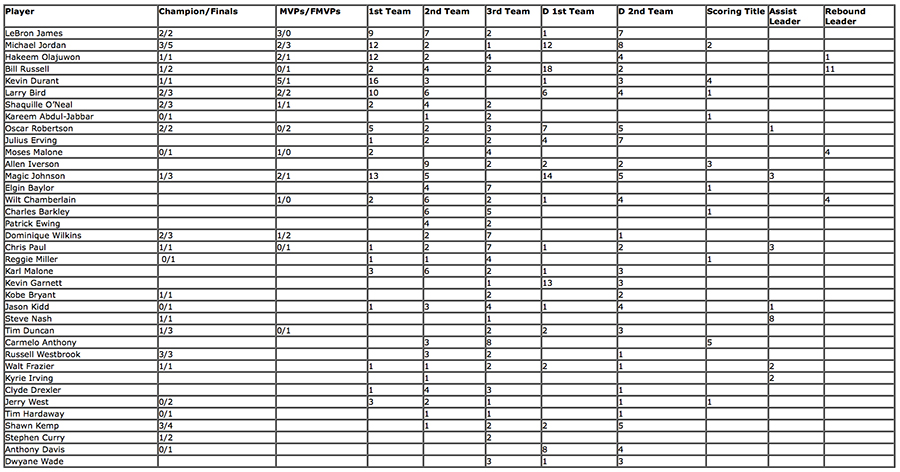 Ben Wallace didn't make the table because he wasn't drafted high enough and didn't make any All-NBA teams, but he did make the 2nd team all-defense a whopping twelve times and was the only player to ever unseat Bill Russell as Defensive Player of the Year, managing the feat twice. Russell walked away with the other eighteen DPOY trophies.
The only player not on this list who won any major award was Tony Parker winning Finals MVP in the very last simulated season I ran. He didn't place anywhere else, he just led a team featuring him and Reggie Miller to the most unlikely NBA title I saw during this whole process.
Other awards:
Rookie of the Year is a strange bag in this league because many of the legendary players are rookies and many are not. Julius Erving won ROTY 11 times, young Timmy Duncan got six and Alonzo mourning rounded things out with three of his own.
The race for best sixth man was a dead heat between Kevin Love, Dirk Nowitzki, and Josh Smith, who grabbed five awards each. Paul Pressley was the best man off the bench twice, and LaMarcus Aldridge, Bob Dandridge, and Robert Parish had one a piece.
Oddly, the most improved player almost every year was Eric Bledsoe. The only thing as consistent as Bledsoe winning Most Improved was Bill Russell with DPOY. Bledsoe took home 18 awards for improvement, leaving one for Stephen Curry and one for Lance Stephenson.
Finally, this exercise is nice proof that how we pick Coach of the Year is dumb. The formula becomes even more obvious under these circumstances. If you were bad last year and you won a bunch more games, congratulations, you're COTY! My notes for this award looked like this:
Clifford (5), Cheeks (3 … LOL), Corbin (2), Vaughn (2) Kidd (2), M. Brown (2) B. Brown (2) Clifford (1), Adelman (1).
Check back to Baller Mind Frame soon for Part 2, where I'll pour deep into these numbers and what they tell us (and what they don't) about the greatest players of all time. I'll also delve into some oddities and other random notes—like participants/winners of three-point and dunk contests—as well as break down some of the more dominant teams.
Sneak peak: my pick for championship series I most wish I could see in real life:
Michael Jordan, Russell Westbrook, an aging George Gervin, Chris Bosh, Pau Gasol, Jrue Holliday, Hersey Hawkins, Robert Horry, Nate McMillan, and Andray Blatche won in seven games over …
LeBron James, Kevin Garnett, young Kobe Bryant, Bob Dandridge, Dikembe Mutombo, Jamal Crawford, Muggsy Bogues, Tyson Chandler,  Mario Chalmers, and Ben McLemore.
Be sure to check Baller Mind Frame (every day!) for the next installation of NBA 2k14 on the greatest players (and teams!) in NBA history.