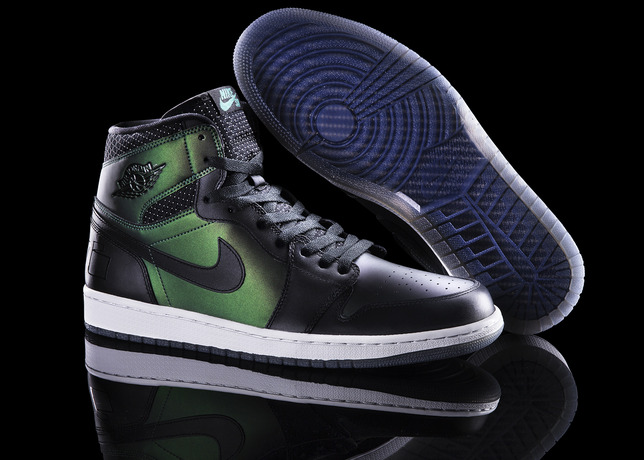 Courtesy of Nike:
Originally crafted as a high-performance basketball shoe for budding star Michael Jordan, the Air Jordan I inadvertently brought innovation to skate. Celebrating this unforeseen answer to the needs of skaters, Nike SB and Jordan Brand collaborate to release the Nike SB x Air Jordan I.
Multimedia artist Craig Stecyk brings his signature tribal visual identity to the design, taking cues from Northwest Passage, his art installation that prominently features bronze casting and spray paint. The green-and black-upper features "AJ One SB" tonally scribed in a typeface designed by Stecyk that was originally featured in a leading skateboarding magazine in 1982. The same inscription also shows up on the Nike SB x AJI insole.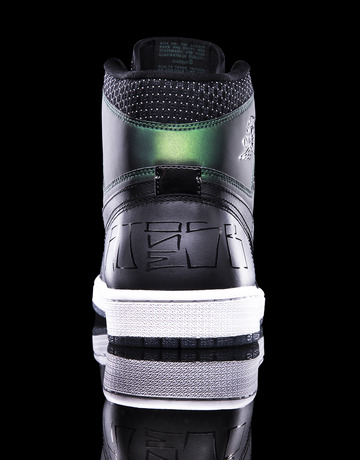 From the start, the Air Jordan I caused a stir among fans and executives alike. When fines were imposed on Jordan for breaking uniform regulations after he wore the black and red editions during a game, the shoe's rebel image was confirmed.
The mid 1980s were a significant time for skating too — vert was booming, street was evolving and clothes were loud. Skaters' outlaw image was intact, but paralleling Michael Jordan's aerial attacks, a new breed of airborne superstar was launching from half-pipes. Stecyk was on the scene to document it all.
Skating takes its toll on a shoe, but it punishes the wearer. The supportive ankle height and Nike Air cushioning of the Air Jordan I, the very things applied to help Jordan hit terra firma with immunity, were perfect for vert's needs. The premium leather was more durable than the baked rubber, canvas and suede of other models, and the Air Jordan I soon became a skate favorite.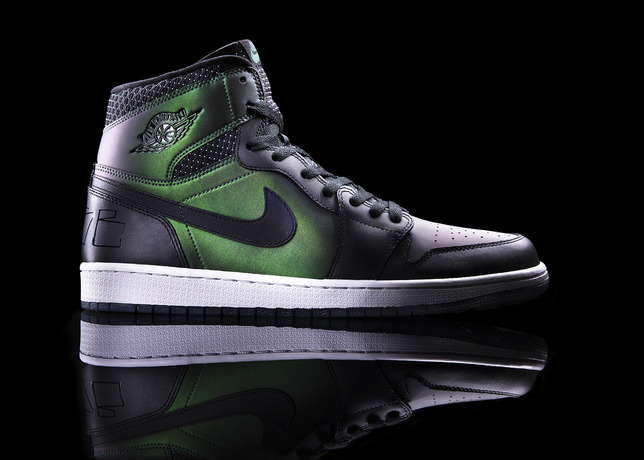 Fast forward to 2014: the Nike SB x Air Jordan partnership returns with three unique makeups created in collaboration with two icons of the industry who ushered in the shoe's adaptation — Craig Stecyk and Lance Mountain.
As a hit skateboard video from 1987 gained popularity, images of Lance Mountain in the Air Jordan I took the world by storm. From that point on, the Air Jordan I became a part of skate history, and the fashion in which Mountain wore his sneakers was nothing short of iconic. Wearing mismatching sneakers is something Mountain pulled of with ease, and is a significant inspiration for his Air Jordan I design coming later this year.
Decades in the making, the Nike SB x Air Jordan I designed by Craig Stecyk will be available in limited quantities at select Nike SB and Jordan retailers and nike.com beginning March 15.